Serving Seniors With Their Healthcare Needs in English and Spanish
by Melissa LaScaleia
Laura Mandujano Urban was born in Monterrey, Mexico and never could have imagined that she would come to work for and love her career with leading health and well-being company, Humana, Inc.
"My father had brothers living in Wisconsin," she says. "One of them sponsored him to come to the states, as was the process back then, to begin a new life. After working for a year, my father got settled and we all moved to Wisconsin. 
"I started kindergarten in the U.S. and kept up my Spanish because we spoke Spanish at home. I went to the University of Wisconsin, earned a bachelor's degree in finance and Spanish studies, and then I got married and had a daughter, Esmeralda."
Laura became a single parent at a young age, and decided to relocate to Pennsylvania. At that point, she embarked on a career in the insurance industry. Then, in 2010, she started working as an agent with Humana, specializing in Medicare.
"I've been working in the insurance industry for twenty-five years now," she says. "For the longest time I was intimidated by the word Medicare. I thought it was a complicated concept until I got introduced to it and began to study it in depth. I began working with seniors and I absolutely loved the interactions I was having with these older adults. Now I can't picture myself doing anything other than what I'm doing."
Humana, Inc. is a health care company that offers a wide range of insurance products. They offer health and wellness services that incorporate an integrated approach to lifelong well-being. The company was founded by David A. Jones, Sr. and Wendell Cherry in 1961, and is headquartered in Louisville, KY.
Humana's successful history in care delivery and health plan administration is helping them create a new kind of integrated care with the power to improve health and well-being and lower costs. To accomplish that, Humana supports physicians and other health care professionals as they work to deliver the right care in the right place for their patients.
Their range of clinical capabilities, resources and tools — such as in-home care, behavioral health, pharmacy services, data analytics and wellness solutions — combine to produce a simplified experience that makes health care easier to navigate and more effective.
Humana has served Medicare beneficiaries for more than three decades. They are one of South Carolina's leading Medicare health benefits companies with more than 125,000 Medicare members statewide. 
Humana has their own mail-order pharmacy, and provides Tier Level 1 and 2 prescription drugs at $0 co-pay. They also provide over-the-counter health and wellness products through mail order for items such as Band-Aids and aspirins, to a Fitbit which monitors your steps.
Humana offers $0 premium plans with benefits that provide coverage for not only the medical needs of their members, but also benefits to improve their member's overall well-being such as dental, vision, hearing, and fitness.
They also offer plans that will reduce the premium some Medicare beneficiaries pay for their Medicare Part B coverage. For individuals who have both Medicare and Medicaid, they offer plans that provide coverage for eyeglasses, $0 cost hearing aids, $300 per quarter for over-the-counter items, and up to $3,000 in dental benefits including dentures, when the member receives care from a Humana Dental provider.
"Because Medicare is so complex, it makes me feel good when I'm sharing the available options with people," Laura says. "I enjoy helping them navigate the nuances of it. When I'm working with seniors, it feels like I'm helping my parents— working for them, with their best interests in mind."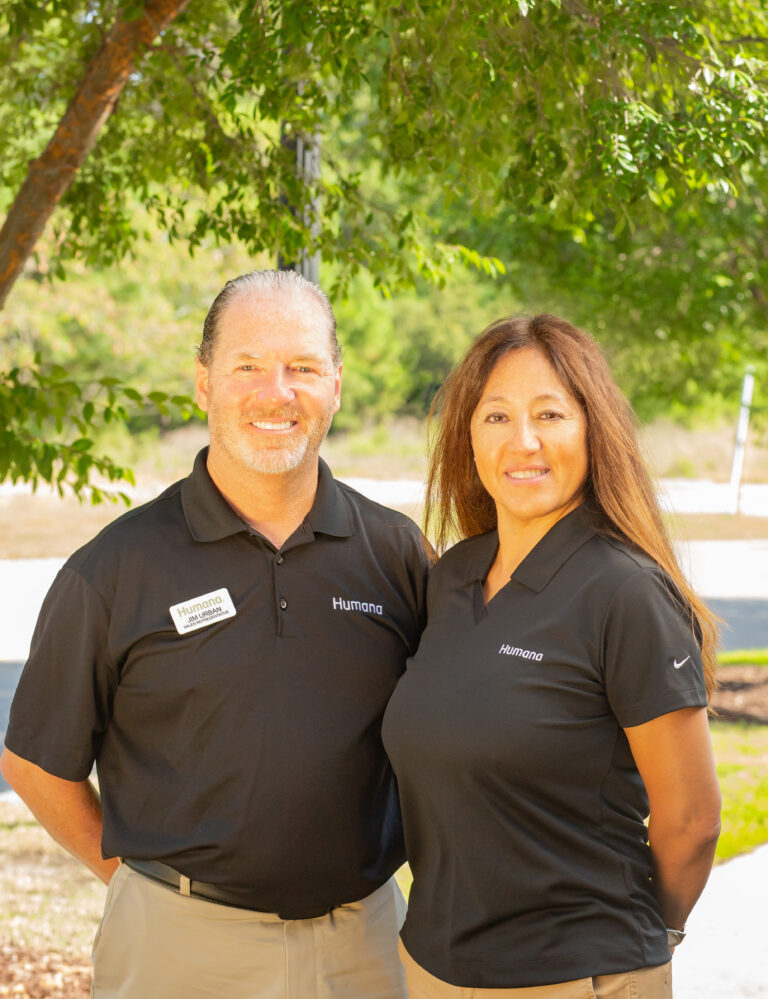 "Humana is a great company to work for," she adds. "It's a company that cares about their employees and it shows in ways big and small. Last month we had a hurricane threat, and I received text messages from Humana asking if I'm safe. They'll also send emails to their agents to see if we need additional support, supplies, or resources. We continuously receive emails from management and the CEO filling us in on where we stand as a company. I have an immediate supervisor who checks in on me as well."
Several months into Covid-19, Humana mailed its employees and members reusable cloth masks.
"They offered us more tools and resources for working at home as well," Laura says. "It's the little details, the small gestures that mean a lot. In small ways they let you know that they're thinking about you and you're not alone."
Laura moved to Myrtle Beach last year after she met her husband, Jim Urban, who also works for Humana; they met on a company-sponsored trip.
"Humana provides a trip called the President's Club to the top two sales producers in each market," she says. "Jim and I each earned these trips and would recognize one another from time to time at these events. We connected at one in Vail, Colorado, in 2018, and we've been inseparable ever since. We got married in Charleston in 2019."
Laura is able to better serve a greater segment of the population in her work because she is bilingual.
"Often seniors don't know who to turn to in asking questions about Medicare; they don't know what their options are," she says. "It's rewarding for me to be able to help them with their health care needs and serve as their advocate. I am able to simplify Medicare and educate them in either Spanish or English on their choices. I really enjoy helping people who are eligible for Medicare and am thrilled to be here in Myrtle Beach."