Howard Barnard was a pilot in the U.S. Air Force with an illustrious career. He served in Vietnam, the Panama Canal Zone, the Pentagon, and here, in Myrtle Beach, when the Air Force Base was in operation.
Retired Air Force Colonel and Former Squadron Commander at MBAF Base, Howard Barnard
Celebrate Our Veteran gives voice to the stories of the U.S. military veterans living amongst us. The actions of these brave and dedicated people, who have served our country both in active military duty as well as administrative positions, have and continue to contribute to the protection and preservation of us and our country. 
We hope that this section of our paper is an opportunity for our community to hear and see veterans with new eyes, and for veterans to receive recognition and honor for their experiences and life journeys. 
This month's Celebrate Our Veteran recounts the story of Howard Barnard as told in his own words. To be continued in next month's Celebrate Our Veteran column. Click here to read Part 2. 
by Melissa LaScaleia
"I was born in Albany, Georgia. After high school, I went through ROTC training at the University of Georgia. I got married to my wife, Connie, in college, and graduated in 1967 and joined the United States Air Force.
I had wanted to fly and be a fighter pilot ever since I could remember. My hometown of Albany was home to Turner Air Force Base, and as a youngster, I was an Eagle Scout in my church. The Assistant Scout Masters were pilots at the base, and they inspired me to want to join the Air Force. And, when I was in high school, I dated a couple of girls who had fathers that were in the Air Force. One of them was a pilot; he drove a fancy sports car. And both took me to the Officer's Club in town to go swimming. I thought that was an amazing thing. I thought my girlfriends were exotic— they had lived all over the world. That pushed me even more towards a career in the Air Force.
I was first stationed at Moody Air Force Base, Valdosta— 90 miles from my home in the same region. Then I went into the pipeline for Southeast Asia— that was the prerequisite training that you had to complete to prepare you for war.
I went through fighter pilot training and then learned how to fly the OV-10— a twin-engine, turbo-prop observation aircraft. After that, I ended up at Nakhon, Phanom, Royal Thai Air Force Base in Thailand. I flew one year in combat— about 250 sorties, and about 800 hours of combat time in Laos, North Vietnam.
I flew in a program called Cricket West that worked to support the Laotian army. I flew with a Laotian army officer in my back seat who was the lookout for targets to hit.
One day, he told me that he always flew with a statue of Buddha in his pocket. And he wanted to give me a Buddha too. He told me that his Buddha only protected him, but he wanted to protect his pilot too. I'm a good Presbyterian boy, but I thought, this is a good idea. So we went out the next day— both with Buddhas. 
That day we spotted a Polish truck that had supplies in the back, and I called for a set of fighters to come and destroy the truck. He couldn't see the truck after we spotted it, so I made a low pass to get a better view.
After the flight, I got a call from my maintenance officer who told me that I had 18 holes in my airplane. So I called the Laotian officer and I said to him, 'How come the first day I flew with you and your Buddha, we got 18 holes in our airplane?' And he said, 'Maybe if we don't have Buddhas, we not come back.'"
I still have that Buddha to this day. It's an ancient one, and a cherished souvenir. If you shake it it makes noise, because it has a prayer scroll inside of it.
I stayed a year in Southeast Asia, then I went to the Canal Zone in Panama and flew A-37s for four years. It was a great time. Every time I got in a plane and flew, from my first flight to my last flight, I could not believe that I lived in such a great country that would pay me to fly fighter airplanes; and I still feel that way.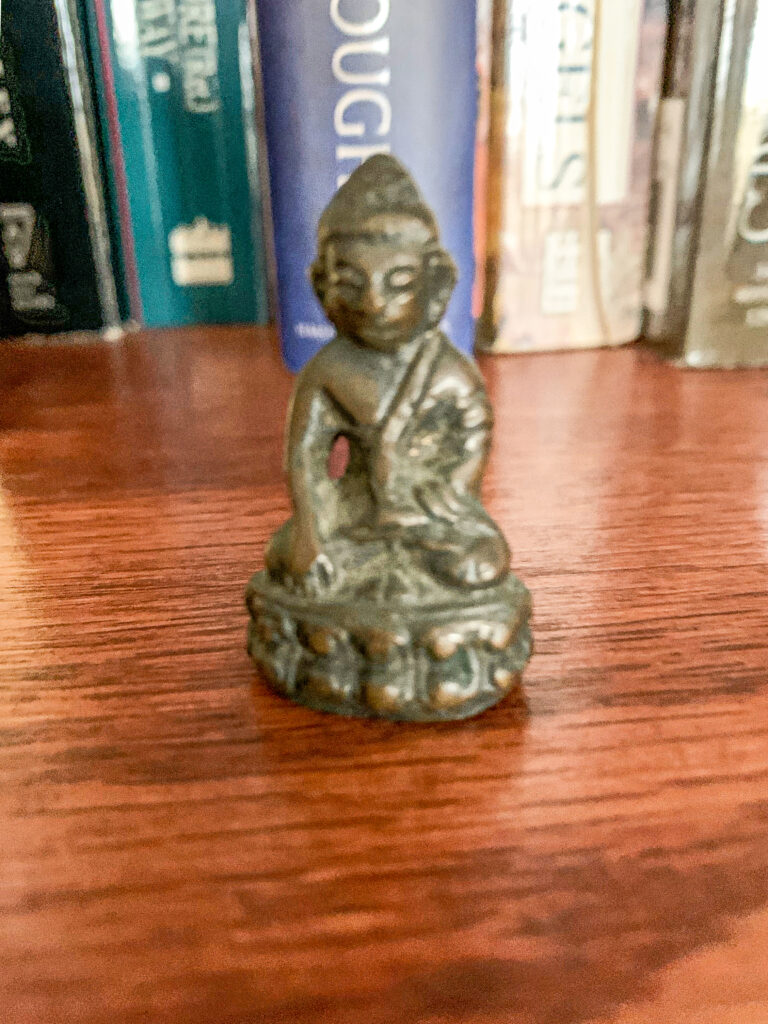 In Panama, I was part of the 605 Special Operations Squadron. We had a two-fold mission. The first was air defense of the Panama Canal; the second was counter-insurgency and training missions for Central and South American Air Forces. This was the time when the special forces helped the Venezuelans eliminate Che Guevara.
We took military training teams all over Central and South America, teaching pilots how to fly in combat. I was a young captain at the time. I also went to jump school, and jump master school, and became a parachutist.
I left Panama in 1974, and was sent to Fort Bragg, North Carolina. I was an Air Liaison Officer (ALO) with the Second Brigade, 82nd Airborne— a division known as the "All American." I spent two years with them and had a great time; I participated in jump operations all over the U.S.
One day, at Fort Bragg, the military organized a jump from a helicopter into a lake to practice water landings. They asked me to participate in the exercises because of my experience. They have rubber boats with outboard motors on them that pick you up after you land in the water.
It was a joint exercise that we were doing with the Army and Air Force. For these exercises, I always wore shorts and t-shirts. Unbeknownst to me, the Army had orchestrated a PR event with the media on the shore, who were filming and reporting on the event live. We all jumped out of the helicopter, but for whatever reason, I was the first to be picked up by the boat and brought to shore. And when I get out of the boat, the press is there snapping photos and filming me with a t-shirt that read, "Air Force." And the captain was yelling: 'Stop filming! Stop filming!'
I enjoyed my two years with the Army. They were one of the top-notch units in the U.S. Army. I jogged and took physical training with them every day. And I was pleased I could hang with them. I also received a master's degree from the University of Oklahoma while in the Air Force.
In 1976, I left there and was sent to England Air Force Base, Louisiana, where I learned how to fly the A-7. I was fortunate and was promoted early to the rank of major. At one point, we competed against the British Royal Air Force in a Tactical Bombing Competition in Lossiemouth, Scotland. The RAF flew Jaguar and Buccaneer fighter bombers; the U.S. flew the A-7 and the F-111s. It was a huge competition with multiple squadrons. And we won. Then I went to Army Command and General Staff College, in Leavenworth, Kansas for a year.
At England Air Force Base, I had worked for Colonel Larry Barton. He was later stationed at the Myrtle Beach Air Force Base as the wing commander. When I was in Command and Staff College, he was stationed in Texas, and he called me one day and told me he was sending me to the Pentagon as the lieutenant colonel select. It was a real plum assignment.
I worked in fighter planning, orchestrating the strategy that would help determine the number of fighter forces that were needed to defeat the Soviet Union in a worldwide war during the transition from President Carter to President Regan. If I had never flown an airplane, it would have been the greatest job I ever had.
I got to brief the chief of staff of the Air Force on numerous occasions. And because the Air Force was buying new fighter airplanes at the time— the F-15, F-16 and A-10— it was an exciting time to work in the Pentagon. I was there for three years.
Colonel Barton brought me to Myrtle Beach to be an A-10 squadron commander in 1982 and I was promoted to colonel. I stayed here for four years. I worked in the 353rd Fighter Squadron— that building is now where the Myrtle Beach police are located; I was also the operations officer in the 355th Fighter Squadron; and I was the commander of the 356th Fighter Squadron."
Continued next month. Click here to read.