Healthy Comes to the Market Common
by Melissa LaScaleia
Leonella Gonzalez graduated four years ago from the Integrative Nutrition School based out of New York as a holistic health coach. 
"I was struggling a lot with crash diets," she says. "I was killing myself with fat-loss pills and putting myself in starvation mode. Finally, I became more interested in how I felt rather than how I looked. I realized that I didn't feel good and had a bad relationship with food. 
"So I started to search for what I could do to change and got interested in healthy eating habits. I began inspiring others through what I was learning and choosing for myself, teaching them how important it is to have a good relationship with food— looking at it as nourishment, not the enemy. 
"My passion for helping others to look and feel their best started growing. I had an appointment with a naturopath who really encouraged me with what I was doing. It was then that I decided to pursue a career as a health coach. I quit my job and began working full time as a coach in New York." 
"This journey has changed me and continues to change me every single day," she continues. "It's taught me how to connect with my body and understand what's good for my body and what's not. Being able to go back and track and understand what foods or ingredients in my meals make me feel better is an incredible discovery. The fact that I can work on this every day and help others to feel their best and give them the tools to feel better is amazing for me." 
Leonella became introduced to Myrtle Beach when her sister, Lorenna, relocated here several years ago. 
"We are very close and I began making frequent trips to visit her," Leonella says. 
One day, the two noticed that there weren't many healthy, easy food options in Myrtle Beach, and saw an opportunity to do something together in an industry they both loved. 
Together they created the concept for Juiced Up, a juice bar located in the Market Common.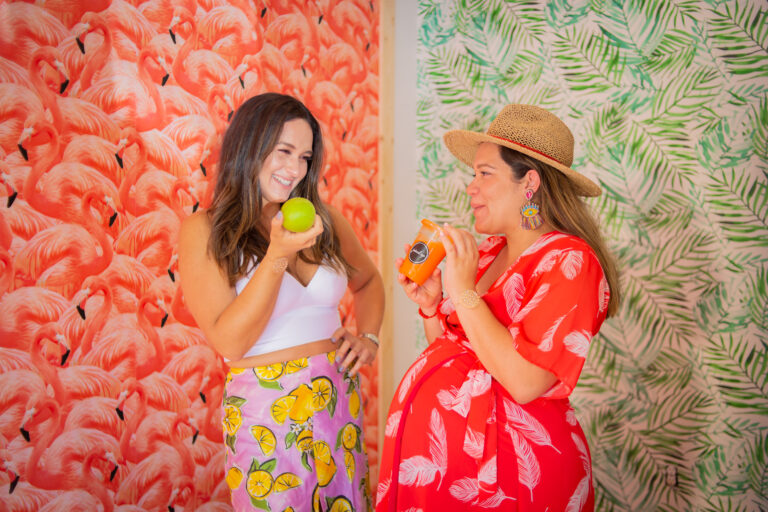 "At the beginning, when I was changing my eating habits, it was difficult for me to eat so many vegetables," Leonella says. "So I started implementing juices into my daily routine. For me it was a fast and easy way to incorporate more vitamins and vegetables into my diet." 
According to Leonella, when we extract the juice from vegetables, we extract the fiber, and are left with liquid vitamins and minerals from the fruit which are easier to digest than when they are in their solid form. 
She created all of the juice recipes that they serve. 
"My intention with Juiced Up is to educate the community," she says. "Every item that we sell has an amazing impact on your health; each juice contains superfoods and has a purpose." 
In addition to juices, they carry a variety of other healthy drink and food items. One of those is matcha, the Japanese green tea heralded for its antioxidant and energizing properties. One cup of matcha carries as many benefits as ten cups of green tea, and contains 137 more antioxidants. It has less caffeine than coffee, but the energy you receive from it lasts longer, and without the crash. 
"It's a jitter-free superpowered green tea," Leonella says. "It gives you focused energy and helps you to burn calories by accelerating your metabolism. The energy is very smooth. It is one of our signature drinks, served cold or hot." 
They offer avocado toast— mashed avocado on top of sourdough bread, with different toppings like smoked salmon, plain, and with seasonings. 
"Sourdough bread has less gluten in it so people with sensitivities will be able to consume this," Leonella says. "It's a healthy and easy snack with all your carbohydrates, fat and protein in one meal." 
They also have smoothies, made with homemade coconut and nut milks. 
Juiced Up has a colorful, bright, cheery vibe, with indoor and outdoor seating and free Wi-fi.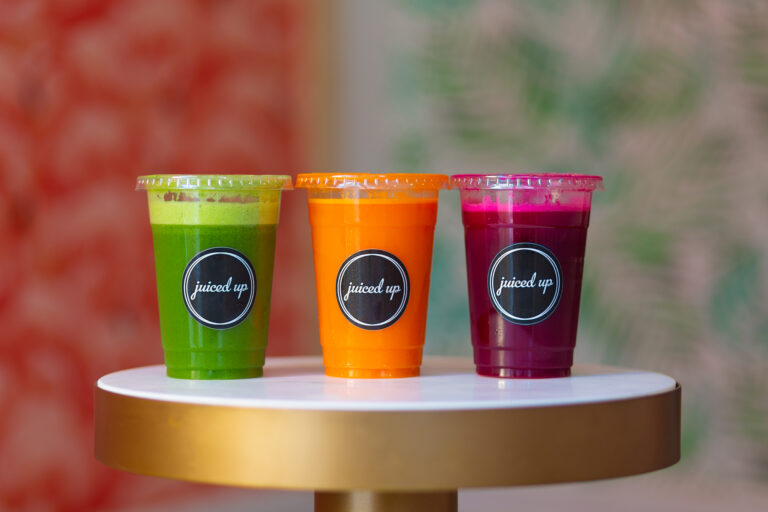 "We want customers to come in and feel healthy," Leonella says of the ambiance. "Our goal is to create Instagrammable walls in our juice bar. We want each wall to look so beautiful with a profusion of colors and art, that people will take pictures." 
In addition to their Instagram goals, the sisters want each person who walks through their doors to receive information about what they're eating and how every juice on the menu will make them feel better for the rest of the day.  
"I feel amazing now," Leonella says. "I feel very grateful that now that I've found what I'm passionate about I can make a career out of it. I remember planning this juice bar in New York four years ago and it didn't happen. Now, I have more experience, and it's the right time."   
Leonella is still working as a holistic health coach. Over the course of six months and longer, she works with her clients, helping them to replace bad habits with good ones. 
"I help them step by step to reach their goals," she says. "I help them with vitamins and minerals, with meal plans. It all depends on what they want and their current relationship with food. We continuously evaluate what worked and what didn't until they get stable with those new habits and new ways of living. I teach them how to read labels, how to grocery shop and choose the right options, how to listen to their body, to understand their body's messages and what foods are helping them and what foods aren't. I help them connect with themselves again through food, vitamins, and minerals. 
"I've attained so much discipline from this journey. Most of the time now, I cook at home. I know what works for my body. And the most rewarding thing is that I've gained all this knowledge through my experience that I can now share with others. I know that there are a lot of people struggling with emotional eating and gaining weight as a result. And helping people to get to the root cause is rewarding, both as a health coach, and now as a business owner."
Juiced Up
2922 Howard Avenue, Myrtle Beach, SC 29577
Open daily 7am-7pm
Facebook @ Juiced Up MB