All About Myrtle Beach's Favorite Outdoor Toy
Russell Graham is from Conway, and has been his entire life. He started Graham Golf Cars in the early 80's— traveling around locally and servicing peoples' golf carts. Over the years, his company has grown from a single truck and trailer, and three employees riding around to see if people needed service, to five retail locations and over 50 employees.
Today, all of Graham Golf Cars locations sell, service, and rent golf cars; sell parts and accessories; and o er indoor golf cart storage. Their Myrtle Beach and North Myrtle Beach stores are two of the largest golf cart showrooms along the Grand Strand, where they sell customizable as well as basic cars. Pre-owned cars start around $1500; fully reconditioned ones start around $6000; and new range from $7500-$11000. They have around 200 cars for sale, both gas and electric, between all locations at all times.
Electric is the most popular in Myrtle Beach right now, as more and more people opt for more ways to lessen the negative impact on the environment. Yeah Myrtle Beach!
Graham Golf Cars isn't so much focussed on selling golf cars as  they are on the customer service they provide— taking care of the car and the customer for a lifetime.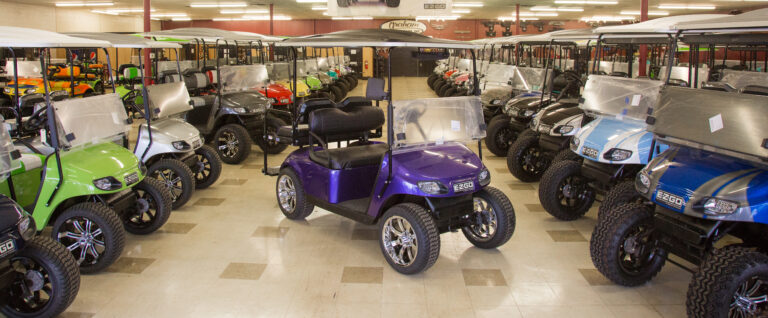 "We take a lot of pride in our service department," Melissa Eckersley, who's been with the company since 2007, tells me. "Because that's the number one, most important thing. You have to be able to maintain and repair the product you sell. To have a customer for a lifetime, not just a point of sale, you have to be able to service it, and treat the customer right. Those times when something breaks down, or needs to be repaired, how a company is there for them in those moments, is the most important thing.
"We have about twenty mechanics working in our shops, and we have twelve service drivers— those who solely deliver and pick up golf carts for servicing. They cover Horry, Georgetown, and Brunswick County on a daily basis. Anybody who wants repairs, or a new battery or tires, or upgrades, we go out and pick them up and bring them back to the shop."
"We have customers that come in here that were some of the first customers Russell had back in the 80's," she continues. "We have a really wide range of customers— people who live here, and those who are vacationing and buy golf cars to take back home with them. There are people who have second homes here and want to leave a car for their use when they visit. We have customers who have multiple golf cars."
"I'm the office manager, but I also help customers on a daily basis," she says. "It's amazing how you'll see a customer come in and they thought they knew what they wanted, but didn't realize there were so many choices. I like to help people figure out what golf car will work best for them. If they want a standard height, or lifted, to picking out a color and theme. Then all the accessories they can add—like multicolored seats, dashboard design, or radio. Many people think a golf car is the little thing they see on the golf course. But you can have a four to six passenger— there's lots of versatility."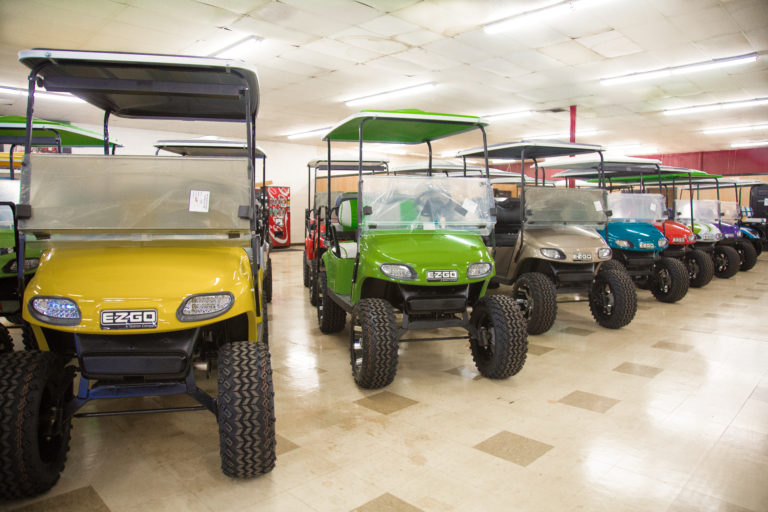 Graham Golf Cars has an in-house fabrication department, and make parts and accessories on a daily basis so they can offer more to their customers. They have played a big part in designing and manufacturing new parts and accessories that are available nationwide.
"You have to have a large variety of parts and accessories, because people want to make it their own unique golf cart," she explains. "Everything with golf cars used to be standardized, but Graham Golf Cars are innovators. ey came up with customization of so many components for the cars."
Graham has even given several golf cars to other accessory manu- facturers so that those companies can use them as a prototype for making their own accessories.
The golf cart first began evolving its look for the lay driver in the 80's, and today that evolution is going strong.
"Customers are coming in from all over," Melissa says, "who have never seen golf cars used the way they are here. Most people we see purchasing them now, use them daily. We see more and more people opting to use them over vehicles, especially in the Market Common, because everything is so close, and you can use one to get around your everyday life. It makes life simpler, you get more fresh air. It's a lifestyle that many people are adopting. And with a location like the Market Common, it's wonderful that they can do that."
You have to be at least 16 years old and have an unrestricted driver's license to drive a golf car in Myrtle Beach. Golf cars can be driven on any 35 mph or less, secondary road during daylight hours. They can cross, but not drive on main roads, and are not allowed on bike paths or sidewalks.
 Open M-Sa 8am-5pm.
To see some more featured articles from the Insider at the Market Common, click here!