What's Happening at The Market Common this Holiday Season
by Melissa LaScaleia
Friendly, family-oriented, down-home Southern is the best way I can think of to describe the atmosphere around the Market Common during the winter holiday season.
The big Christmas tree is dressed to the hilt for the holidays. Sporting shiny red bulbs and flashing a big star at the top, it lights up the square in front of the Cinema 14 movie theatre on DeVille Street, beckoning visitors to it like a seasonal beacon.
Park benches dot the square, and movie patrons milling about with ice creams, before or after a show, take in the ambience of glitter and sparkles while looking up at its height with the same sort of contended smile that I imagine St. Nicholas wears after delivering a particularly delightful gift.
The tree shares the spotlight on this street with a red mailbox designated as the dropping-off point for children sending their Christmas-wish-lists to Santa Claus at the North Pole.
Five or six brightly painted sleds, artistically depicting patterns and figures in bold colors, entice passersby around the Market Common to stop for a unique photo op.
Lights wind their way up the palm trees that line the streets, making their way across lamp posts, telephone poles, and intersections like iridescent climbing vines— softly illuminating the streets below.
Everything seems more touched by magic.
Families and children are everywhere running, playing, and climbing on the woodwork, benches, gazebos and sleds. Everyone in general is enjoying the more mild temperatures that grace our Southerly coastline. This, along with the family-friendly, festive, and low-key vibe is why so many people turn to the Market Common to celebrate part, if not all, of their holiday season.
People here are happy, laid-back and appreciative; they are open to enjoying all that the Market Common provides to make the holiday season bright and enjoyable for everyone.
"Christmas is a really nice time here," says Nancy Toia, who has lived in the Market Common with her husband Jerry since 2014. "The grounds-people in the Market Common are professional, and they decorate beautifully. They really try to bring as much to us for the holiday season as they can."
In addition to the decorations you'll see and people you'll meet, there are some wonderful holiday activities planned for the Market Common this December.
The Holiday Bazaar happens every Saturday on Howard Avenue from 12-4pm through December 17th. 
Many of the same vendors who delight us during the summer months with roasted peanuts, innovative tie-dye clothing, and fresh, from the earth produce, return for the holiday season with gifts to warm our hearts and our homes.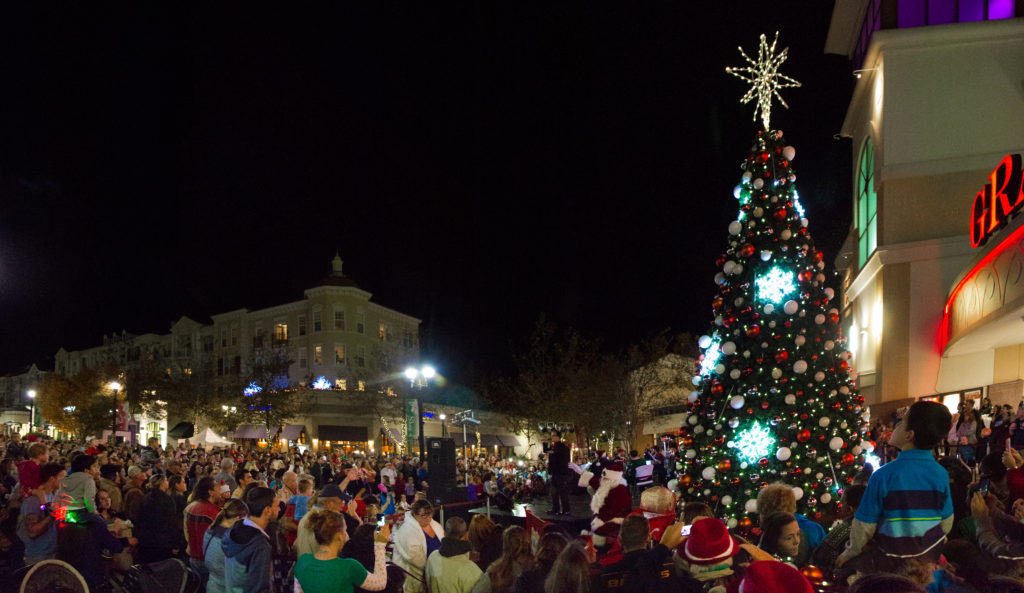 Freshly baked bread, cakes, cookies and pies; hearty winter greens like kale and cauliflower ready for the soup pot; crisp salad varietals that dress up our tables with their exuberant vitality; handmade pottery; homemade soaps; jewelry; and potent pine tree baskets are just some of the treasures you'll find at the bazaar. A walk here on the weekend is sure to get you in the holiday spirit.
Two Saturdays in December, you can meet Santa Claus in the Market Common and have breakfast with him too. He'll be dining at Tupelo Honey Cafe on December 10, and Gordon Biersch on December 17. Call the restaurant to make reservations and join him between 9-11am. The menu is $10 before tax and gratuity, and includes coffee, juice, and soft drinks.
On Saturday, December 3, in the late morning before noon, you can watch the annual holiday parade from the nearby Highland Meadows Community progress to the Market Common. It's become a tradition for those in this community to dress up like Santa and his elves, collect toy donations for Toys for Tots and deliver the gifts on their elaborately-decorated holiday golf carts to Gordon Biersch.
This year, the group is planning to make the biggest toy delivery yet, and are busy collecting toys especially for those local families and children who were displaced by the hurricane. You can join in the fun, or join in with the donations to help them reach their goal of touching children's and families' lives this holiday season.
The star of the holiday season is undoubtedly New Year's Eve in the Market Common, heralded as a "Southern Times Square." The event is so popular that people drive from out-of-state to attend.
 Possibly the largest family-friendly, free-admission street party in the South, it takes place on Saturday, December 31, from 7pm-midnight in the retail district. Retailers are open until 9pm on this night. 
There will be two stages with live music showcasing the musical talents of Myrtle Beach local band, PaperWork and the earthy soul and R&B tunes of Painted Man.
"It's nice how you can be totally on foot, and the kids can be free and run around and not worry about cars," Nancy says.
Some other highlights on this night include human statues; mimes; glass blowers; face painters; glitter tattoos; games, and inflatable toys for children.
There is a live streaming of Times Square in NYC beginning at 9pm. Stay till midnight for the ball drop and fireworks that light up the entire sky, making this event truly spectacular.
Food vendors will be available at the Beer Garden. All ages are permitted entry, but a hand stamp is required to purchase alcohol. If you'd prefer dining at one of the local restaurants, it's recommended that you make reservations in advance.
In addition to parking lots, garages and street parking, the lots at Crabtree Gym will be available for parking. For safety reasons, large bags, backpacks, and outside beverages are prohibited.
Two years ago, 7,000 people came to celebrate a Southern Times Square, and last year, even with it raining, there were 5,000 people who attended.
The Market Common is aglow with festivities this December, but it's our community of participants who make it complete.
Our thanks to Katherine Taylor in the Market Common Offices for her assistance in providing information for this article.