Redefining Clean for The Market Common
by Melissa LaScaleia
GermBustMyBins began in Horry County in 2016 as Market Common Cleaning. Companies like it have been in existence in Europe for the past thirty years, but didn't begin to appear in the U.S. until around 2007 or 2008. They've increased in popularity over the years, especially in the South— and for good reason.
John, the founder, shares about the business he began, and why it's so valuable for our community.
He starts by explaining the process: "Our truck arrives at people's homes on the same day their garbage bins are emptied by trash pick-up. While the bins are at the end of the driveway, we conduct the cleaning process so customers can come home and have clean, germ-free bins. We have one truck, and it looks similar to a trash pick-up truck, with hydraulic arms on the back for picking up the bins."
A truck costs around $100,000, and is equipped in handling varying-sized trash bins as well as dumpsters up to eight yards long. The bin is lifted into the truck, where it is sprayed with 2oo°F water inside and out, to be effectively washed, deodorized and disinfected. It's an eco-friendly self-contained cleaning machine. The rinse water is retained inside the truck, and is properly disposed of at the end of the day at a dump station obtained through permitting with Grand Strand Water and Sewer. Then the hydraulic arms replace the bin on the curb— clean, sanitized and 99% germ free.
"It's basically a giant dishwasher that shows up at your house on wheels and cleans your big bin," John says.
I consider myself a germ-conscious person, but the thought of cleaning my outdoor trash bin has never crossed my mind. Apparently, I'm not alone.
John says: "One thing I don't think people take into account, is that, having dirty bins in or near your home attracts pests, roaches, rodents, flies, bees, and E Coli and other bacteria. When you smell a trash bin, it's not the trash you're smelling, it's the bacteria.
"A lot of the houses in the Market Common are very close together. That close proximity, bin next to house, next to bin, next to car— means you're basically living in a germ and bacteria-infested environment. And over time, with constant usage, that bacteria multiplies.
"On top of that, a lot of people store their trash bins in their garage. Think about all the things you keep in your garage besides your car— workout equipment, Christmas decorations, laundry. All those things are exposed to the bacteria and germs in your trash bins. And you're inhaling those contaminants when you're in that enclosed space. Once you start to think about this, it's like, ew!"
GermBustMyBins is the only company of its kind in Horry County. Typically, the businesses are appearing in the warmer climates of the U.S.— areas like Florida, Texas, California, and also New Jersey.
"The concept makes sense wherever you go," John says. "But as you get to those colder, snowy climates, I don't think that the germ build-up is quite as much of a concern for people. In the South, because of the warm, moist climate, it's not uncommon for people to have maggots in their trash bins. Once you have them, they spread quickly; and then they turn into flies.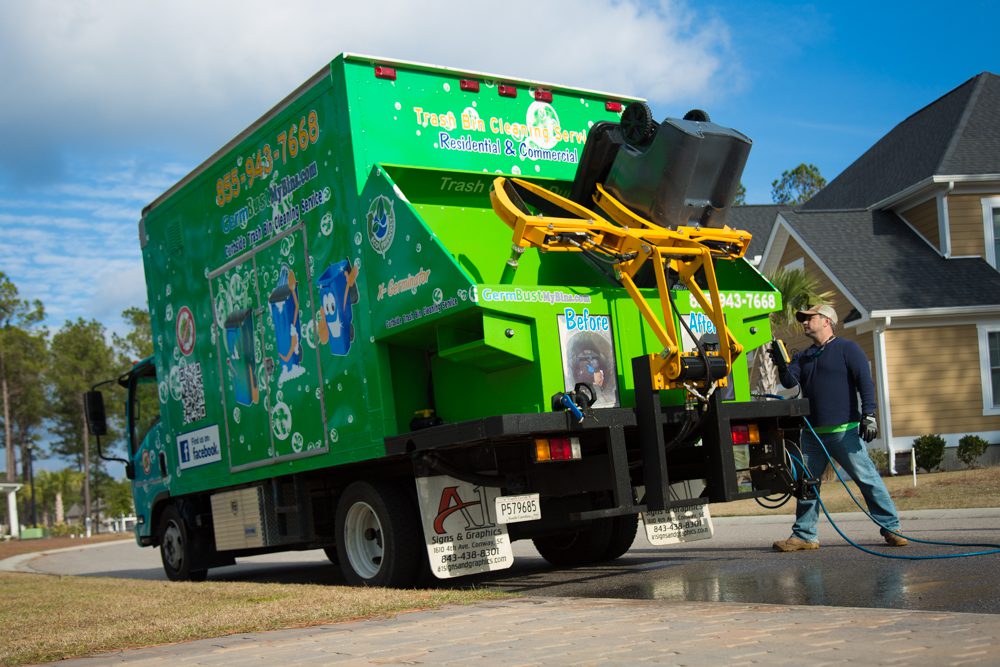 "Many people will put a couple of gallons of bleach in the bin to disinfect it, and then dump it into the ground. But the contaminated byproduct of that type of cleaning is lying in your yard, sidewalk or street, plus it's going right back into our drinking water. With our process, you eliminate all those germs. Having a healthy bin helps keep you healthier too."
John first heard about this concept when a close friend, living in Miami, created the concept. It became an instant hit in his area.
His friend was vice president of ADT and when the company decided to downsize, he got laid off. One day, with more time on his hands, he was engaged in the messy process of cleaning his garbage bin in his backyard, and thought, 'There's gotta be a better way to do this.' He developed the idea, and shared his story with John.
Emboldened by his friend's success, John decided to do it too.
"It's been a great risk," he says. "I was talking to one of my friends in London, telling him how I was starting this, and that there was nothing like it in the area, and he said, 'That's disgusting, what do you guys do over there?'
"In London and other parts of Europe, companies like this have been going on for years. As we meet more customers, almost a third of the people we talk to say, 'Oh my gosh, why didn't I think of this idea!'"
Another part of the community that their business benefits is the elderly and children.
"The task of cleaning a large trash bin is just not feasible for the elderly," John says. "And it's not healthy either. Having clean and sanitized bins provides greater peace of mind for parents with kids. Kids aren't always the cleanest, and they like to explore and get into everything."
"I actually read recently that in Carolina Forest, coyotes and mice are coming at night when people aren't around, attracted by the garbage," he adds. "There's a lot that having clean bins can address. The more people from the same neighborhood who join, the cleaner and healthier everyone is."
John gets the most calls when his truck is out driving around servicing neighborhoods.
"It's big and green and has PowerPoint slides on the front that show before and after pictures," John says. "And people just stare at it."
Sign up to get your bins spic and span and sparkling at our website down below or call us or just flag down their truck and sign up on the spot.
$8.30 a month to have your bin germ-busted; half price for each successive bin that has trash pick up on the same day; no long-term contract necessary.