For All of Your Gate, Fence, Shutter and Hurricane-Protection Needs
by Melissa LaScaleia
Gator-Strong Services of Myrtle Beach designs, installs, and services gates, fences, and hurricane shutters for their clientele along the Grand Strand and stretching into the Georgetown, Horry, Wilmington, Brunswick, and New Hanover County areas.
The company is jointly owned and locally operated by Danny Vulin and Jim Leone. Danny met Jim when the former was the owner of Metro Fence, and Jim, the owner of Fence Source. Jim was a firefighter in New Jersey for eighteen years before getting into the fencing industry.
"Jim was one of my distributors," Danny says. "I sourced a lot of materials from him, and we were in contact often. Over the years, we developed a strong working relationship and a good rapport, and eventually decided to become partners. We merged our companies and opened Gator Fence together in 2017."
Danny grew up working in the fence business; and before Gator Fence, operated his company in the Grand Strand area for ten years.
"When I first started, I was working out of a storage unit with one truck," he says. "Today we have twenty employees and six vehicles.
"We are an incredible team, and definitely like a family. The manager of the fencing division is Megan Dresner. She used to run a company called Independent Fence, and I used to purchase a lot of material from her. 
"The manager of the hurricane division is Jim's wife, Anne-Marie Leone. Linda Harris handles all of our H.R. and bookkeeping; Jeremy Rickrode is our sales manager; Jeff Camp is the field supervisor; Tom Chuvala is our IT manager— he's been with me for six years; one of our sales reps, Bill Lynch has known Jim since the 6th grade; and Dean Cooper, who runs our shop, has been here for five years. Our operations manager, Chris Mitchell, and salesman, Raymond Johnston just joined the family."
Danny lives in Wilmington, in Carolina Beach, and Jim, in the Market Common.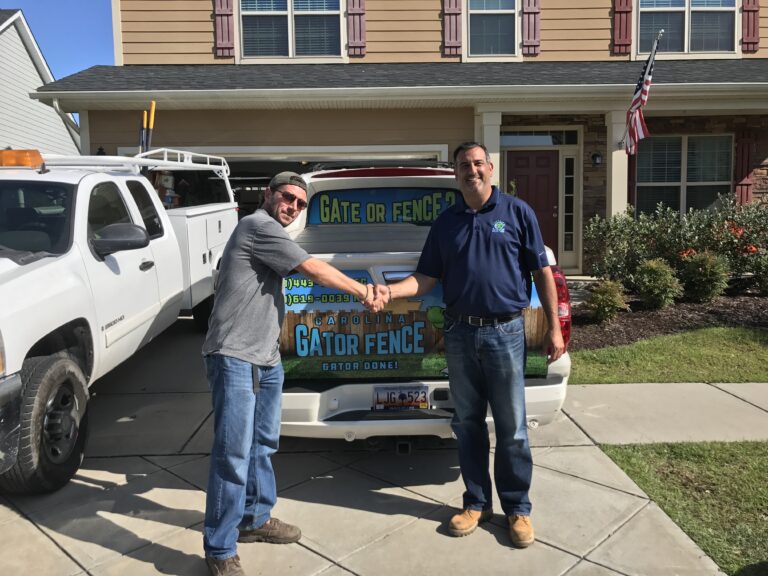 "Where we are right now, between Brunswick and Horry County, they're two of the fastest growing counties in America," Danny says. "The amount of people moving here increases all the time. The market is in a spot where we have a lot of new construction and new communities, and people need fences and gates. Everything is growing. And the range of territory we cover— from Wilmington to the Market Common, to Pawleys and beyond, ensures that we can meet all of our clients' needs."
The company offers any kind of fencing for any need— privacy, decoration, safety— for pets and children, and around pools. They also install gates and higher-end security and access control systems for residences as well as commercial applications.
The quality of their work and the extensive number of years both have in their industry garners them many high-profile jobs. 
"We've installed all kinds of access systems for communities and apartments, and have built fencing and gates for several baseball fields in the Myrtle Beach area as well as Coastal Carolina University," Danny says. "We also installed gates and access control panels for the Wilmington and Myrtle Beach Airports."
Gator-Strong manufactures the fencing for their vinyl fence at their facility in Myrtle Beach, so they can custom design everything to their clients' specifications. They also offer aluminum, wood, and chain link fencing, and more recently, hurricane shutters. 
"When Hurricane Florence hit in 2018, I evacuated to Augusta, Georgia, and Jim to New Jersey," Danny says. "Neither of us could get back for two weeks, and our company was shut down for about a month because of the devastation in Wilmington and the flooding in Myrtle Beach."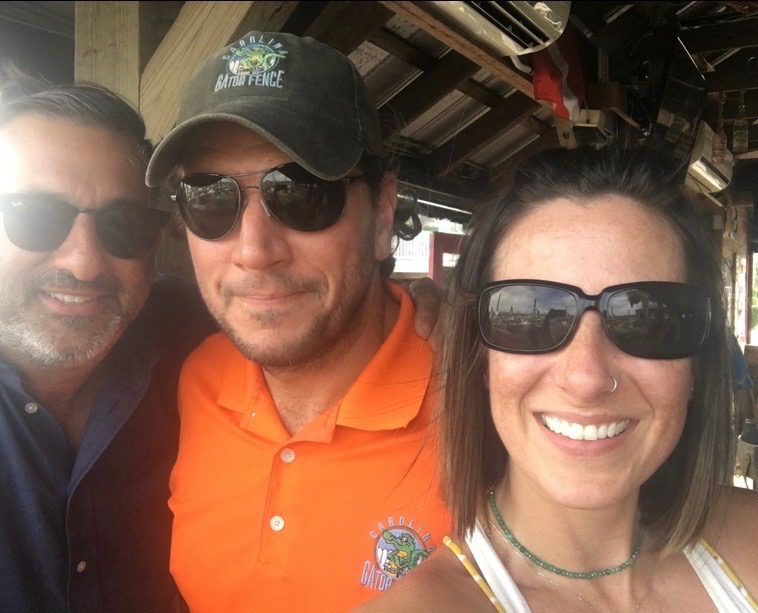 It was then that the two began to look at expanding their offerings in the form of hurricane shutters. When preparing for a hurricane, Danny explains, it's important to board up windows and doors, even ones that aren't glass.
"If a window breaks during a hurricane, the amount of water that can come through the glass is unbelievable," Danny says. "Even if you don't have breakage, the pressure can allow water to get into the seals of the window, and the water can then seep into the walls of your house. Recently I came in contact with a woman who was selling her house and had to replace an entire wall because of all the water damage that had accumulated over the years that she wasn't aware of. Sometimes the damage is happening and you can't see it, and it creates a lot of problems down the road."
Boarding up is important, but it's also not feasible for many. Anybody who has used plywood knows how difficult it is to fit properly, and it doesn't retain its structure with repeated use. The experience in 2018 led Danny and Jim to explore window and door protection options to offer the community.
By 2019, they had opened an entirely new company, Gator-Strong Hurricane Shutters. And this year, merged it with Gator Fence to become what they are today— Gator Strong Services.
They still offer the same services, but now, all under one name. The hurricane division designs, installs, and services all different styles of hurricane shutters including, storm panels, motorized roll downs, accordions, and Bahama shutters.
"The panels are lighter and easy to put up in the event of a storm," Danny says. "There is a permanent track around the perimeter of the window, and if a storm is coming, you install the panel. Roll-downs will roll down into place with a hand crank, or automatically, with the push of a button. We have options to accommodate and protect any window or door in seconds. We also pride ourselves in educating each customer in order to ensure that the type of shutter picked out will meet the customer needs."
There's also the additional security benefit of shutters.
"A lot of second homes have shutters on during the off-season to protect not only from storms, but also theft or vandalism of their property while the owners are away," Danny says. "Many stores, especially restaurants, cafes, and seasonal businesses in the area, opt for roll-downs because they offer protection from the physical elements as well as human ones during the off-season."