The Family Entertainment Group that Focuses on Fun
by Melissa LaScaleia
Lazarus Entertainment Group is a family run business comprised of second and third-generations working together to bring the best of family entertainment to the Grand Strand. The group offers three of the most premier attractions for fun along the Grand Strand: Broadway Grand Prix, Wild Water & Wheels, and Myrtle Waves Water Park. 
"My grandfather, Jack Lazarus and his wife, Bonnie, started with their first park in 1976 after moving to Myrtle Beach from Gastonia, North Carolina," says Christina Watts, the marketing director for Lazarus Entertainment. 
Someone mentioned to Jack the idea of a competitive go-kart track and opening one in Myrtle Beach. He thought it sounded like a great idea, and the rest was history. 
"They opened the Grand Prix on the south end of town," she says. "It began as adult competitive go-kart racing for ages 16 and up. People were passionate about it right out of the gate; if you were a true racer at the Grand Prix, then you had your own personal license from the track. There are people who still keep it in their wallets to this day." 
The track gained such popularity that it was even referenced in the movie, The Perfect Storm with Mark Whalberg. On December, 2016, Dale Earnhardt, Jr. gave it a shout-out by posting a photo of himself in a go-kart at the track on his Twitter account with the caption, 'If you were at the Myrtle Beach Grand Prix in 1993, you might have gotten your a** kicked.'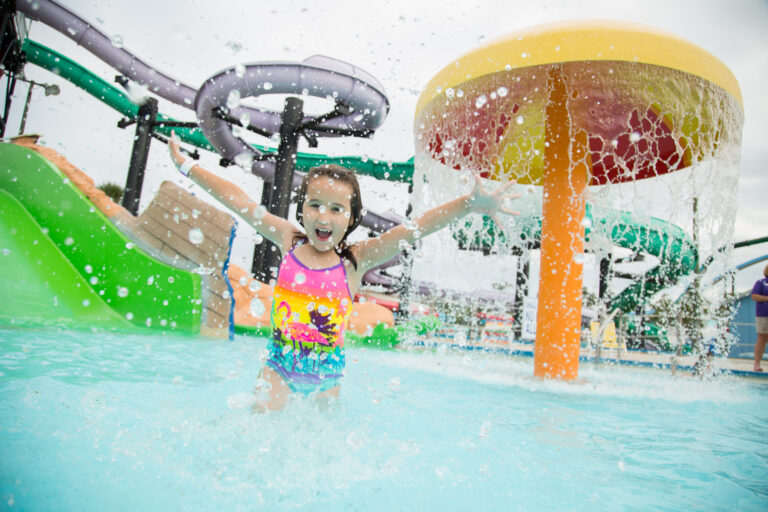 What began as adult competitive racing over time evolved to become more family-oriented, with a second location opening in North Myrtle Beach. Today the Broadway Grand Prix offers seven kids rides, bumper cars, an arcade, minigolf courses, a rock-climbing wall, and seven go-kart tracks. 
The variety of tracks gives patrons of all ages and sizes the experience of what it's like to race cars on a small-scale, so it's an activity the entire family can enjoy. Admission is also free, you pay only to race— so those who want to be a part of the fun but forgo the actual racing, can spend time watching or enjoying any other number of available activities. 
"We have a full, 20,000 square-foot arcade comprised of ninety games that was newly renovated this year," Christina says. "It includes a Max Flight Simulator, a fully interactive simulator that can perform 360 degree motion over two axes. This year, we also rolled out a brand new card-reading system. The Pitt Stop Cafe offers a variety of food and beverage, snacks, and ice cream. It's connected to our indoor go-kart track, Slick Track. And the remainder of the park is all outdoors." 
In 1989, Christina's father, Mark, and his brother, Robbie, worked alongside Jack to build Wild Water & Wheels, a full-fledged water park with speed slides for thrill-seekers; tube slides for families; and mat slides, which land somewhere in the middle in terms of required derring-do. There's also a wave pool, lazy river and minigolf.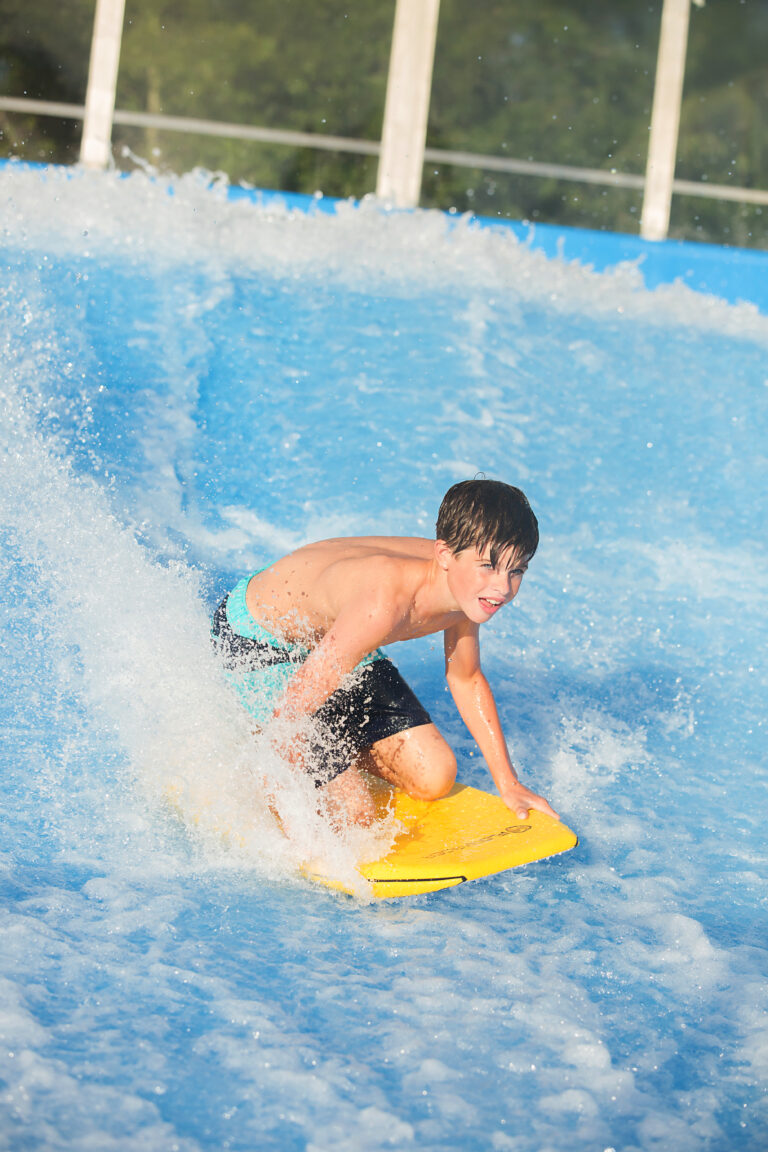 "Over the years we've added more slides, but it retains that same old-school, nostalgic, '90s feel," Christina says of the park. 
Their family couldn't resist— and installed go-kart tracks as well, inspiring the parks's slogan, "Cool down in the water, heat up on the track." 
"This park is great for families because we have kiddie attractions: Wally's Lagoon; a kiddie pool; and Wee Kids Water World," Christina says. "There are lots of little slides— it's a great place to bring the smaller kids and give them hours of things to do." 
The park has food and beverage options and offers cabana rentals so families can comfortably make a day of it. Wild Water is open until 8 on Fridays for Friday Family Fun; they also have Sunday Fundays and Manic Mondays with special pricing. 
Myrtle Waves is another family-oriented water park under the Lazarus umbrella, but with many options for thrill-seekers. Lazarus Group purchased the park in 2017, revamped it, and turned it into a full-fledged park that truly offers something for everyone, at every stage of life. It is the largest water park in the state, featuring twenty-two slides and attractions across twelve water rides, with 1.2 million gallons of water. 
Some of their rides include Rockin Ray, Arooba Tooba, Tsunami!, Night Flight, a lazy river, a wave pool and a FlowRider— an attraction that gives you the experience and thrill of what it is like to surf on a wave.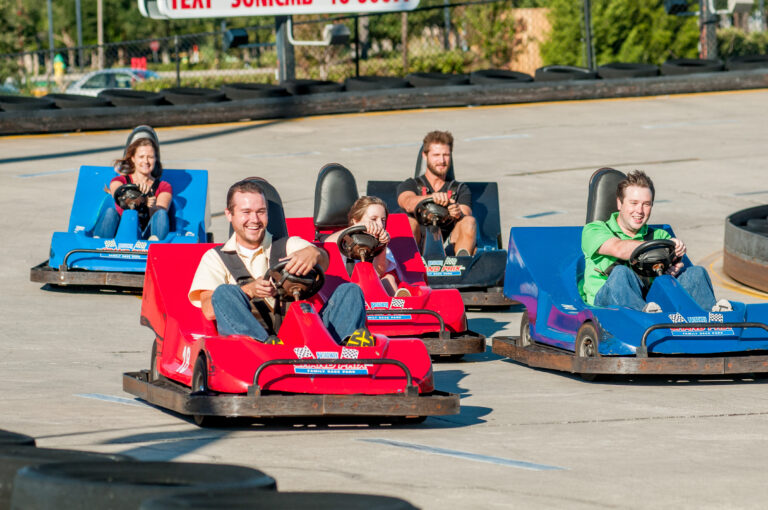 "Myrtle Waves is a really fun atmosphere," Christina says. "We have kid's play areas, including Saturation Station, an interactive play structure designed to accommodate smaller guests with three open-body slides, and a volcano waterfall bucket. It's a very popular spot." 
On Friday nights, Myrtle Waves is open till 8pm so people can slide while the sun is setting— always a popular experience. And, to allow patrons the most uninterrupted fun, you have the option of ordering food online and picking it up when it's ready so you can skip the wait in line. 
Myrtle Waves has a beer garden too, so adults can sip on what's on tap while watching their children float down the lazy river. The garden area is not exclusive, any age is welcome— but acts as a lounge area where people head for a more relaxed vibe and a pause from all the rest of the fun. 
The entire Lazarus family works together to make these entertainment parks the fun and memorable places that they are. The perfect way to catch your fun in the sun this summer.