Karen Houghton Speaks About Owning The Wig Shop
Karen Houghton has been in the beauty world since 2004, when she started her own business, "I loved making people feel more beautiful, but I was looking for something else to tie in with it," she says. "I've always loved hair and doing hair. So I bought a salon for a short time, but it was not for me. I just didn't feel like I was giving back."
"I had a friend go through stage four ovarian cancer in 2009 just before I moved here," she continues. "To use her words: 'just to go into work and feel human, was a struggle.' One of her biggest concerns besides her health was the loss of her hair. Once she got a wig, she said, 'I feel normal now, without people wondering if I'm sick.'
"For most women, their hair is a high priority, and an identifying factor. Having a wig took the worry for her, out of how she looked. Once she felt more like herself, then she could focus on her health fully."
When the opportunity to buy The Wig Shop in Murrells Inlet presented itself in 2014, Karen, touched by her friend's journey, and inspired to help others in similar situations, jumped at the chance. Right now, her makeup is available online and at the shop by appointment only.
"It's important that my makeup is all natural," she says, "it doesn't have any ingredients that could hurt somebody with a weakened immune system. So it's a great complement to my shop."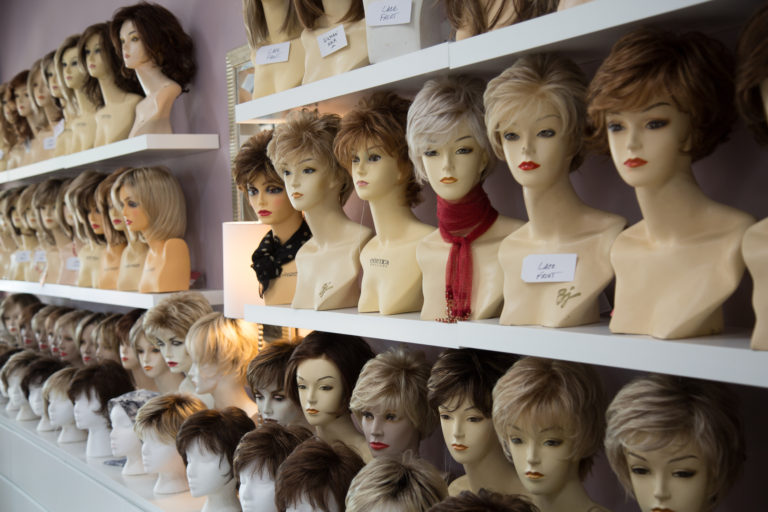 The greatest number of Karen's customers are cancer patients. But there are other reasons too, why people shop for wigs.
"A lot of people, young and old these days, are experiencing hair loss or thinning hair, from mild to extreme," she tells me. "Our society leads a stressful life—with medications, and diet— it's not only the elderly who lose hair."
"I just had a girl last week who colored her hair herself, and she was terrified and so in shock by what she did, and wanted a wig," Karen tells me. "There are others who just like wearing wigs, like shoes, and they don't care who knows it. You'd be surprised how many types of situations there are."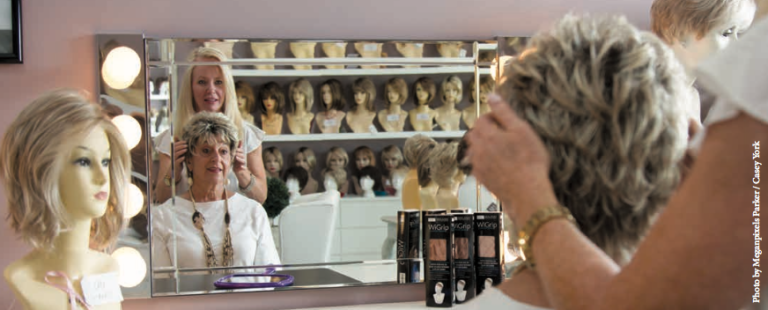 Karen sells synthetic and human hair wigs, and she also carries toppers and clip-in extensions, and a small selection for men. Anything she doesn't have, she can find.
Her biggest selling styles are synthetic wigs because they're so easy to care for— making them an ideal choice for anybody going through illness. There are all types of caps that the hair attaches to, so natural in appearance that if the hair flows back in the wind, it looks like your own scalp underneath.
"Wigs have come a really long way," Karen says. "They're not our grand- mother's wigs anymore. It's really tough to tell when someone is wearing one. They can be as light as two ounces, comfortable, and very stylish."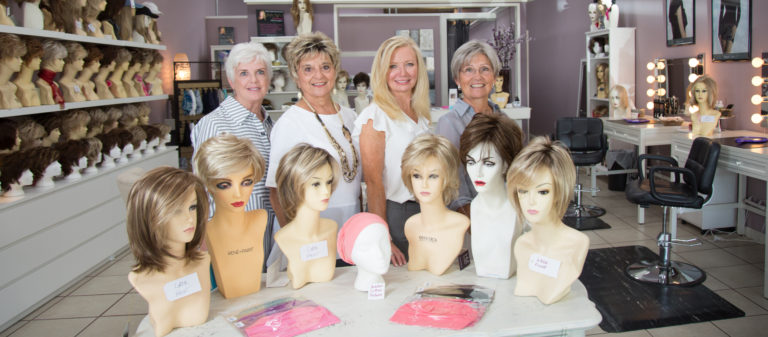 "We work with so many women in this area," she says, "all the way from Charleston to North Carolina. You'd be surprised how many people say, 'why don't we have this in Charlotte or Charleston?' We're really one of the largest and nicest shops in the area. And it's really convenient to Market Common. We just have a great reputation as well as a huge selection; and we stock the highest quality wigs. There's some lower-end things you can find online, but that's not what we specialize in."
Because of her friend's experience, Karen is aware of the challenges people face emotionally when shopping for a wig. So she created a clean, new, boutique-like environment that feels welcoming, relaxing, and chic.
"We just have to so much to offer to help people with whatever they're going through," she says. "There's four of us who work here, and a few of us wear wigs, and a few of us don't. But I try to hire people who are knowledgeable about hair, to add to peoples' comfort levels."
"I'm very adamant about not selling something that doesn't look good on them," she concludes. "We don't want them to walk out of here unless they look good and feel good about it."
Discounts for customers with cancer or alopecia. Some insurance companies will reimburse the cost of a wig, check with yours.
To learn more about some of our other local businesses, click here!