Another Tango Comes to Life At Coastal Dance Studio
by Melissa LaScaleia
Market Common has been placed officially on the stardom map. This past August, the production company, G It's Entertainment, filmed Another Tango at Coastal Dance Studio on Deville Street. G is based in Murrells Inlet and films all over the country— but the majority are produced in South Carolina.
Christian Brunetti is an associate producer and actor for this project— his first with G. He's been in TV and film for five years, and has worked on both sides of the camera as actor, producer, and stunt coordinator.
As a Charleston native, he appreciates that this movie is a feel-good, family-friendly feature that shows the small town culture of South Carolina in a positive light.
"I want people to realize that South Carolina is filled with amazingly talented artists. And we're fortunate to have the South Carolina Film Commission which is so supportive— they help out aspiring artists with grants, free classes, and all kinds of resources," he says.
Christian loves the environment of his career: "I'm constantly surrounded by people who not only dream about doing big things, but also go out and make it happen," he says. "As an adult that's what I thrive on, but as a father, I love showing this to my children. I definitely couldn't do it without their support and that of my fiancé, Meghan Burgess."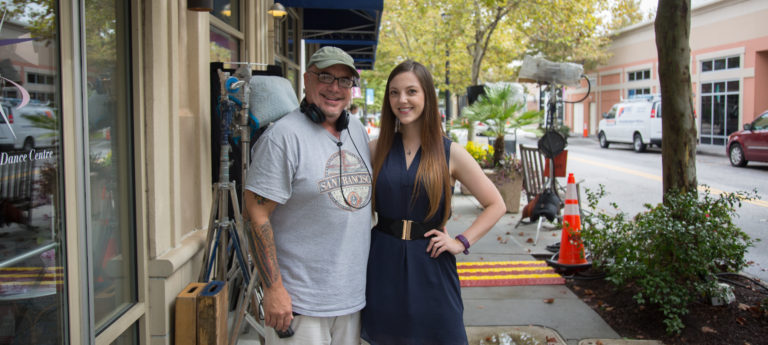 Ethan Kaiser, who works on the production side with G, moved to Pawley's Island 8 months ago. He's the second cameraman, and ensures equipment is set up properly for the director.
His interest in film and photography began in high school.
"I like how you can edit and deliver things in such an interesting way," he tells me.
That interest translated into professional projects, and his goal is to work his way up to shooting his own films on a larger scale.
Lexi Giovagnoli, the film's main actress, moved to Pawley's Island when she was 7 years old, and grew up dancing competitively under the tutelage of Liza Mata, at Coastal Dance Theatre's Murrells Inlet location. She moved to LA when she was 15 to pursue acting. Her previous films include: Accidentally Engaged (which was shot in Conway), Honeymoon from Hell, All Hallows Eve, Sweet Home Carolina, and A Fish Tale.
"I grew up watching film with a feeling of awe about what was happening on the screen," Lexi says. "I wanted to be able to give that joy that I felt as a child to other people."
"Another Tango is about a girl who was a dancer in South Carolina, and in later years, that hometown studio falls on hard times," she says. "Yes, there's a romance involved, but it's a very fun movie, and it brings back my childhood and allows me to share that with a new audience of people."
Lexi loved filming in the Market Common.
"The people who work for the Market Common, and the business owners, anytime we were shooting, and even dealing with equipment outside, were always so welcoming, accommodating, and happy to have us. That's not common in the film industry. But here, people were willing to do whatever they could to make production easier. I'm a local, and I want to bring as many projects as possible to this area."
Another Tango is set to release in about a year. Visit G It's Entertainment for more info. Learn more about Christian Brunetti at Learn more about Ethan Kaiser here.
To read more featured stories, click here!