Jim and Ashley Close My Deal
by Melissa LaScaleia
Feldman & Melton Law Offices serve the clientele of the Grand Strand with offices in Myrtle Beach and in Conway. 
The primary focus of the firm is real estate transactions; they also handle wills and simple estates, as well as LLC and corporation formations. 
"I grew up in Buffalo, New York, but I used to vacation here as a kid," says Jim Feldman, owner and joint-partner of the firm. "I've been coming to the Grand Strand since I was six years old. My parents bought what they thought would be their retirement home down here, and no one was living in it when I finished law school. So I took the SC and NY bar exam at the same time. I got a job offer in NY, but I thought I'd give it a shot down here first. So I did, and I never went back." 
Jim had his own firm from the time when he first moved here until 2009. After the economic banking crash, he closed it and took a year off. He worked for a couple of firms for a few years, until he reopened his practice again in 2014. In 2017, he hired Ashley Melton, from Murrells Inlet, as an associate; she became a partner this past February. 
"In 1998, a buddy of mine reached out to me because he had just bought a house," Jim says in recounting his journey in the practice of law. "He needed a real estate attorney for the closing, and knew I was a lawyer. I told him that I didn't practice real estate law. He was unfazed, and told me, 'Well, I can't afford to pay a lawyer, so I need you to do this for me.' 
"Twenty years later, it's the primary focus of my practice. Before this, it was a general practice involving some accidents, injuries, workers comp and social security disability.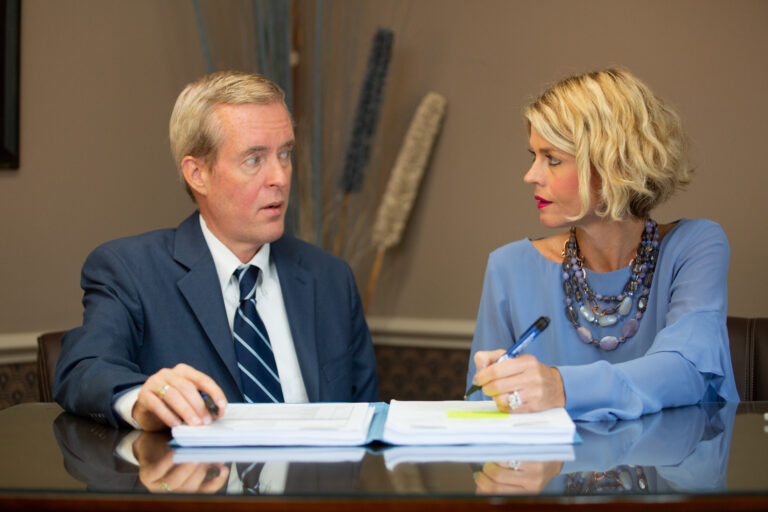 "I consider myself a people person. Ashley is as well, and that's why she's a great fit here. With this line of work, you are constantly involved with many people. When I was practicing other types of law, I had one client— but with real estate, there's usually two realtors, an appraiser, a banker, and clients. There's so much interaction with individuals, and we both thrive in that type of environment." 
Jim and Ashley are both very active in the community. Jim is the past president of the Grand Strand Optimist Club— a civic club which is geared towards helping children in the community. 
The club runs programs like scholarship contests, and built a handicap accessible playground at the Pelican's Baseball Field. They also host a bike safety day, where helmets are passed out and the local police teach kids the rules of the road so they learn how to bike safely.
Jim is a graduate of Leadership Grand Strand. And Ashley is currently a member of the Coastal Carolina Association of Realtors Leadership Class. She also sits on the hospitality committee for that same group. Ashley just finished up her involvement with CCAR's Mark Sloan Annual Golf Tournament for charity. Ashley can also be found in her active role as a member of "Sunshine and Salty Secrets," a real estate based informative marketing program on social media.
"My parents have retired now, and live here in Horry County," Jim says. "And Ashley's family still lives here as well. Her husband is in the real estate mortgage business, and they have three beautiful children that they're raising here." 
Jim is licensed to practice in New York State as well as South Carolina.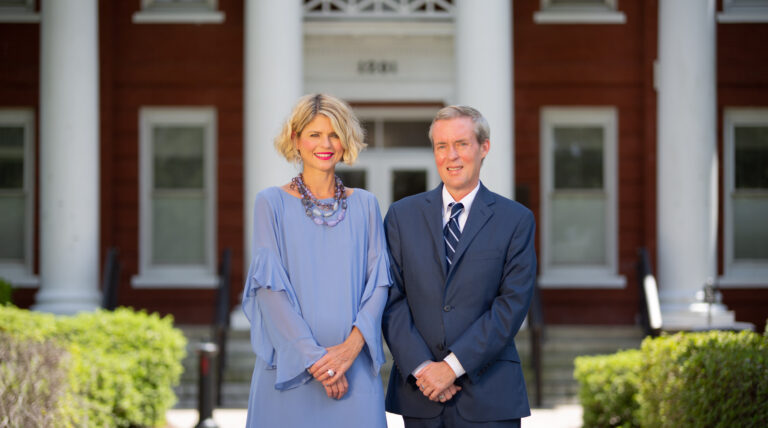 "I find that there are a lot of people here who are transplants like me," Jim says. "Often people have complex transactions, selling a home in one state and buying in another. It can be comforting for some folks to have an attorney who is licensed in NY as well." 
"We are very much hands-on, here," he adds. "Ashley and I are always the first contact that our clients receive. We reach out to them personally to introduce ourselves versus having someone from our office do it. We think that that's good business. We want them to know who is working for them. We think that the client appreciates it." 
To enhance their accessibility, Jim and Ashley both have their direct cell phone numbers on their business cards. 
"A lot of times people have questions on weekends when they're viewing properties, doing walk throughs," Jim says. "So we're available even after the business day ends." 
Serving his clients to the best of his ability is also what motivated Jim to open a second office location. 
"Now we have one in Conway, and one in Myrtle Beach," he says.  "That allows us to rely on the realtors and the clients to let us know which office is more convenient for them to meet at." 
Feldman & Melton Law Offices
1204 3rd Ave., Conway, SC 29526
and
2411 North Oak Street, Suite 305A, Myrtle Beach, SC 29577
843-488-2950