If a Website Is In Your Plans, Put It In eNation's Hands
by Melissa LaScaleia
eNation Worldwide is a digital media firm that helps the small to mid-sized local business owner increase their business through digital marketing using tools such as web design; SEO (search engine optimization); social media marketing; SEM (search engine marketing via Google ads, Facebook ads, etc.); mobile app development; and more. 
"Our mission is simple: to use our digital tools to get your business found online," says founder and CEO Jacquie Gonzalez. "We do everything we do—web design, social media, etc. —through the lens of SEO." 
eNation wants to ensure that they are putting your brand into the hands of your potential customers. As such, they keep up with over forty different ranking factors that Google considers to be important— so that you don't have to. 
"One wouldn't start a business without a plan," Jacquie says, "and when we work with our clients to create a website, or perform SEO, or run Google ads, or post on social media, we have a solid plan to get your business from being lost in the shuffle, to being found." 
Jacquie worked in advertising and marketing for twelve years with Next Media Radio. By 2006, she perceived a growing need for small businesses to have their own websites as well as tools to make their name known. 
She began her company to fill this gap, here in Myrtle Beach. 
"I didn't know a lot about web design, but I knew a lot about how to help a business with marketing and advertising," Jacquie says. "I met a young, talented web developer who wanted to work with me, and for the first year, I took him with me to every client meeting. He was able to answer technical, web-related questions, and I helped people determine their goals for their new websites in terms of how it could grow their business.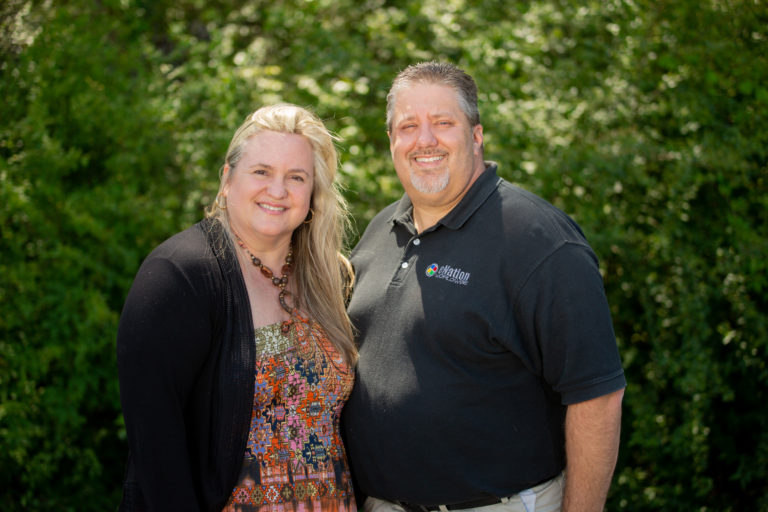 "My goal was to bring the consulting side to web design. I found that most web designers at the time were coders who knew very little about marketing. I knew very little about code, but a lot about marketing." 
Over the next two years, Jacquie gained a lot of knowledge. In 2008, she became certified in search engine optimization—long before Google was a major part of the local advertising scene. She knew it was coming though. 
"Seeing and perceiving trends is something I am good at," she says. "And I knew that digital would soon overtake local advertising with lightning speed." 
In 2010, the company was offering social media marketing as Facebook was on the rise. Soon, they were the first full-service digital marketing firm in the Myrtle Beach area. They also became a national vendor for digital services for a radio marketing company. Over the next five years, they amassed over 300 clients in Myrtle Beach, across the U.S., and in Canada. 
In 2012, Jacquie's husband, Drew, retired from a twenty-year career in the restaurant management industry to work with his wife full time as co-owner and social media manager. 
Today, eNation Worldwide has a small team lead by the couple. There is Tom Morgan, their lead web developer who has worked with them since 2007; Joanne Arneburg, who worked with Jacquie as an SEO apprentice for five years, and continues to work with SEO clients; Renee Midrack, their professional writer and content creator; and JJ Sierra, who started as an intern from Coastal Carolina University, and now works with them part-time.   
"We all live and work here in Myrtle Beach and the Grand Strand," Jacquie says. "We love this area, and love seeing it evolve and change." 
Just as they love seeing their own and their clients' businesses grow.    
"The very nature of our business is all about continuous evolution," Jacquie says. "Nothing stays stagnant in our industry. We have to stay ahead of the curve, keep our thumbs on the pulse of Google, and make sure we stay ahead of changing technology to give our clients the best competitive edge. That being said, doing all the right things consistently over time is also a big key to our growth and success. The methods may change, but the approach doesn't." 
By the time of this printing, eNation Worldwide will have just launched a new mobile app. Called My Insider, this is an awesome app for locals and tourists in Myrtle Beach to take advantage of everything the community has to offer. 
"Most of our business comes from referrals from our current clients," Jacquie says. "We love the relationships we have built with our clients over the years, and are passionate about supporting them. We truly put our hearts and souls into our work. We readily make ourselves available to our clients and offer 24/7 tech support. 
"As far as SEO, there are very few people in the country who have the experience, certifications, and intuition that I have, which gives our clients a competitive advantage." 
eNation Worldwide offers a free SEO analysis of your current business website, Google rankings, social media accounts, as well as that of your competition. 
"We will look at your business through 'the eyes' of Google and provide a road map to get to where you would like to be," she says. "We would love the opportunity to work with you to grow your business." 
 1293 Professional Drive, Suite D
Myrtle Beach, SC 29577
  843-340-2577
 Facebook @ Myrtle Beach Web Design and SEO