by Melissa LaScaleia
Elko Spas, Billiards & Pools is family owned and operated by local husband and wife team Michael and Kimberly Elko along with their talented sales and service team. 
This year, they are celebrating their 15th year of business at their store located near the Market Common.   
Locals have voted Elko the number one dealership in the spa and pool industry for many years. Their store walls are covered in awards, as the company has earned recognition both nationally and internationally in the arenas of customer service and dealership quality. 

Elko has been a HotSpring showroom for over 30 years, and the owners pride themselves on being industry experts who sell most brands of Hot Tubs, pool tables, game rooms, swimming pools, Swim Spas, and saunas. 
They are an authorized service and repair as well as a warranty center for most major brands, but are capable of repairing everything. They cater to commercial as well as residential clients, offering swimming pool and hot tub cleaning and maintenance; they also have a team that specializes in servicing HOA communities' facilities. They offer free testing of the quality of your pool and spa water, and provide solutions for optimal water health.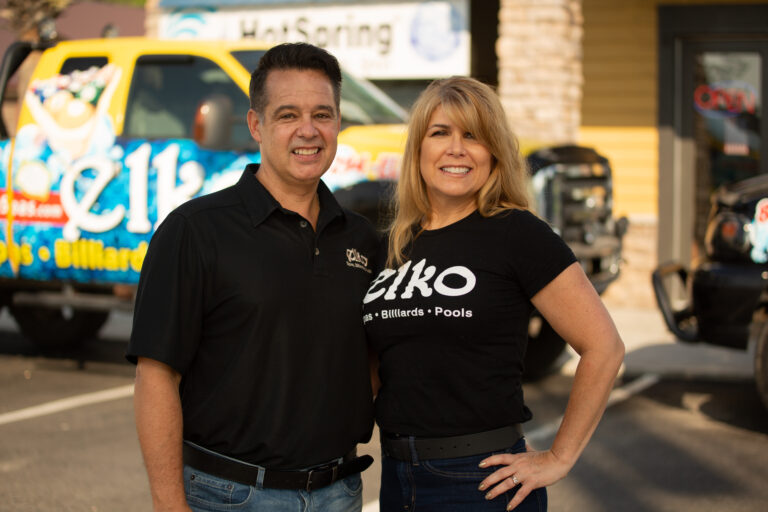 "We have a lot of people who visit Elko Spas looking for relief from arthritis, sleep disorders, and fibromyalgia," Kimberly says. "There are many illnesses that a HotSpring spa can address. It can also counter stress and injuries, and help relax children who are hyper and stressed. I call the spa the new dinner table, because it's a place to relax and reconnect— the conversations flow with ease. Hot spring spas make every day better." 
Visit their store for unique gifts and a unique experience— including all the accessories and supplies you need for your pool, spa, and game room. 
Elko also sells commercial outdoor furniture, and offers free design work for your spa/game space, be it outdoors or in. They build Imagine and Alaglas fiberglass in-ground swimming pools with custom 3D design drawn from scratch by Michael.
Isn't it Time to Relax?!
Elko Spas, Billiards & Pools
4718 Hwy. 17 Bypass South, Myrtle Beach, SC 29588
843-294-ELKO
M-F 9am-6pm; Sa 9am-5pm; After hours by appointment