Robert E. Wilkins, Jr. Will Put You in a Reliable Car
by Melissa LaScaleia
Robert E. Wilkins, Jr. is the senior sales and leasing manager for East Coast Volkswagen and Honda of Myrtle Beach. 
"I moved here four years ago from Fayetteville, North Carolina," he says. "And I began working here after I moved. I earned certifications in sales of specialty cars, specifically Volkswagen. Now I'm Volkswagen Elite Sales Trained (VEST) certified, which means that I know the ins and outs of a Volkswagen, especially with the newer technology, because a lot has changed with cars over the years." 
Before working for East Coast Volkswagen and Honda, Robert worked in distribution for Food Lion in Fayetteville for thirteen years. 
East Coast Volkswagen buys, sells, and leases used and new cars. All of the cars that they take in as trades undergo a 112 point safety inspection at their repair and service center before being turned back out to the sales lot for customers' perusal.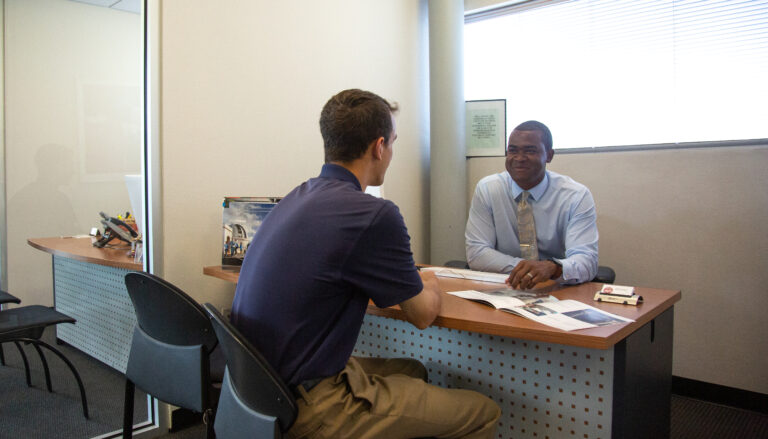 The dealership takes pride in its ability to secure financing for people who have been told no elsewhere. Those with subpar credit scores, who would elsewhere have to pay cash for a car, are able to get loans here. That means that people who aren't able to buy a reliable car elsewhere have a chance of owning one if they shop here.   
"Myrtle Beach has a high demographic of waiters and servers," Robert says. "They generally have a hard time getting financed because their income isn't consistent. But we are able to get them financing and into solid, dependable cars. It's important to me that I'm able to provide a car for someone who otherwise would probably only be able to buy something that hasn't been examined, and may or may not be reliable." 
Helping customers out is Robert's passion for good reason. He knows what it's like to be on the receiving end of a bad purchase. 
"The first car I ever bought as a teenager was leaking transmission fluid a few days later. Over the next year, every time I drove it, I was scared it was going to break down on me. I was always putting money into it. I don't want others to have the same experiences I had— starting out young, trying to get something that works. I want people to be able to depend on their car so they can enjoy life, and accomplish everything that their life demands.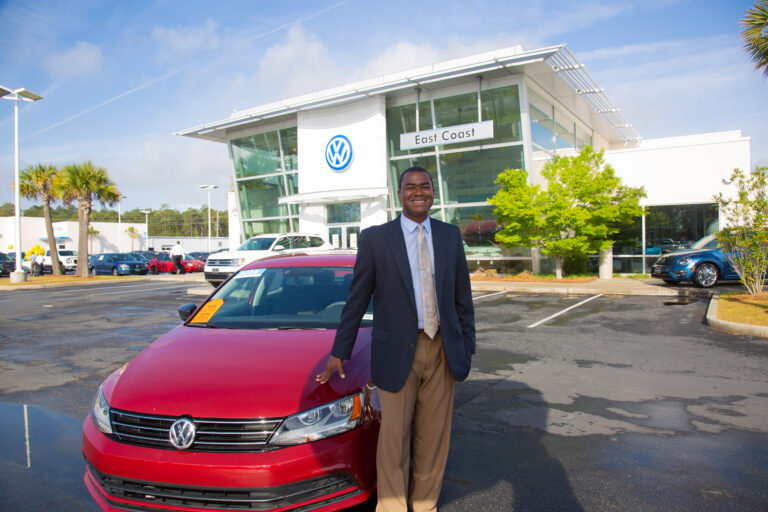 "People come in here all the time who have just purchased cars that are broken, and need another one. I want to sell people cars they can rely on— to know that when they put the key in the ignition, it's going to start. It's not just about selling someone a car and making money, it's about providing a service to someone and being proud about what I do." 
Robert was voted sales agent of the year for 2018 by East Coast Volkswagen and Honda, and frequently wins their salesman of the month award. The awards celebrate the salesman who exemplifies a strong work ethic, stellar customer service, and consistency. 
"I train and make sure I'm up to date on the latest technology, and help people troubleshoot their vehicles," Robert says. "If I can't sell you a car the same day you come in, I'll work with you. This isn't just sales, it's consulting too. I work with a customer until I can get him or her into a vehicle that's the right fit." 
The dealership is unique in that they keep all of their trade-ins. And they take in about a trade an hour. In addition to brand new Hondas and Volkswagens, they have between 300-400 used cars at any given time. It's the largest selection of used cars in Myrtle Beach with prices starting at $999 and up. They recently expanded the service area and the parking lot to accommodate the growing number of trade-ins they receive. 
So come on down to view their selection, and ask for Robert when you arrive for the best in service and reliability.