The Fifteenth Annual Ground Zero Dragon Boat Festival Saturday, April 29, 2023
by Melissa LaScaleia
The annual Ground Zero Dragon Boat Festival will be held at the Market Common on the big lake in Grand Park on Saturday, April 29. 
A beloved Market Common tradition, the festival acts as a fundraiser for Ground Zero, a non-profit 501(c)(3) organization. Founded by Scott and Kimberly Payseur twenty-five years ago, the organization offers support to students during what is, for many, difficult pre-teen and teen years.
"There are students who struggle to fit in anywhere," Scott says. "So we create a place where everyone feels welcome no matter their background, family situation, or religious beliefs. We are a ministry-driven organization, but we support students no matter their beliefs."
Ground Zero seeks to make a positive impact in these students' lives, to help them develop life skills like self-reliance, confidence, and empathy— skills that will act as a foundation for their future success.
"We establish authentic relationships with students and teach them how to do the same, empowering them by sharing tools they can use in their daily lives to impact the world around them," Scott says. "And we do it by focusing on sharing fun, wholesome, and rewarding experiences with them— both as a means to uplift, as well as to expose them to healthy ways of having a good time."
The Dragon Boat Festival is a perfect example of the type of activity Ground Zero champions— fun, uplifting, unique, and memorable.
"Ground Zero is community-minded which is why we love this festival so much," he adds.
"It brings businesses and neighborhoods together for a fun, family-oriented day," says Stephanie Sebring, advancement director for the organization. "I love what I do because we get to make a positive impact in the lives of kids during the years they're most susceptible to influences that can change the course of their lives. I have children of my own, and I think the best legacy we can leave with them is in the quality of the time spent together."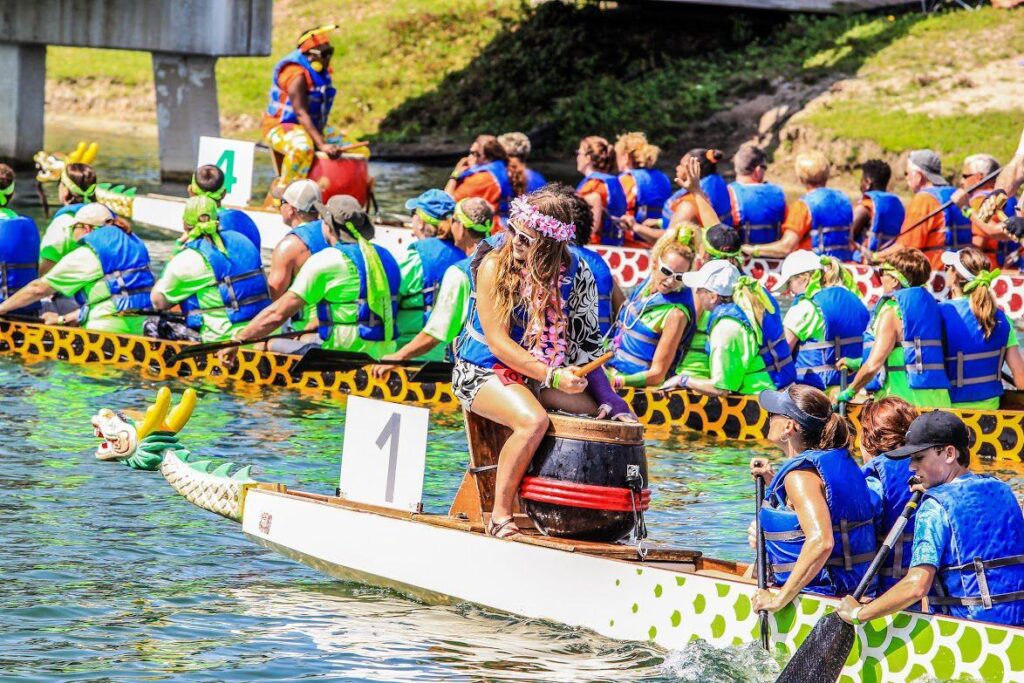 Now in its fifteenth year, the festival draws thousands. People come to watch the ornately-decorated dragon-shaped boats, manned by teams of their friends, colleagues, and community members, race against one another for the best time. The boats are brought in for the event, along with professionals who know how to steer them properly to avoid any directional mishaps on the lake.
Anyone can form a team to fundraise and participate in the races. There are a diverse array of groups who form teams year after year, such as: schools; families; businesses; HOAs; medical groups; gyms; investors; clubs; golfers; churches; and friends. 
Each participant is asked to raise $250, and Ground Zero works with each team to secure additional members, funding, and sponsorship if necessary.
Also manning the boat is a drummer, an individual who, as the name implies, beats steadily on a drum for motivation and to hopefully keep everybody paddling in unison. Each team gets a one-hour practice session the week leading up to the races, which is typically a noisy, uproariously fun time. Then it's time for the big day.
Four boats race at a time, and there can be well over sixty teams. While four are racing, four boats are loading, so there's never any lag in time for participants. There's a first heat in the morning, followed by a second heat in the afternoon, in which everybody races again. They take the best time from all of the teams, and pair similar times up in the final race, around 4pm. In the afternoon, they race the boats with the fastest times and the winning teams are awarded a trophy.
"Holding the festival at the Market Common is part of what makes it so special," Scott adds. "It's beautiful, and the smaller body of water ensures people can see the races easily and watch right at the finish line. If people want to leave, they can explore the area's dining, shopping and other attractions by foot. The setting of Market Common makes the festival unique in addition to the uniqueness of the Dragon Boats themselves."
The festival is host to a variety of other activities including music, food, sundries, arts and crafts, and an adult inflatable area. There are activities for children too, like face painting, a family fun zone, and more inflatables.
This year's platinum sponsor for the event is Dependable Plumbing Service and Air. Other sponsors include: Tidelands Health; Monarch Roofing; Homewood Suites Coastal Grand Mall as well as others.
"These sponsors help support the festival and make our events possible for the youth in our community, as do the participants and attendees," says Stephanie.
Be sure to register for the event early to secure your commemorative and much coveted T-shirt.
15th Annual Dragon Boat Festival
Grand Park in the Market Common
Saturday, April 29 8am-4pm
Free admittance; Family Fun Zone $10 per person for daily pass.
Visit www.GZdragonboat.com to register.
Requested fundraising goal: $250 per person.
To learn more about Ground Zero visit: www.mygroundzero.com
843-945-9440