A Homegrown, Ridiculously Good Restaurant Group
by Melissa LaScaleia
The Divine Dining Group currently owns and manages sixteen restaurant locations along the Grand Strand, with plans to expand this year. 
The oldest concept was the River City Cafes, followed by Ultimate California Pizza in the late '80s; Bubba's Fish Shack; Nacho Hippo; and lastly Pawley's Raw Bar. 
"We are a collection of fast and family friendly restaurants that can offer you just about anything because of the diversity of our group— whether it's fresh seafood, a tasty burger, monstrous nachos or an award winning pizza," says Mike Tomko, director of sales and marketing for the Divine Dining Group. 
"The DDG brand is something that our guests know, in terms of the high quality foods that we serve, the friendly and fast service, and the overall great experience they have dining with us."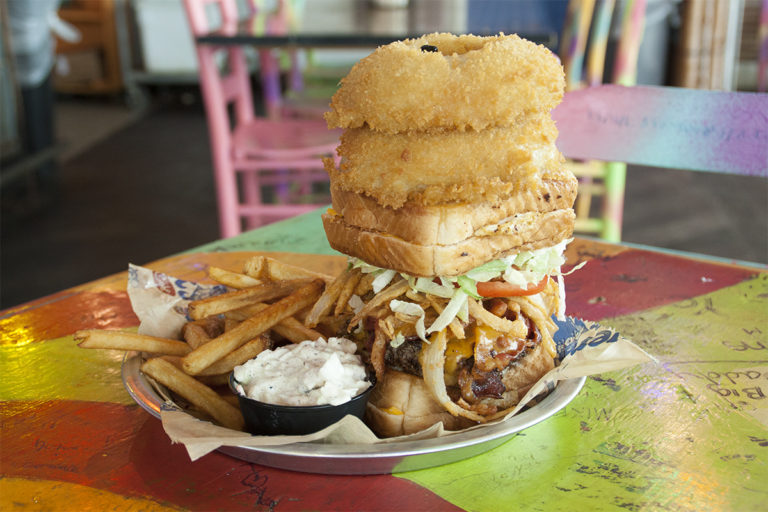 River City Cafe is well known for their award-winning, handcrafted, gigantic, succulent burgers. Among them, the OMG (Oh My Gosh) burger, so named for the reactions it continues to evoke upon being presented to the unsuspecting diner. 
In the words of Mike: "It's massive. Words can't describe it, and you'd be hard pressed to eat it." 
In 2018, the OMG was awarded a "Top 10" burger selected by the Food Network to premier on their episode of 'Most Outrageous Burgers in the USA.' Additionally, it won 1st Place for Best Burger in this year's annual Best of the Beach awards. The recognition explains the restaurant's tagline— it's all about the burger. 
In addition to those distinctions, USA Today voted River City Cafe among their top five destinations to take your family to eat. And with seven locations, all fast, casual, and family friendly, two claiming ocean-front real estate, in addition to a myriad of fun, how could they not be? 
Upon arrival at River City Cafe, guests are provided an unlimited supply of peanuts, and invited to use the floor as a discard container for the shells. It's perfect for kids, and the kid in you who just needs to break out of some strait-laced table manners for a while. 
Table coverings are a blank canvas just waiting for your inner artist to be unleashed in crayon drawings. Equally popular are the collection of license plates from around the country that adorn the walls. Since so many of their patrons are tourists, it makes their guests feel a little more at home to spot their native state and it's something that has really stuck in the memories of their loyal fans.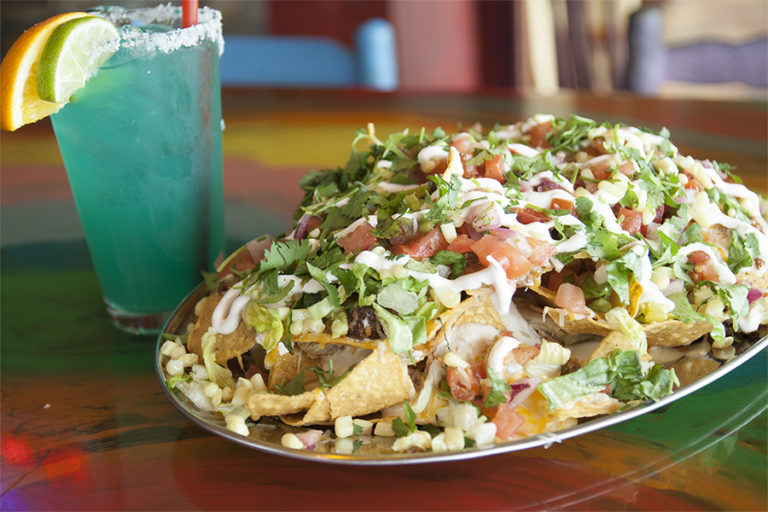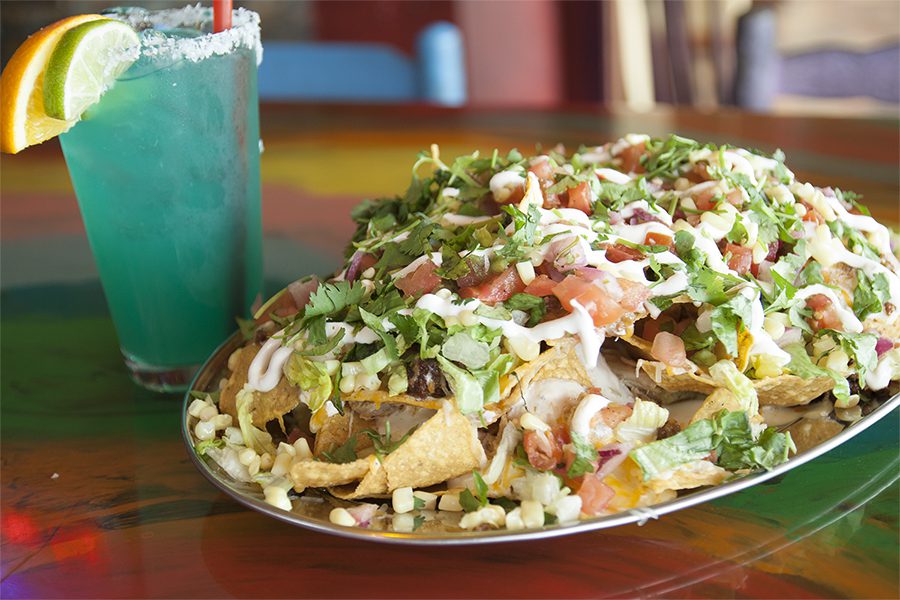 Nacho Hippo— where hip happens— is all about having fun in an upbeat, and mostly open-air restaurant. Here you'll find live music, good energy, and an expansive and creative adult beverage menu. Combine that with an extensive hand crafted food menu and you've made it to the Holy Grail of Mexican cantinas. You can indulge in their twelve different specialty tacos, sloppy burritos, quesadillas, homemade salsas, grilled corn on the cob, or a giant Mexican salad made fresh in a tortilla shell. 
In 2018, Best of the Beach awarded them 1st place for their nachos, and runner-up for best margarita (always $3). Their nacho selections are monstrously huge— a fact from which they derived their name— Nacho Hippo. They serve up hippo-sized nacho creations with toppings like steak, shrimp, pork, chicken, peppers, and fresh veggies.  
Nacho Hippo has two locations and a smaller outpost at the airport. Their location in the Market Common is hugely popular for private parties.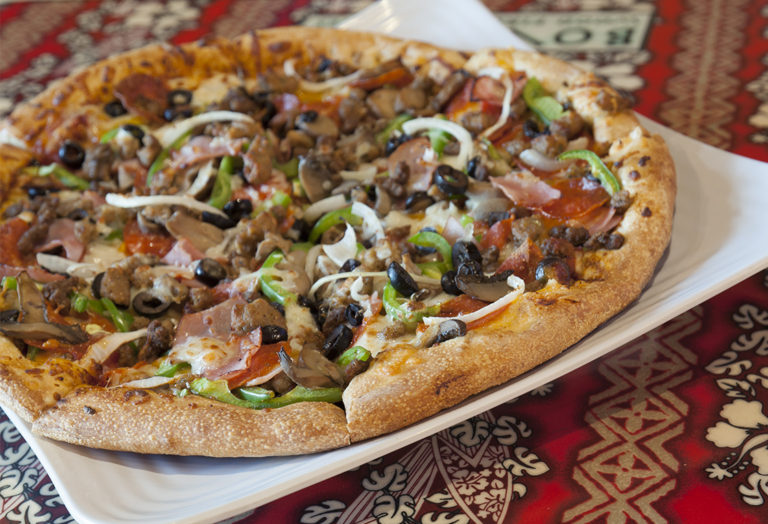 Ultimate California Pizza serves perfect pizza that picky people love. All the pizzas are handcrafted, made with their signature dough and their sauce is a proprietary recipe blended exclusively for them. 
The passion paid— they've come in first for their pizzas with the Best of the Beach award for years; this year they were one of the runners up. They have over twenty-five signature pizzas, as well as gluten free dough and several vegan options. They also have a full menu of salads and subs, and a full bar.    
Ultimate California Pizza has a cool, laid back vibe, with TVs throughout and Top 40 music playing in all six of their locations. And they're the only restaurant in the Divine Dining Group that also delivers. 
One of the five Ultimate California Pizzas uniquely offers a gaming destination called the Game Zone, a massive 30,000 square foot facility which holds the restaurant, arcade with sixty state of the art interactive games, and private dining room for award ceremonies, team gatherings, birthday parties, or family gatherings.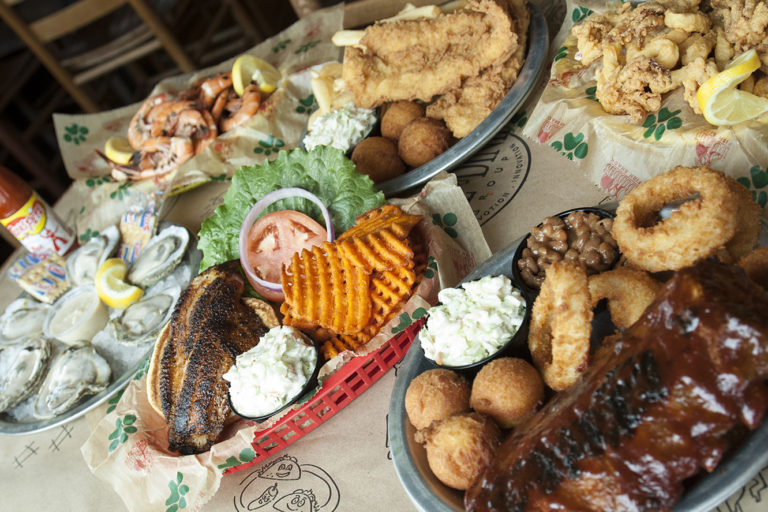 Bubba's Fish Shack literally right across the street from the ocean, specializes in Southern— both hospitality and food— and they do both well. 
"This is a place where you want to keep your flip-flops on and your napkin ready," says Mike. "Because whether it's a rack of ribs, a flounder, or a Captain's Platter with oysters and shrimp, or all you can eat catfish, salads, clam chowder, Southern style BBQ, or a blackened grouper sandwich, we cover the bases when it comes to Southern."
The fast, casual restaurant has TVs throughout, and all kinds of nautical paraphernalia that will help you recalibrate into a slower, Southern pace. 
"People leave extremely happy and saying, 'the meal was almost as good as the service,''' says Mike. "It's easy to just feel at home here. You might be from Maine, or Quebec, but you think after you leave, that you're from somewhere in Myrtle Beach."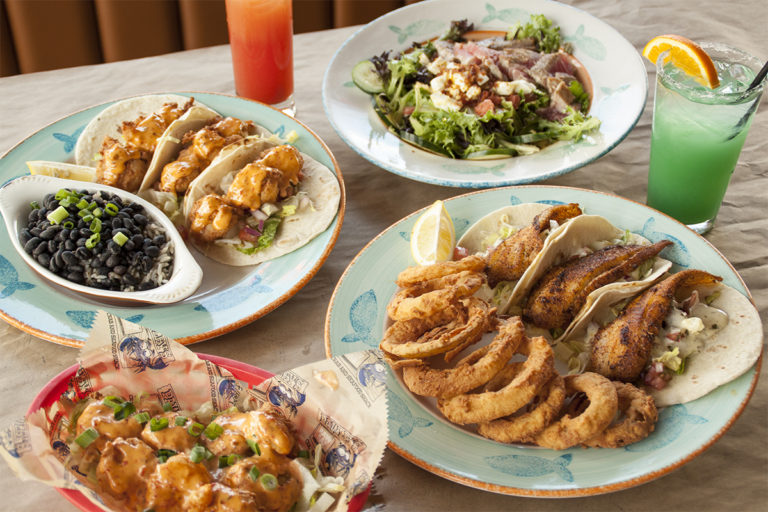 Pawley's Raw Bar is a fun place where you don't mind eating with your hands. It too is a Southern hospitality location— you feel like you're being served by people who are family, and who are happy to see you. It is perfectly shabby, as Pawley's Island is renowned for being, with a wide variety of seafood dishes and styles.
There are five different types of crab, and the steam pot— a one-pot meal famous in the Lowcountry, composed of sausage, shrimp, crab, corn and seasonings— will leave you feeling like you've just gotten out of your john boat in Murrells Inlet. 
The oysters and clams served here are harvested practically down the street, and served however you choose. Pawley's Raw Bar is a must visit when you venture deeper south into more of the Lowcountry. 
The Divine Dining Group is an integral part of the Grand Strand community. In the summer, they employ up to 900 people. They sponsor multiple high school extracurricular activities and are Booster club sponsors to many area schools. In addition, they have donated thousands of certificates for student excellence awards. 
"There are so many events and causes we donate to and events that we sponsor," Mike says.  "And so much goes unnoticed because we do it for the community, not for promotion." 
Divine Dining Group
River City Cafe
21st Ave. N
Myrtle Beach, SC 29577
843-448-1990
Ultimate California Pizza
2500 North King's Hwy.
Myrtle Beach, SC 29577
843-626-8900
www.ultimatecaliforniapizza.com
Facebook @ Ultimate California Pizza
Nacho Hippo
1160 Farrow Pkwy. 
Market Common, SC 29577
843-839-9771
Bubba's Fish Shack
16 South Ocean Blvd.
Surfside Beach, SC 29575
843-232-9798
Pawley's Raw Bar
9448 Ocean Hwy.
Pawleys Island, SC 29585
843-979-2722