An Ohio Valley Tradition in Myrtle Beach
by Melissa LaScaleia
Meet Steve Beatty, the owner of DiCarlo's Pizza, and Jason Blackwell, the manager.  Two childhood friends who grew up together in the Ohio River Valley and northern panhandle of West Virginia.  After graduating from West Virginia University in 1995, Steve accepted an offer to be the quality manager at Wolverine Brass, and moved his family to Myrtle Beach.  Every time they went home to visit (along with everybody else from the Ohio Valley), DiCarlo's Pizza was always the first stop.
DiCarlo's was started by Italian immigrants in 1945.  It's a unique style of pizza, and for its followers, it's something akin to a legend.  Steve and Jason explain it:
"First, it is a square pizza cut in square pieces," they say.  "It's a mix between a Sicilian deep dish and a thin and crispy.  When you think of styles of pizza, you have thin and flimsy, and then you have Chicago, which is a deep dish.  And we're right in between, it's been coined the Ohio Valley style pizza."
"It's flash baked so it's crispy on the bottom and fluffy with lots of air pockets in the middle and top," Jason adds.  "Vegetables and meats get baked on the pizza, the only thing we don't cook on is the cheese and pepperoni.  That's the key— those toppings go on fresh.  We cook the pizza with the sauce on it, and then we add provolone cheese and pepperoni after the pizza has been baked.  When you put it in the box and put the top on, the heat melts the cheese.  The pizza is best eaten right out of the oven.  However, leftover pieces in the refrigerator are also good cold."
"The original DiCarlo's is carry out only, so patrons would take the pizza to their car and eat it there.  It's like a cult," Jason says of the pizza's followers and their zeal.
"I'd always wanted to open one in Morgantown, West Virginia when I went to college," Steve says.  "But they weren't licensing or franchising and refused point blank.
"In 2014, I was on a cruise in the Mediterranean, and I overheard a guy from Hilton Head, SC say something about DiCarlo's Pizza.  He was also raised in the Ohio Valley and wanted to open one in Hilton Head and said they had begun licensing the name and trademark.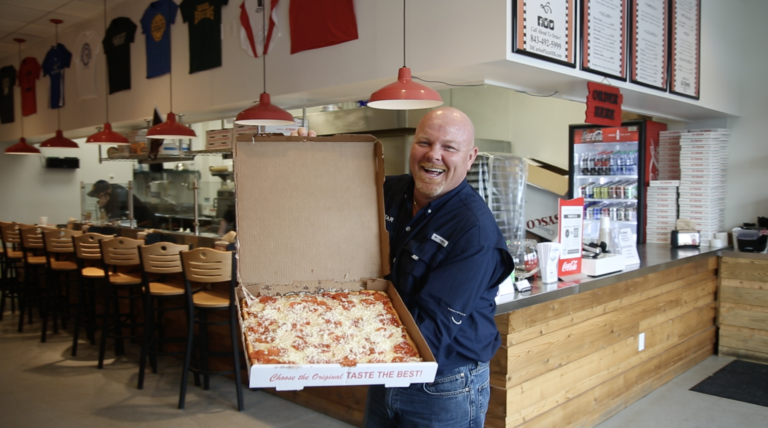 "I decided to open one in Myrtle Beach, and while I was trying to find the right location, Jason called my company, Four Star Plumbing & Air Conditioning, Inc., for service at his house.  That's how I discovered he was down here, and we reconnected.  When I told him I was opening a DiCarlo's Pizza down here, he was like, 'Oh my God, thank God!'.  And it just so happens he had experience in the restaurant industry."
"So I bought a license agreement from DiCarlo's," Steve continues, "and they showed us how to make their pizza.  Our pizza is made from scratch and we use 100% hand grated provolone cheese."
"We saw it as an opportunity to bring this pizza to Myrtle Beach," Jason says.
"Our customers who haven't been back to the Ohio Valley in a long time, they come in, and say, 'I haven't had DiCarlos Pizza in nine years!' And they're in heaven.  We've had people drive from Raleigh, NC, and from Augusta, Georgia.  It's a lot shorter of a drive than West Virginia.  People just go wild because they haven't had it in years."
"We've basically brought a piece of history from our hometown to share with the many now local Ohio Valley transplants and visitors of the Grand Strand," Steve says.
And they've been serving Myrtle Beach this little slice of heaven for two years now.
Steve concludes, "Other than we offer the cheese melted if you prefer, and dine-in services so you don't have to eat in your car, we stick to our roots."
DiCarlo's also offers calzones, sandwiches, wings, and pepperoni rolls, which are a new product for many people.  A pepperoni roll is pepperoni rolled up in bread– like a calzone without the cheese.  It makes a good lunch time snack, and is another great DiCarlo's tradition that is popular in West Virginia.
Call your order in 20-30 minutes ahead of time, and they will have it ready.
Unfortunately this company is permanently closed. We have admired their business and are sad to see them go.