A Family Owned Business With Good Old Fashioned Values
by Melissa LaScaleia
Custom Outdoor Furniture is a family owned business in Garden City; and next year they'll be celebrating their 40th anniversary in business.
In an interview with the Insider, the second-generation co-owner, Gregg Holshouser, shares the story of how they got started.
"My dad was living in Garden City Beach, just south of Myrtle Beach," Gregg says, "and one day in 1979 he was driving along Ocean Boulevard in Myrtle Beach.  He saw a few chaise lounges out beside a dumpster, and noticed that the frames were in very good shape, and only the straps needed replacing.   He began thinking— there has to be a way to replace the straps and salvage the frames— rather than throw the entire piece of furniture away."
Gregg's dad, Carrol Holshouser, investigated his idea further, and found contacts in Florida who provided vinyl strapping.  Before long, in his own garage, a block from the beach, he started restrapping furniture from local hotels.
The business was born.
"Back then, my dad called our business Furniture Restrapping," Gregg says.  "And it evolved from there over time.  He originally built a little contraption that you could cut the straps on, and you used a mallet and a hand punch to cut the straps by hand.  That's how basic it was at the beginning."
"At that time," Gregg continues, "Myrtle Beach was comprised of family-owned, mom-and-pop hotels.  My dad was a very hands-on guy.  He went down the boulevard and got to know everyone who owned the hotels.  And the business kept growing and growing."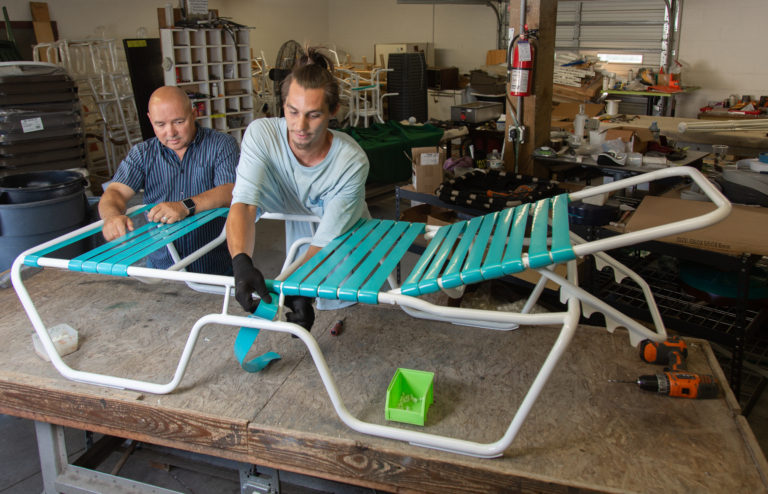 In the 90s, Carrol began selling new aluminum strapped furniture to go with the restrapping service.  Customers could now choose the color and style frame they wanted, and he would put the color strapping they selected on the lounges and chairs.  There were now unlimited possible color combinations.
"It was a good service for the community," Gregg says, "because if you ordered from a factory, it would take around 4-6 weeks for it to arrive.  But my dad could do it in less than a week."
In the early 90s, they became a stocking distributor of Grosfillex, the premium resin furniture in the world.  The company originated in France and has since reached international acclaim.
In 1999, Carrol began constructing the building of their current location in Garden City.  His son-in-law is a building contractor, and together the two coordinated construction of the 15,000 square foot building, which they opened in 2000.
"When we moved into this building, we were pretty basic," Gregg says.  "Restrapping was still a big part of the business.  The new aluminum-strapped furniture and Grosfillex furniture were big parts of the business too, and we were still heavily wholesale.  After we opened our new building, we became more retail oriented.  We transitioned from a very vanilla patio furniture company, to a full-service commercial and retail business."
Carrol passed away in October 2016, the day that Hurricane Matthew hit the South Carolina coast.  He is survived by Gregg's mother, Jane Holshouser, who was at his side the whole way as the business was growing.  They both poured their heart and soul into it.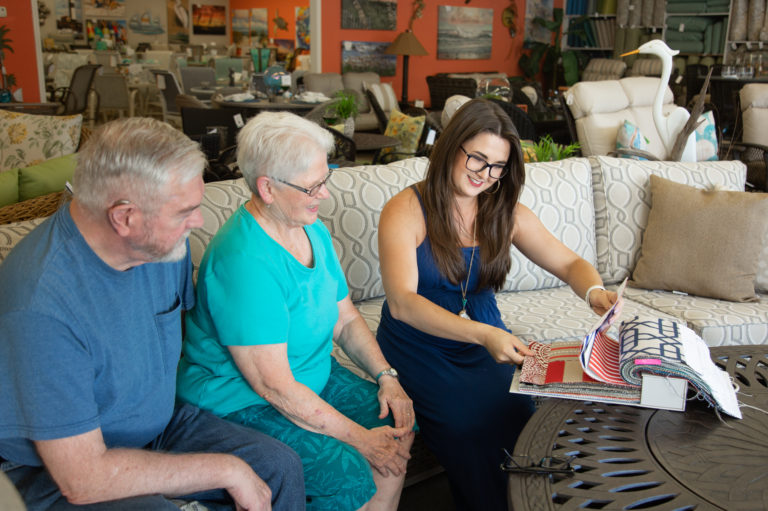 Gregg worked in the family business while he was in college, and he's been permanently with them since 1999.  Today, he and his sister, Sarah 'Sam' Cox, are partners.
"We are a family-owned business with one location, we're not a chain— with good old fashioned values," Gregg says.  "We stand behind our manufacturers' warranties; we try to do everything on time, and right.  We are always looking out for the customer, no question.  We do everything within any kind of reason at all, to make sure our customers are happy.
"In the eighteen years that we've been at this location, we've had very few unhappy customers.  We really aim to please."
Today, Custom Outdoor Furniture carries a huge variety of art, including metal and beach-themed pieces.  They sell
a wide array of patio furniture, including aluminum sling furniture, and the popular poly recycled plastic furniture.  They also have an outstanding line of high-quality wicker, suitable for indoor or outdoor use.
Gregg is proud of their long history and their reputation as a quality place to shop for superior patio furniture and accessories.  Their retail store manager, Happy Land (her name), has been with them for ten years.  She is on the board of the International Casual Furnishings Association, a prestigious trade organization which is a global leader in promoting business development and partnerships in the outdoor and casual furnishings industry, and promotes industry growth through professional education, networking and development.
"My favorite thing about what I do," Gregg says, "is seeing our customers pleased with our products, not only immediately, but for years to come.  Our furniture is designed to literally last a lifetime."
"When customers come into our store," he adds, "they're surprised by how fun of a store it is.  It's just a fun, happy place, a half a mile from the beach.  We have a lot of variety here.  We don't just carry furniture."
Custom Outdoor Furniture
Open M-Sa 9am-5pm.