Two Gals Under One Roof In the Market Common
by Melissa LaScaleia
Crystal Lee and Hannah Ruth are business roommates and photo partners with a studio on Deville Street in the Market Common. They each own their own business as well as operating their studio space together as Crystal Lee and Hannah Ruth Photography.
Crystal is originally from New York, and started her journey as a photographer right out of high school in 2001.
"I started working at one of those cheesy little portrait studios in the mall trying to save money for college," she tells me. "I never made it to college. Instead, I stayed for seven years with that company, and became a manager, working in New York, San Diego, and Myrtle Beach.
In 2008, I wanted to move back to Myrtle Beach, and when there wasn't a position available for me with them, I left that behind and moved on my own, choosing to start my own business. I started out photographing weddings, then began doing a little bit of photographing babies in peoples' homes."
Hannah is originally from Cape Cod, MA, and studied photography when she was a student at Coastal Carolina University.
"I've always liked taking pictures," she says simply. "I've always had a camera with me."
It was while she was at Coastal that Hannah began considering and researching a career as a professional photographer.
"I started by taking pictures of my roommate, and I really liked it," she says. "Then people started offering me money to take their pictures. It was through word of mouth that I became known as a photographer — friend to friend, to friend."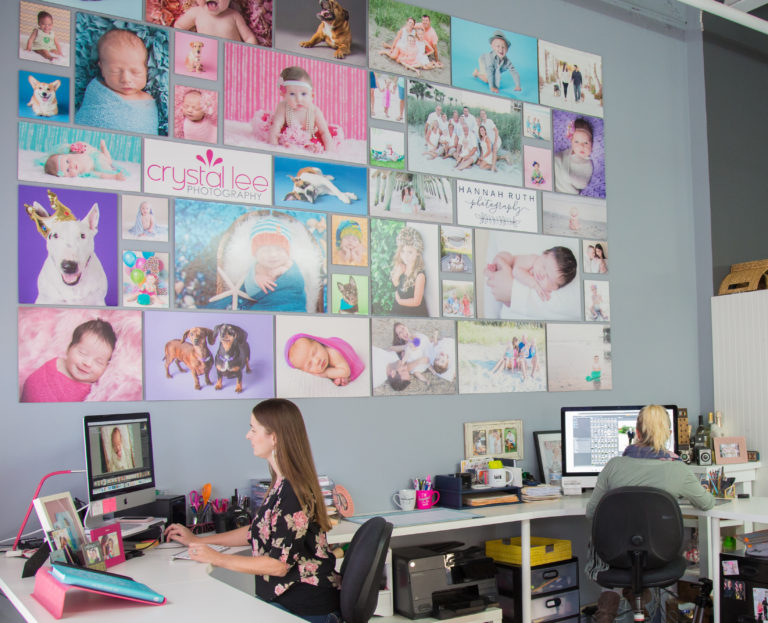 "Two years ago, I was going through a partner change at my studio and was looking for someone new to bring in," Crystal tells me. "Someone mentioned Hannah's name to me and we connected via Facebook. When she saw the space, she really liked it."
"I had heard of Crystal and wanted her to teach me," says Hannah with a laugh about their meeting. "But she never did."
"Being photo partners works really well because we do very different things and have different styles," Crystal explains. "I focus on weddings, newborns and babies up to a year old, and pets. Getting married and having a baby are probably the two biggest and most important events in your life — they're beginning stages; and I like to think that I can be there for both. A lot of my brides have brought me their newborns to photograph."
Crystal also hosts a pet event once a month. She will take photos of your pet for a small fee and a bag of pet food, which she donates to the humane society.
"I started this as a way to offer sessions at a lower price, but still give back. I get to photograph puppies and the humane society gets food, so it's a win-win," she says.
Hannah photographs weddings, seniors, older children, and other compositions. And the way both women shoot weddings and the type of clients they bring in are very different.
"In my photography, I like to focus on lots of bright color and lighting. And Hannah has a bright and airy style; it's a much more relaxed look," Crystal says.
"With my portraiture, I like to make people feel pretty and really laugh," Hannah says. "I don't like fake laughs or posing. I like real laughs and candid shots. My approach with weddings is, I like for them to have fun and then catch those moments. I just like to see people smile and be happy and give them those memories on lm. The happiness I'm able to give is what inspires me."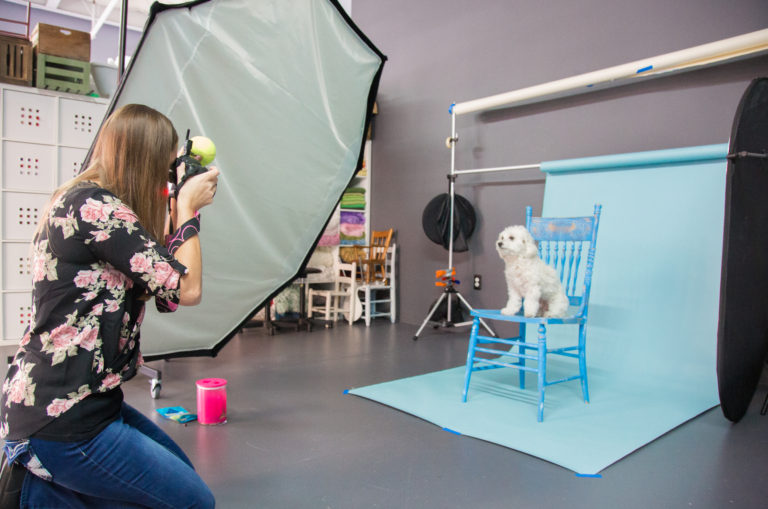 "For weddings, I'm more technical than emotional," Crystal says. "I focus on the lighting and background and colors. I try to get people to be natural, but my photos are a little bit more serious.
"As photo partners, we refer clients back and forth a lot. It means someone will always be here in the studio to answer questions, and we can serve a larger group of people with photos. If a family comes in while I'm here, I hand them her card."
"We love what we do," Hannah says. "We're always here if they want to stop by and meet us. We just started a joint website this year too, for the studio, along with our own individual photography websites. We want people to look at the studio as a whole to see what we both can offer, versus just individually."
"We can refer each other those topics or things that the other doesn't do, and in that way we are able to offer more to our clients, versus them having to reach out to a bunch of different photographers, with different pricing and styling," Crystal says. "We do all studio lighting which means we can shoot rain or shine, and we have a huge selection of backdrops. Hannah is excellent with putting backdrops together. In the future we'll be doing more studio events like open houses. is studio is an awesome location because if the client wants, we can step right outside and use the Market Common as a backdrop. And it's nice and quiet here."
What else do they like about the location?
"Myrtle Beach keeps me here because it doesn't snow," says Crystal. "And the people. Southern hospitality is definitely a thing. I would visit New York after living here and it's so different. I love Market Common because it's like a little piece of New York without the New York attitude."
"I'm here because my family is close by, I like my studio, and it's nice here," says Hannah. "I love the Market Common. I like the restaurants, the shopping, the people, and the vibe."
Crystal Lee and Hannah Ruth Photography Studio
Open M-F 9am-5pm, Sa 10am-12pm. Photography sessions by appointment only.
To read more of our featured articles, click here!