Late Nights and a 1920s Vibe
by Melissa LaScaleia
Since its arrival in the Market Common, Crepe Creations Cafe has charmed patrons with its old-world inspired crepes and steady expansion both of menu and space.
Last year they procured a liquor license, and introduced a full bar to their offerings. Several months ago, they finished another remodel to include an electric fireplace, a full kitchen, and an expansive, open dining space.
These days they have live music nightly, and last month they rolled out their newest enhancement— a Martini bar.
The owners convinced Christopher Ware, who is an expert on Martinis— having acquired that knowledge from working as a bartender in the Beverly Hills and Melrose areas of LA, to exchange one sunny coast for another and spearhead its creation.
"I know everything there is to know about the Martini," Christopher says with enthusiasm. "Its origin; history; how to make the perfect one; the rules for making one,' and whether it should be shaken or stirred."
(Stirred only please, no matter what James Bond requests.)
Christopher is enchanted with the Martini because of its unique history and versatility as a drink, and is adept at making everything from the classics, to the so-called candy Martinis.
The Martini was born during the California Gold Rush of 1800, in Martinez, just outside of San Francisco, when a frequent bar patron there used to regularly request his own concoction— a mixture of gin, dry vermouth, maraschino liquor, and a dash of bitters. Others got curious to try it, people loved it— and the drink took off in the small city. It essentially named itself, as people began to refer to it according to its place of birth. Over time, the name got shortened, and those requesting it asked for a Martini.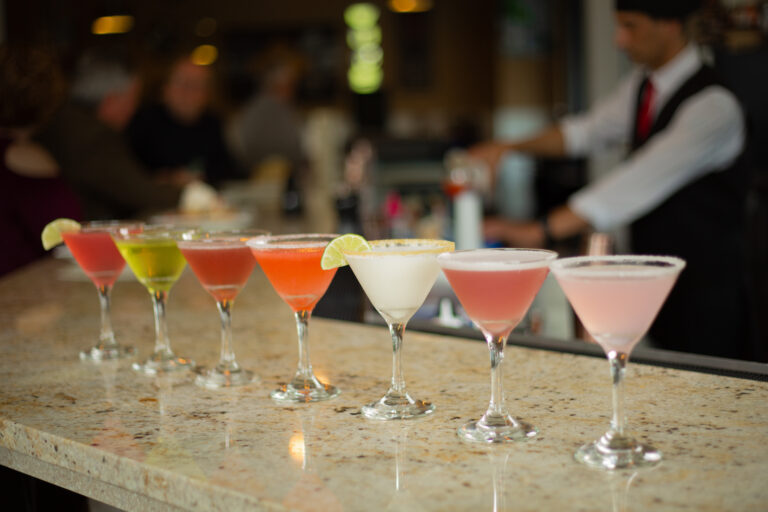 Christopher's other passion is for cocktails from the prohibition era— that period of history from 1920-1933 when alcohol was illegal to sell, but not illegal to drink. To get around the law, people would make alcohol at home in their bathtubs with varying levels of skill, and the underground bars they sold it to would have to come up with very creative ways to make the inferior spirits taste good.
"Knowledge of prohibition cocktails is uncommon amongst bartenders," Christopher says. "But they are some of the more creative and appealing drinks. Where I came from in LA, that was one of my specialties." 
Enter Late Nights at the Cafe, where every Friday and Saturday night, the cafe transforms into a prohibition-themed Martini bar serving cocktails from that era to the accompanying beats of jazz, swing, and big band music. 
And they are made with only 100% freshly squeezed juices— whether ordered day or night. 
"Late Nights has a different feel to it though," Christopher says. "It's adults only, with a prohibition-era bar atmosphere." 
Crepe Creation Cafe
4012 Deville Street
Myrtle Beach, SC 29577
Open for dining: Su-Th 8am-9pm; Fr-Sa 8am-10pm
Martini Bar: Fr-Sa 10pm-2am
843-839-4019