Sweet and Savory Delights For the Market Common
by Melissa LaScaleia
The sweet and savory pickings at Crepe Creation Cafe in the Market Common just got sweeter and bigger.  Larry Cauble, owner and chef, has recently implemented the final stage in his business model for his cafe.
"We're taking down the wall of the space next to us, installing a brand new kitchen, and doubling in size," he says.  "We started with a little shop.  Our plan was to grow in steps, and our reputation has increased so much in the past six years that we've outgrown the space.  Our full business model was always to have a full French restaurant.  Our new menu will include steaks, French entrees, beignets, and a full break- fast menu with omelets and specialty items.  To complete that, we're adding a full-service bar."
As a teenager and young man, Larry worked in the restaurant business until opting for a career in the military.  He remained in service for twenty years, but even then, continued to hold a second job in the restaurant industry.
"It was always my dream to have a restaurant," he says.  "For ten years I lived in Holland and Germany as part of my career, and I fell in love with the food— the waffles and the crepes.  When I retired from the military I thought, if I don't follow this dream before I'm 50, I'll probably never do it.  And among the hundreds of Myrtle Beach restaurants, I saw, there's no creperie.  Because it's such a unique food item, I started small to see how it would take. And it caught on quickly; we grew and then we grew more."
Larry's vision has always been the locals.
"A lot of restaurants in Myrtle Beach live and thrive off of tourists," he says.  "But Market Common has gained recognition as more than a tourist destination.  My philosophy has always been to provide great, healthy food, great customer service, and a great, relaxing environment for the residents too.  And that's how we've grown over the years, with our customer base."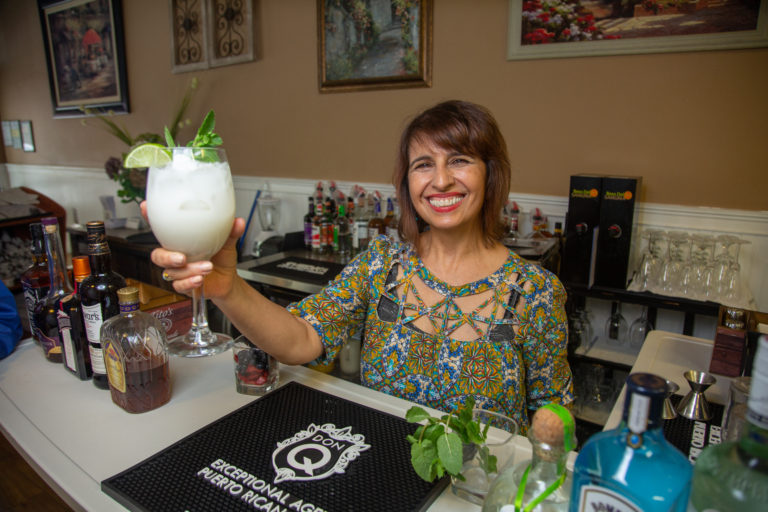 Each restaurant has their own niche.  For Crepe Creation, the main focus will be on their bar offerings.  They'll be
using fresh squeezed juices as opposed to canned mixes in their cocktails.  The decision stays in line with the cafe's passion for serving fresh, healthy food.
Larry's wife, Emma Ware, owner of Emma's School of Healthy Eating, is a nutritionist in the Market Common.  And she's a big part of the Crepe Creation menu.  One of the most heard comments that they receive from patrons is that people feel full, but not overstuffed, and they're not hungry afterwards.
Expect to see the full evolution of their restaurant by the end of summer, and stay tuned for the announcement of a grand reopening.
"We love being in Market Common,"Larry says.  "It's a great community to be a part of.  They've been a great partner ever since I've moved up here, and instrumental in my growth since the beginning."
Crepe Creation Cafe
Open during renovations Su – Th 8am-9pm; Fr – Sa 8am – 10pm.