Where the Name Says It All
by Melissa LaScaleia
Emma Ware is a certified nutritionist, clinical homeopath, and doctor of holistic nutrition. For twenty years, she's coached people to reach their health, weight-loss, and happiness goals. Today, the majority of requests which she receives through her business, Common Sense Eating, center on weight loss, diabetes, cholesterol and blood pressure management.
"When you change these aspects of your health, you change and shift everything," Emma says. "And in my approach to helping clients get there, the name of my business really says it all."
Emma helps clients navigate the complex world of food choices. She offers consultations, gives presentations, shares recipes, and teaches people how and where to shop so they can take better control of their health, and ultimately, their lives.
"What I try to help people implement is a return to the basics," she says. "I teach them how to get organized both in the kitchen, home, and their personal lives, so they can change their lifestyle and live a healthier one."
As such, she encourages her clients to cook at least 50% of the time, and gives them the skills so they can do so. She also wrote a cookbook, Fast Wholesome Cooking, in 2016, and updated it for 2022 this year, as a guide.
"I wrote this book with the intention of helping people who had digestive problems," she says. "Little did I know we'd be using it for losing weight and healthy eating in general."
Emma describes the book as, "Sesame Street level" in terms of its difficulty rating for both comprehension and execution. And it covers all aspects of what you could encounter in a kitchen at any moment to help guide you fully on your healthy journey.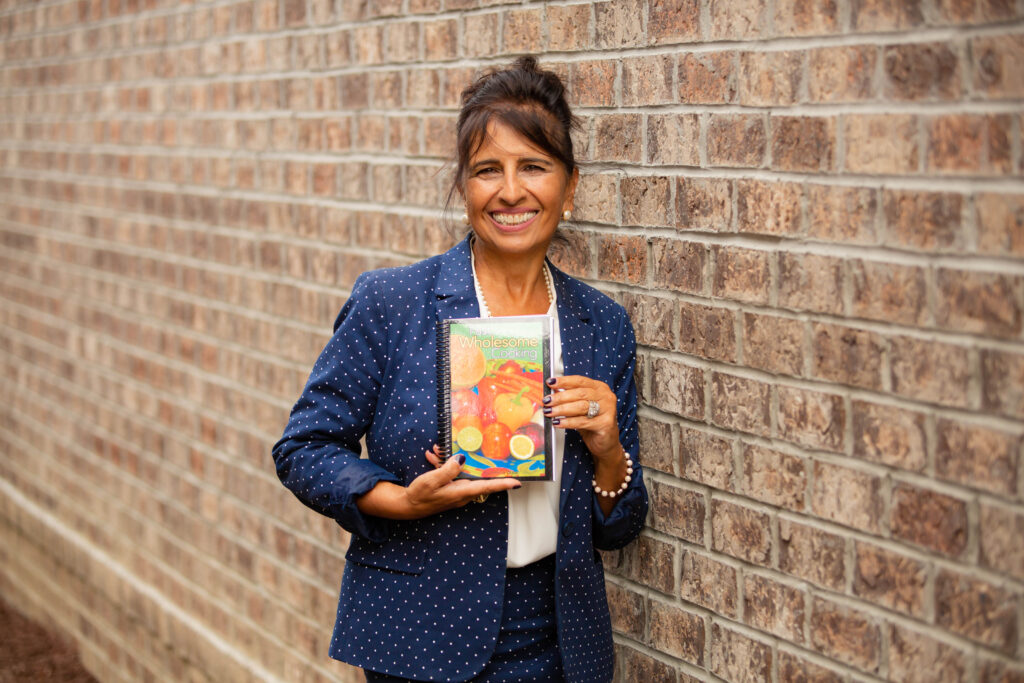 There's a chapter on menu planning; on cooking one day a week to produce multiple meals; what to do with leftovers; how to organize your kitchen; how to shop; how to eat when dining out; and how to cook for one.
The book is focussed around the mindset that every time you eat, consume something that is good for your heart, blood, and lymphatic system.
"My favorite chapter is on spices and flavors," Emma says. "Flavors are important because if you eat the right one, you get fuller faster so you'll eat less. Also, I think people can get overwhelmed by the volume of spices they think they need, as well as the gadgets they have that they don't need, that are cluttering up their kitchen. So I made a list of spices to have on hand for any international flavor you want to enjoy: like Mexican, Italian, Chinese, Mediterranean, Thai, and Indian.
"I also wrote the book thinking about all the moms out there who have to work. What made it easy for them was a pre-determined shopping list and quick dinner ideas like flavorful soups and salads."
Emma tries, in her approach, to purge her clients' addiction to the quick-fix mentality, and instill in them the awareness that healing is a process that takes time.
"People just don't understand that," she says. "They want everything to be resolved now. But with my approach, your body is healing from the inside out. We're not putting on a bandaid to mask the problem, and that takes time. There really is no such thing as a quick-fix."
She also cautions against taking the same supplements for years.
"A lot of people will hear something is good for them and then stay on it for years, but anything in excess will counter the productivity it was designed to give you," she says. "You have to keep changing things up to bring yourself to a state of balance. You shouldn't try to heal yourself unless you know what you're doing."
It's just common sense.