Where The Name Says It All 
by Melissa LaScaleia
Emma Ware has been a certified nutritionist, clinical homeopath, and doctor of holistic nutrition for over seventeen years. Additionally, she is certified in Zone for weight loss, which teaches the art of combining proteins, starches and fats optimally, and is, according to Emma, one of the best programs for balancing foods for weight loss. 
With her business, Common Sense Eating, Emma helps people navigate through the complex world of food choices to achieve their health goals. Today, the majority of requests which she receives center around the topics of weight loss, diabetes, cholesterol and blood pressure management. 
"When you change these aspects of your health, you change and shift everything," Emma says. "And in my approach to help clients get there, the name of my business really says it all." 
Emma offers consultations, gives presentations, shares recipes, and teaches people how and where to shop so they can take better control of their health and ultimately, their lives. 
"I teach people how to get organized both in the kitchen, home, and their personal lives, so they can change their lifestyle and live a healthier one," she says. "I get a lot of requests for weight loss. And often in that journey of loosing weight, my clients start changing a lot of the other health issues that they have."  
When Emma begins a new consultation— she starts with probing questions to empower her clients. What are your challenges? Where do you think your issues for gaining weight lie? Is it with cravings, emotions, lack of time, lack of knowledge of the right foods to eat, too much fast food?   
"What I try to help them implement is a return to the basics," Emma says. "If you look at photographs of people from the beginning of time to the 1960s, the majority were thin. Looking from the 1970s to now, they are not. The only thing that has changed is the introduction of chemical-based foods. 
"Previously, we didn't have a lot of sprays for the environment. But today, the goal with manufacturing companies is to give foods a shelf life, and it's these chemical additives that cause addictive eating patterns. If you want permanent results, then you have to make permanent changes to your diet, and accept that there are certain foods that you have to avoid as much as you can because these are foods that trigger your appetite and sugar cravings. 
"When people think that they have psychological problems, that they can't stop eating and they have bad habits, it's not coming in actuality from them in a psychological form; it's coming because the foods they're eating are so saturated in chemicals that they are making your metabolism go crazy.
"With that in mind, I teach new habits and how to change behavior by eating differently. I show people how to use foods to curb their appetite, their sweet tooth, and their portions. I help them learn what foods for them trigger their sweet tooth, increase their appetite, and make them feel like they're out of control and that they can't stop eating."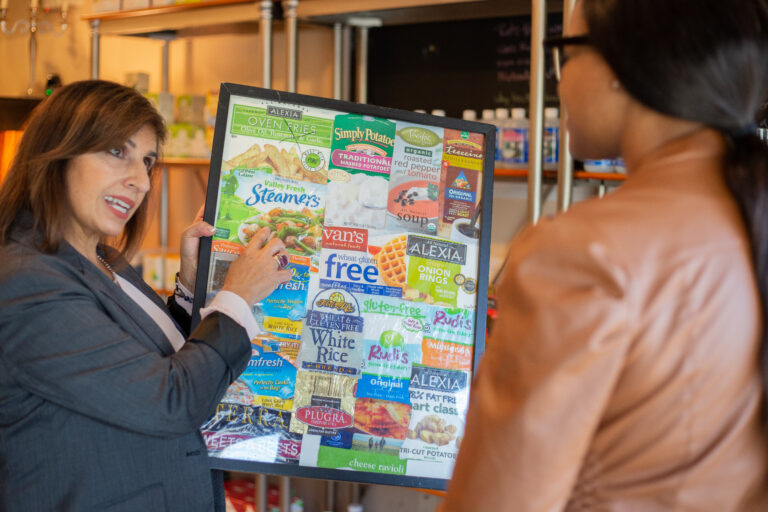 Emma facilitates her clients' ability to make food choices that nourish and balance the body rather than being a one-time situation or yo-yo diet.
"What I teach is not another diet," she says. "When people do this program, 80% of the time, it becomes a permanent shift because they see the results and they feel good. Over time, they want and begin to crave what is healthy for their body.
"By eating better, you will start craving what's better rather than craving the bad foods. Your taste buds change over time and you want to eat better foods, and you eat less because you feel more satiated, because you get a fuller taste."
Emma encourages her clients to cook at least 50% of the time, and gives them the skills so they can do so. She even wrote a cookbook to support and educate.
"Now they have great, easy recipes to follow," she says. "And from there, I teach them how to cheat with junk food. We take bad junk food and replace it with good junk food.
"If you stay with the program, which stabilizes you and your life, you will gain less weight. I will teach you to eat everything you want without deprivation, without starving, without limiting your caloric intake to 800 a day, or counting points. By stabilizing your body and your life, you can live a satisfying lifestyle. It protects you from yo-yo dieting."
Stability for Emma means balance and moderation.
"It can be hard for people to accept that there are foods that they are eating that cause inflammation and weight gain," she says. "If these are foods you love, you can have them a few times a month as a treat, but you can't have them all the time."
Want a soda? Go for it— once a week. Alcohol? Yes— not all the time. Love nuts? Go ahead. Just don't eat pounds a day. It's the practical application of common sense to eating choices.
"The biggest challenge with all the gimmicks we have out there," Emma says, "is that by counting calories or points, you gravitate towards eating bad food rather than the right foods that nourish your body. My approach teaches you to think differently about food.
"By eating the right way, at least 80% of the time, you'll feel better, and you have a better chance of not having a lot of sugar problems. Sugar causes problems with yeast and infections and weakens the immune system.
"If you keep this lifestyle, it will help to reduce inflammation and cravings. I find that when people come to me and do not lose weight, it is because they give up too easily when trying to make changes. They believe that if it doesn't happen fast enough, it's not working, and that's not true.
"The same way that it takes time to change habits, it takes time to change the body to alter the body from before to after— from the bad to the new. You're transforming your entire human body."
Common Sense Eating and Emma's School of Healthy Eating
By appointment.