A MESSAGE FROM OUR TEAM
Welcome to the April edition of Coastal Real Estate, and our second Market Common Edition. Within, we're delighted to be able to share with you the monthly and annual real estate for the Market Common. As I reflect on this highly sought after neighborhood's origins, I realize one thing has remained a constant, and indeed, a bedrock in its trajectory from Air Force base to upscale, urban beach-living environment— community. The Market Common is more than a location— it's a lifestyle that isn't easily matched in our market. One that rests on the wide array of people of all ages and backgrounds that it attracts, and the variety of activities that it offers.
The years of the pandemic have created huge shifts in people's lives and lifestyles nationwide; suddenly, what was once a popular community along the Grand Strand became one of the most sought-after areas in our market. We began to see more people from across the country opting to move here for the more relaxed pace of life, the beauty, and a greater sense of joy in everyday living. Spring and summer are traditionally the times when buyers scan the market in response to the increase in sellers listing real estate. But the Market Common is such a desirable place to live, there's been a shortage of homes for sale, and an exponential growth in sales prices. In the past three years, the average resale price for single family homes has risen nearly 34%; from an average of $348,144 in 2020; to an average of $395,009 in 2021; to an average of $475,915 in 2022. In just three years, nearly twice as many resale single family homes have sold in the Market Common compared to 2019, with 119 homes sold, compared to 228 homes sold in 2021. If you've been considering selling your home in the Market Common for an upgrade or a change of pace, now is a great time to do it. We have a website that is exclusively dedicated to Market Common real estate— homesatmarketcommon.com. Once all phases of new construction are complete, Market Common will become a resale community, and there is no telling how much buyers will be willing to pay.
-Jennifer Hamilton,  Director of Sales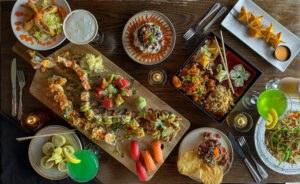 Editorial
In Myrtle Beach's vibrant food scene, Manta Steak and Seafood Sushi Bar shines
Read More »