Bringing a Celebration of Celtic Culture Back to Myrtle Beach
by Melissa LaScaleia
For the past few years, the Saltwater Highland Games were a hugely popular festival held annually every March in Myrtle Beach. This year, the organizers chose not to host the event. That's when N.S. Promotions & Events stepped up to the plate, and from the ashes of old memories decided to create something new— The Coastal Highland Games.    
N.S. Promos was formed by the owners of Native Sons Screenprint & Embroidery and Festival Promotions—two Myrtle Beach businesses with a strong history of community involvement. 
Since 1984, Native Sons Screenprinting & Embroidery has helped thousands of businesses build their brand throughout the Carolinas. The owner, Steve Taylor, has lived in Myrtle Beach his entire life and has always wanted to give back to the community through organizing fun events like the Salt Games—a one-of-a-kind beach competition and festival featuring surfing, volleyball and more.
Mike Shank, owner of Festival Promotions, has been organizing events and races in the Grand Strand area for over a decade with successful endeavors such as the Myrtle Beach Turkey Trot and Oktoberfest. 
With Festival Promotion's event management capabilities, and the marketing resources of Native Sons, this past year, Taylor and Shank decided to form a brand-new company: N.S. Promotions & Events—N.S. Promos for short.
With over thirty years of combined community involvement, president of operations, Chris Trout, and marketing director, PJ Bernacki, handle day-to-day tasks for N.S. Promos, and are eager to bring the Highland Games to Myrtle Beach.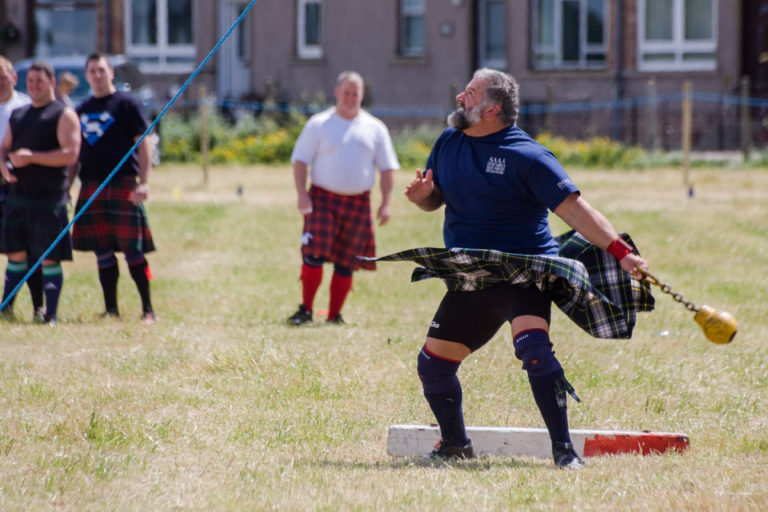 "As a team, N.S. Promos has always loved the event," says PJ. "We saw the opportunity to reintroduce this festival to Myrtle Beach once we heard that the former organizers no longer had plans to continue the event." 
The Highland Games originated in Scotland in the 800s, when people held competitions of might to see who was strong enough to be the head of the clan. It was also a way for clan leaders to compete for the title of most powerful clan. 
A clan is a large family group related by blood and marriage, but other members joined for protection or survival; others because they supported a leader in the clan and wanted to stand behind him. Clans had their own laws and customs, and were tightly bound together by their loyalty and pride. 
Traditionally, there was one member from each clan competing in the games on a large playing field. The families of each contestant would erect tents around the field, which acted as a gathering spot for the entire clan to mingle and enjoy the entertainment while also watching their hero during the competition. 
Over time, they evolved into more of a festival— and offered food, music, competitions, and community— and a celebration of Scottish, Celtic, and Gaelic heritage. 
The sport part of the games is comprised of a series of individual feats in which competitors measure their skills against one another. The most well known, and almost symbolic of the games is the caber toss, in which a telephone pole is thrown end over end. 
There are seven different contests in total—some others include the shot put, the weight throw, and the sheaf throw— in which competitors use a pitchfork to pick up a burlap sack filled with sand and fling it; he who covers the longest distance wins. 
"Our event will be a series of games of strength and endurance surrounded by a festival that honors the Celtic culture of the entire region, with an emphasis on Scottish culture," PJ says.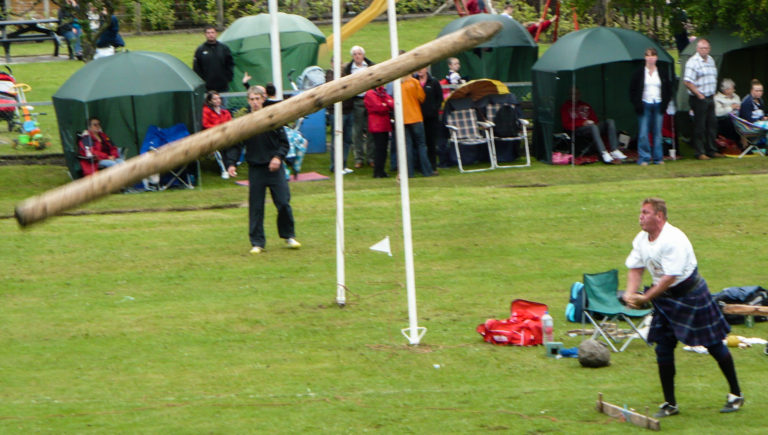 A lot of local chapters of Scottish clans dating back to the 1000s, as well as local chapters of associations from England and Ireland, will be there to set up booths and educate the public about their heritage. 
"Each clan has their own tartan—a plaid pattern that they display proudly and is specific to them," PJ says. "Anybody who has served in the military, police, Navy, and Air Force also have their own tartan, and they will be represented in the opening and closing ceremonies." 
This year's festival will have bagpipes, marching bands, and drums. They will also have sheep herding demonstrations with border collies, and a kid's area called the Kid's Glen. 
The glen will feature a petting zoo, playing area, inflatables, face-painting, and pony rides. Knights from the local Medieval Times will be there wielding swords and teaching children the art of sword fighting. 
There will be Celtic and Scottish themed live music, as well as acoustic guitar and bagpipes playing on stage throughout the day with some Celtic dance performances. 
Vendors, mostly from North and South Carolina, will be in attendance selling authentic Celtic jewelry and art. And, of course, there will be plenty of food trucks including Scottish themed cuisine—local craft and clothing vendors, and adult beverages from Highland Brewery.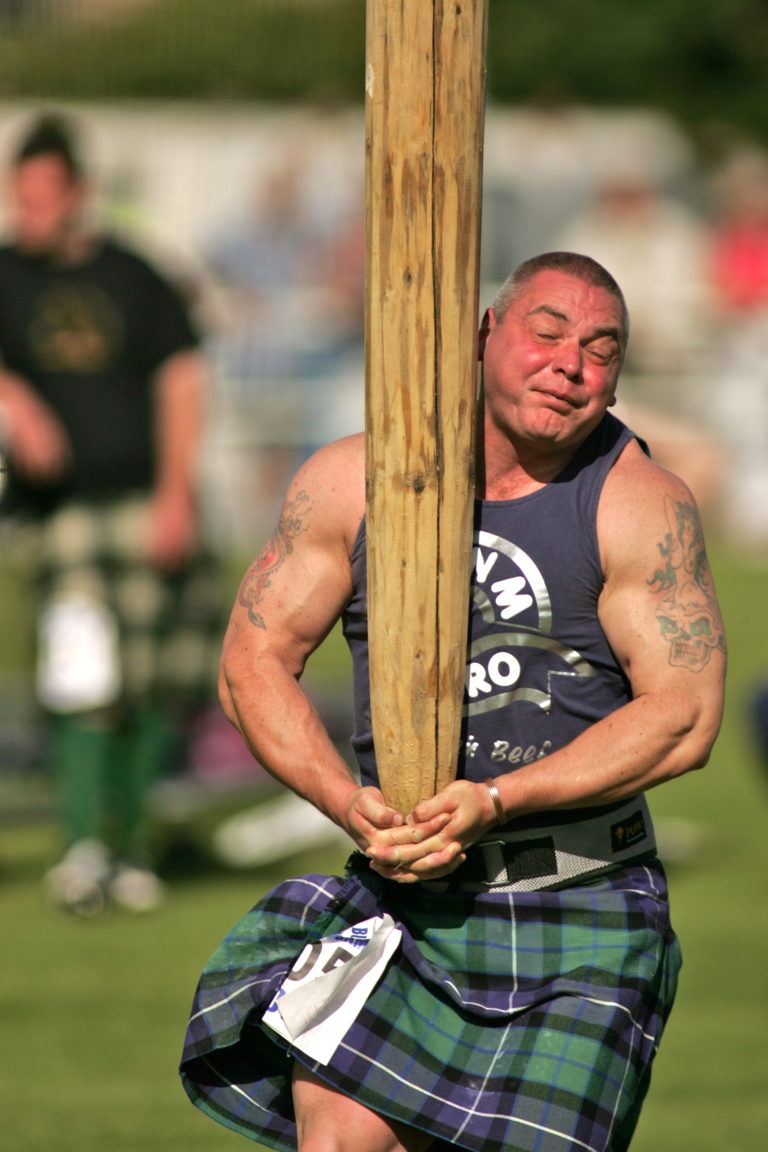 "We reached out to local people who had been involved in the games previously for support," PJ says. "Just like years past, the Southeastern Highland Athletic Group (S.H.A.G.) will help run the athletic portion of the games. 
"We have two title sponsors of the event: Palmetto Primary Care Physicians and Surgical Care Affiliates.  With their help, we were able to recruit international pros to come and compete in the event." 
There are also multiple men's and women's amateur divisions, and people from the community are invited to sign up to compete. The live music and athletic competitions will begin at 8am; the opening ceremony and procession with representation of the clans and military will occur at 10:30am. 
"The Highland Games have always been a success in Myrtle Beach," PJ says. "The Market Common venue had 10,000 people at their event two years ago, so we anticipate this festival being huge." 
In keeping with the celebration of Scottish culture, N.S. Promos is hosting a Scotch Whisky Tasting event at Atlas Tap House the evening before the event. It will be an educational tasting experience led by an expert in Scotch whisky, which will include five tastings of very fine Scottish whiskies, live music, and accompanying hors d'oeuvres. Patrons can take home their own souvenir tasting glass too. 
"This is our first year hosting these events, and we're excited to grow them into something big," PJ says. "The city is excited too that we're bringing this event back to Myrtle Beach, and they've been very supportive."
The Coastal Highland Games
March 9, 2019
Burroughs and Chapin Pavilion
821 N. Ocean Ave.
Myrtle Beach, SC 29577
843-448-0585