Bringing the Healing Power of Plants to the Grand Strand and Beyond
by Melissa LaScaleia
Last year, Myrtle Beach native David Spang opened Coastal Green Wellness in the Market Common— South Carolina's first CBD dispensary, which he runs with his girlfriend, Crystal Walter. 
Their mission is to distribute high quality products to the public; offer knowledge about the healing powers of CBD; and promote and normalize the use of cannabis in the community as a healing tool. 
"Over the past year, the success that we've had in partnership with medical practitioners in the area, from therapists, to orthopedic specialists, to pain management facilities, and even veterinarians— has been incredible," David says. "It's great to see practitioners on board with this. It's a huge step to see patients bringing it up to their doctors, and even doctors suggesting it to their patients." 
CBD (chemical name cannabidiol) is an organic compound that comes from the hemp, or cannabis Sativa L. plant. In South Carolina, medical marijuana is not legal. But CBD, which has less than .3% of the psychoactive compound THC, found in both recreational and medical marijuana and which makes the plant so controversial, is— and it's been shown to positively benefit a vast majority of medical conditions— everything from Alzheimers and Parkinson's, to arthritis, sleep disorders, anxiety, autoimmune disorders, and chronic pain. 
"The viewpoint of a drug is not the way to look at CBD," David says. "It's truly a vitamin or a nutrient. It promotes normal brain activity and function, and it's non-psychoactive. 
"So although it's something you would take daily, you would do so in the same way you eat daily to nourish your body. It's something you would never grow dependent on. We actually use it frequently to get people off of addictive medications— like benzodiazepines or opioids— because it's excellent at balancing your dopamine and serotonin levels. 
"CBD is something you should be able to take less of over time because it builds in the system. Once your body is in homeostasis it's a lot easier to keep it there."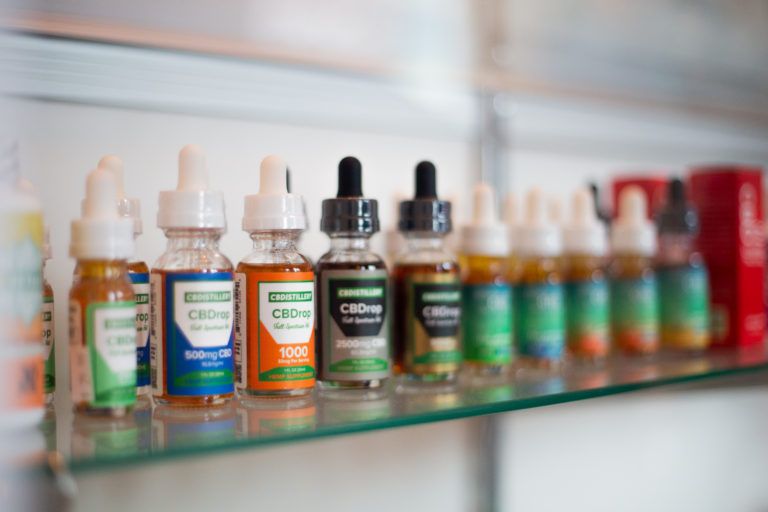 Quality control and education are David's two biggest goals with his store. 
"I make sure that my consumers are receiving as organic, safe, and effective a product as possible in the hemp industry right now," he says. "Because CBD is not regulated by a government agency, there's no stipulations on what you're allowed to say in advertising or the quality of the products that you carry. 
"There are CBD manufacturing companies purporting to carry pharmaceutical grade products, and charging 200% more for them. But there is no meaning behind their words— it's all marketing.
"Everything I say CBD can do, has been backed up with legitimate medical research. Because testing protocols on illegal drugs in the U.S. are so difficult and expensive to conduct, the majority of the documented research with case studies is coming from outside of the United States, with a large concentration from Israel and Italy.  
"Professor Raphael Mechoulam of Israel was instrumental in paving the way for medical research on cannabis for the world; he was the first person to really approach it as medicine. 
"There are quite a few reputable universities conducting double blind stage 3 and 4 clinical trials right now, reconfirming small human-based and animal studies, to prove the efficacy of CBD. This is what people would consider concrete evidence, something that is on a par with FDA standards. There's a lot more funding being put into CBD, making this testing possible." 
David brings the highest quality full spectrum and whole plant extracts of CBD to his store that he can find, all grown in the U.S. To ensure their efficacy, he independently lab tests all of the products that he carries with a company out of Massachusetts called Pro-Verde Laboratories. 
"They are one of the leading experts in the nation as far as Cannabis testing is concerned," he says. "I want to make sure that these companies and products do what they say they are doing. I am positive that I am the only retail location in South Carolina that is doing this." 
In keeping with his mission of educating the public, David invites people to come speak to him about any of their CBD products or current regimen even if they didn't get the product from Coastal Green Wellness.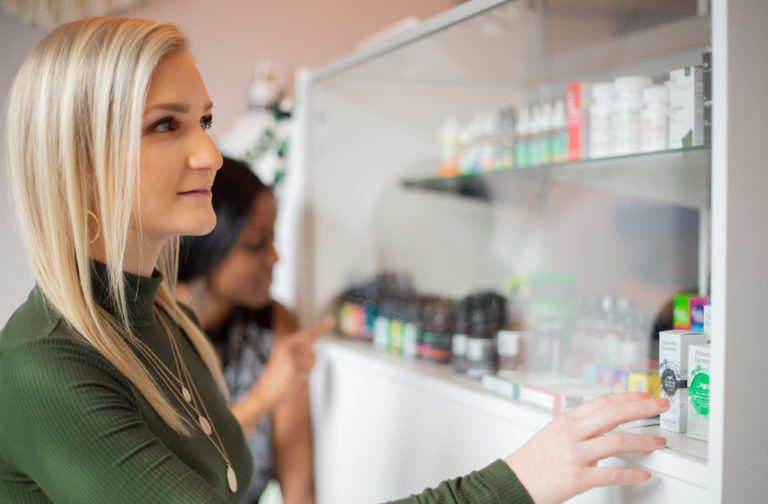 "My end goal entirely is for consumers to have the best and safest experience where they are getting the benefits that I believe CBD can offer," David says. "People can always reach out to us." 
He and Crystal have created and continue to create literature about CBD; the crux of their information being taken from medical facilities. 
They currently have about fifteen different pieces of literature on common ailments and the ways that CBD can make a positive impact on those conditions. They've updated their website, with a page devoted solely to eduction— so that someone with little to no knowledge about CBD can better understand a range of topics— everything from how to source a high quality product, to legality.
"Particularly because I've seen how much CBD can benefit communities, it frustrated me that it wasn't available here," David says. "I want to help my local community through natural, safe, and alternative medicine, and take away the negative stigma attached to CBD use through education." 
David is expanding the communities he helps with the recent opening of two additional stores: one in North Myrtle Beach, and one in Atlanta, Georgia— with more to come. 
"The North Myrtle Beach store will be our company's flagship location," he says. "It will set the tone for all our locations moving forward, in terms of being an upscale, inviting experience with high quality products." 
He's also moving into the wholesale side of things. 
"The excellent cannabinoid profile and the excellent price point with a distributor in Colorado enabled me to move into distribution so I can provide products to other retailers," he says. 
"Coastal Green Wellness has been very well received by the community. We've built a lot of strong relationships with people. If someone gets results, they tell people and then they bring their friends in. It's given us the stepping stones to expand those locations and expand our reach to the numbers of additional people that we can help."
2954 B Howard Ave., Myrtle Beach, SC 29577
843-839-3339
1220 Hwy. 17 South, North Myrtle Beach, SC 29582
M-Sa 10am-7pm; Su 12-5pm.