Your Eyes and Ears When You're Not Here
by Melissa LaScaleia
Coastal Carolina Home Watch performs home-watch services for homeowners when they are out of town. The company is the brainchild of Jack Luber, who began it in 2005, when he and his wife moved to Murrells Inlet.
"My wife and I purchased a condo in Surfside Beach back in the mid-'90s," he says. "We lived in New Jersey full time and came down for vacations and would rent our place when we weren't using it. But we discovered that there was no one here that we could rely on to keep an eye on it. 
"We were 750 miles away and couldn't monitor it from that distance. Things happen when you're not around— insect and pest infestation, mold, cracks, leaks, fires, break-ins, vandalism, storm damage. And if you don't discover those things right away, they can turn into big problems that cost a lot of money and aggravation. It's very frustrating and upsetting to show up ready for a vacation, only to be greeted with a problem instead."
When Jack's wife contracted multiple sclerosis, the couple decided to move to the beach full-time. That was when Jack decided to begin Coastal Carolina Home Watch. Because he was aware that he needed someone he could trust to take care of his own home when he was away, he knew other people did too. 
He used his knowledge as a homeowner and his business know-how from a career in marketing and sales, to start a business doing just that for the Grand Strand com­munity he now calls home.
"We started this business because it made sense," he says. "An emp­ty home is a vulnerable home. Think of the thousands of second homes that ex­ist down here. On the Grand Strand we have four separate tourist seasons—golf season in the spring and fall, beach in the summer, and the snowbirds in the winter, so there are always different people going in and out of homes, and no one is really paying attention."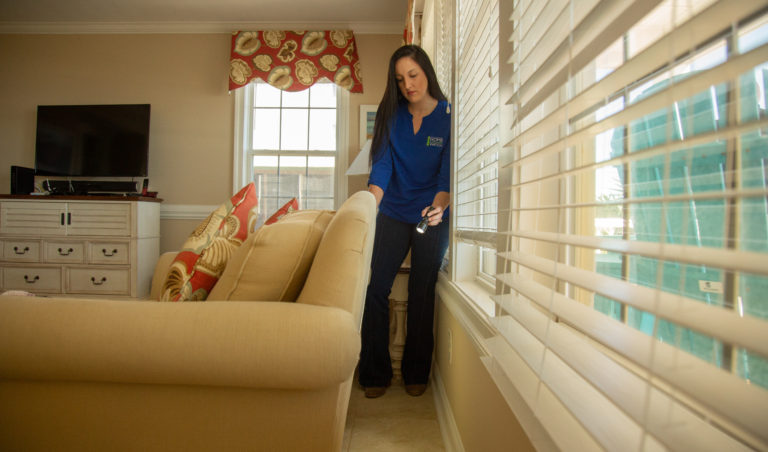 Coastal Carolina Home Watch will visit your home weekly or bi-weekly and go through a checklist that has been customized to address your requests and needs, to make sure things are okay and running smoothly in your absence. They also offer customized schedules for travelers.
"You have responsibilities to keep up with, whether you're there or not," Jack says. "Most HOAs have rules regarding landscaping and appearance. We're there to make sure that the work you're paying for is done correctly.Too many times, people contract with a landscaper or an­other kind of service, and because those folks are not there, the job is not done as well as it should be."
Coastal Carolina Home Watch can also arrange for any kind of work that needs to be done, like repairs, insect extermi­nation, or cleaning. 
"I promise my clients that anyone or any company we've recommended to work on their home or property, that we have a copy of their insurance before they can do any work," Jack says. "There are a lot of unlicensed and uninsured people do­ing business in our area. And that means if something goes wrong, the homeowner has no protection if the work isn't done to their expectations or satisfaction. 
"If someone gets hurt, the homeowner has no protection against a lawsuit. What if a worker gets hurt and decides to sue? Many people who live out of the area are taken advantage of because they aren't there to oversee what's happening. That's the service we provide—we are your eyes and ears when you're not here."
To adhere to that principle, Jack conducts a criminal background check on all his employees. He also carries general and professional liability insurance, workers comp, and cyber-securi­ty insurance to fully protect his clientele from any type of exposure.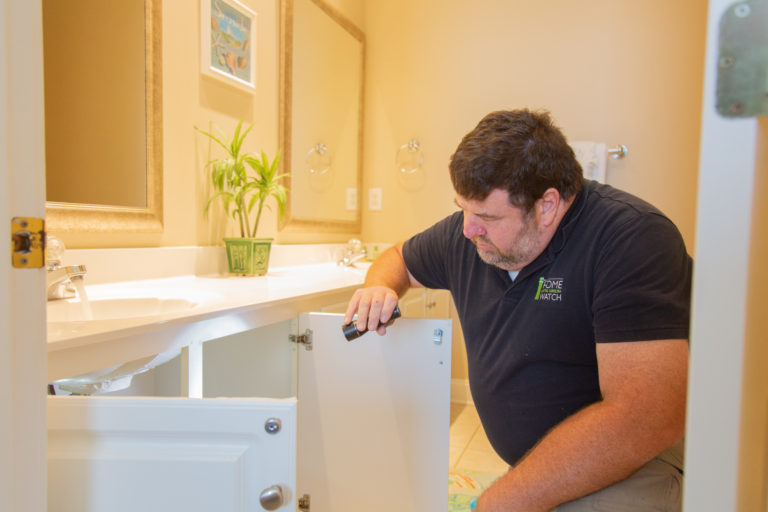 "It's my job to protect my clients," he says. "Their best interests are the most import­ant thing in my business. When a client says to me, 'Jack, do what you feel is best,'  I know that I'm doing the right thing for my clients. Trust is everything. 
"If there are storms coming, we do our very best to protect the home. After the thousand-year flood, we had clients with flooded homes. We were there with claims adjusters, bringing in and getting bids for repair services. We're a line of communication for the home owner."
They can even water plants, stock your pantry and prepare your home for your arrival, and even arrange for you to get picked up from the airport.  
"We'll do whatever we can to make life less stressful and more enjoyable while you're here at the beach," Jack says. "A lot of HOAs re­quest that a homeowner have a local con­tact, and some people just want someone to have a key on hand, in the event of an emergency. We do that, too."
There is also the issue of squatters. Yes, they are real, and it does happen, espe­cially in areas with a high population of second homes, like ours.
"If somebody moves into your home in your absence, they have what is called adverse possession and they have rights," Jack says. "It is a legal principle, and re­moving them is not as easy as you would think. Depending on how long they have been there affects how hard it is to evict them."
Jack has also seen instances where an in­dividual will rent out someone else's home on Craigslist—even drawing up leases. 
"We've had to meet the police at a few homes when people find out that their lease or rental agreement is bogus."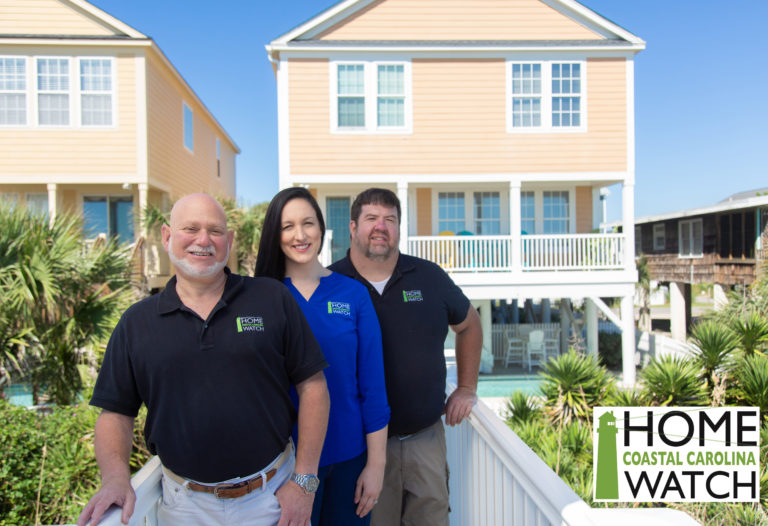 "It is so important for a Home Watch ser­vice to be checking on these homes," he continues. "We add a level of security to the home because we provide a presence. There are so many tell-tale signs that a home is empty. 
"A lot of people ask a neighbor to check on their house, but there are many problems with that. Your neighbor isn't insured for this, and they're doing you a favor. If something happens, are they equipped to handle it? Are you a pri­ority for them? They could be traveling, get sick, have a personal crisis, or just get busy—all things that might prevent them from checking your home. 
"If they miss something—or just-plain drop the ball— and there is a problem, what can you do, get mad at them? You have no recourse."
With every visit, Coastal Carolina Home Watch will send you a report which in­clude pictures, comments and even geo-locating, noting the time and date they were there, and what they checked. This report can be used as documenta­tion for your insurance company in the event it's necessary to make a claim.
"We're going to notice problems and give people the best description of what is hap­pening so they're able to make an intelli­gent decision as to how to take care of it," Jack says.
In 2009, Jack founded the National Home Watch Association so that he and other companies like his would have a set of standards, proce­dures, and requirements that they must adhere to in order to ensure the integrity and reliability of the services they provide.
Because home watch services are not regulated by the government, consumers don't know how to select a reliable company. 
Jack began the association to establish ethics, procedures and standards that all compa­nies must follow in order to be accredited. Today, he has mem­bers all over the United States and Can­ada.
"Every home should be treated with re­spect," he says. "And for every home, regardless of what it is, it's our job to make sure everything is okay there. We have your back. It's what we do."