WWII Navy Veteran From the U.S.S. Bush
Celebrate Our Veteran gives voice to the stories of the U.S. military veterans living amongst us. The actions of these brave and dedicated people, who have served our country both in active military duty as well as administrative positions, have and continue to contribute to the protection and preservation of us and our country.
We hope that this section of our paper is an opportunity for our community to hear and see veterans with new eyes, and for veterans to receive recognition and honor for their experiences and life journeys.
This month's Celebrating Our Local Veterans column is a tribute to Harry Turner. Harry passed away on May 24, 2020, but his story and legacy live on in the hearts and memory of his children and grandchildren.
The below story of Harry is from an interview with his daughter, Brenda Turner, who lives locally in Myrtle Beach.
by Melissa LaScaleia
"My grandfather, Harry's father, served in both WWI and WWII. And Harry's older brother, my uncle, was also in WWII. 
My father was born in Virginia on January 11, 1926. He was an army brat. His father left his mother when Harry was in the 6th grade, and Harry dropped out of school to help his mother. He was devoted to her his entire life— he always stayed close to her to make sure she was okay. 
It sounds fantastic to consider this was his life, but sometimes he would go hunting for squirrels or birds in the woods of Virginia as a boy and stay for several days until he could bring home something for them to eat.
He loved to read though, and absorbed and retained information and stories and details. He was very intelligent. He was a good looking man. 
He wanted to join the Navy, and when he was 16-years-old, he lied about his age and signed up to fight in WWII. He was assigned to the USS Bush, a DD-529 Naval destroyer. It was a Fletcher-class destroyer built in San Francisco and named for Lieutenant William Sharp Bush who served during the War of 1812. 
Harry worked in the fire room downstairs— his job was to keep the fires burning all the time. He was also an oiler, a water tender, and an ordinary seaman.
On the Bush, my father traveled to Alaska and throughout the Pacific including Okinawa, Japan. The Bush acted as a patrol and escort vessel in Alaskan waters. At one point, it acted as a watchman's ship for General MacArthur, escorting his ship. 
In Japan, Harry saw them raise the U.S. flag that was planted atop Mount Suribachi on Feb. 23, 1945, during the Battle of Iwo Jima.
Harry always told me that the first thing he wanted when he got off the ship was a glass of milk and a head of lettuce because it was never possible to get that on board. He was blessed to have a good cook on board though, and they would trade items to get food items from the chef.
Being young and reckless, he and his navy friends would jump off the port side of the Bush and swim underneath to the starboard side of the ship and place bets to see who would make it all the way.
On April 6, 1945, the Bush was operating near Okinawa, Japan, as a radar picket vessel— a vessel designed to be on the alert for surprise attacks from the enemy. 
After the first major use of kamikaze aircraft by the Japanese in Leyte Gulf in 1944, the Allies began implementing greater numbers of radar picket crafts.
Harry was on the deck of the ship when he saw the Japanese plane circle overhead. I remember how he told me the story. Harry said: "The plane tilted its wing and was so close to our ship that as I looked up, the pilot and I looked eye to eye. And he circled a couple of times and then dive bombed into the craft with his plane."
Although it sustained a tremendous amount of damage, the ship was not initially thought to be in grave danger, and another U.S. ship was enroute to offer assistance. But the rescue boat was also struck by a kamikaze pilot, and so severely damaged that it had to be sunk by the U.S. 
Several hours later, two additional kamikaze planes dove into the Bush within twenty minutes of each other.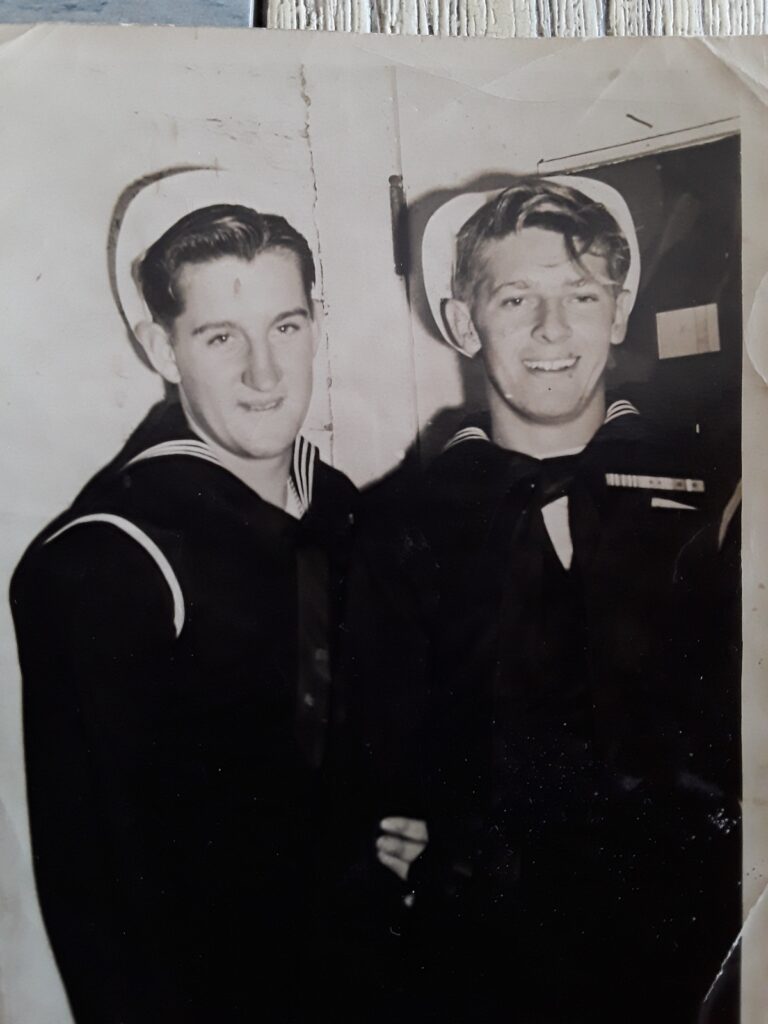 With the first ambush, Harry raced below deck to get to safety. But with the second and third bombings, the boat was hit so hard by the planes that it split down the middle and Harry was knocked unconscious by the blow. When he came to, he managed to grab his identification but lost all of his money and possessions.
The ship sank rapidly. Harry and the surviving crew were floating in the ocean for 18 hours, holding onto whatever they could find to stay afloat, waiting to be rescued. Their main fear was sharks, but all 227 survivors were okay. They lost about 87 crew members from the attack.
They were rescued and taken to a U.S. outpost infirmary where it was found that Harry had shrapnel in his head and legs. Some remained in his head for the rest of his life.
Even though he had this experience, he always had a positive outlook on life. He was always really close with his buddies. He was wounded but still went back to help other men. Harry received a Purple Heart for his service in the Navy. And after the Navy, signed up to join the Merchant Marines.
Harry knew his wife, Mary Jones, my mother, before he joined the military. They practically grew up together. 
She graduated high school in June 1948, and they got married in Boone, North Carolina, in June 1949. She had a rough life, and he just fell in love with her.
He loved motorcycles. He had a big Harley Davidson that was all dressed up that he loved. They rode the bike to Florida for their honeymoon. And their first stop was in Myrtle Beach. 
My dad fell in love with Myrtle Beach. He was a fisherman and loved the fishing here. He knew he wanted to move here when he retired.
I came along in 1950. I was born in Old Town Alexandria, Virginia. I have one younger sister, Sharon, who was born in 1956. My dad worked two jobs for many years to be able to feed our family. My mom worked at a bank. He was a very hard worker and an honest man. Eventually they built a little house in Old Town. As a little girl, he would always take me shopping with him.
My dad was always true to himself and others. He picked things up easily. If he didn't know how to do something he would figure it out. He was remarkable. He could put up with a lot of things, and he amazed me how he could be so resilient and strong. 
Dad kept things going in the family. He took care of Sharon and I emotionally and physically. And he was an excellent cook. He would always try making new things.
His mom was a cook and taught him. She also taught him how to sew, how to do laundry, and how to crochet. For a man at this time, it was very rare. But she always said to him that he would need to know these skills if he didn't get married.
I remember that he made the best vegetable soup. He would say that when you put your wooden spoon in your pot of soup and it can stand on its on, that's good soup. He was a good father and a good husband all the way around.
In 1980, my parents bought a condo in Myrtle Beach. They had their house built in 1990, about three blocks from the ocean. In 1995, they retired here. He wanted to live until he was 100, but he made it to 94.
I learned a lot from him. He was a very wise man. I miss his stories and I miss his smiles. When I would go over to help him at his house, I remember pulling out of the driveway and I would see him sitting in his wheelchair, smiling at me. He could still do his own cooking. He was still reading and sharing stories. He would call me every day and I miss that too. I miss his voice. And I miss that daily phone call. When he said he loved you, you really felt the sincerity.
Christmas was always very quiet, spent with the two of us together, exchanging presents. This year will be different. But I still have the stories, and the wisdom and the memories that I carry in my heart."