Simplicity Reigns for This Self-Made Local Businessman
by Melissa LaScaleia
Tevos Zatikyan moved from Armenia to the United States in 2006. A professional volleyball player in his native country, upon arriving in America, he settled first in Brooklyn, New York. There, he worked five different kinds of jobs over a five-year period because he was relying on the small amount of basic English that he acquired in high school, to communicate.
When a University friend from Armenia moved to Myrtle Beach in 2011, Tevos decided to relocate to the South. For the first few months after he moved, he worked in a grocery store; then he had an opportunity to work at, and then run his own pizza place— City Pizza.
The famed combination plate of steak and seafood is a popular choice at Tevos' restaurant. – Photo by Meganpixels Parker/Latoya Grayson
"And four years later, I'm in the restaurant business. I don't know what is going to happen in four more years," he says with a laugh.
"After City Pizza, I first opened a restaurant with an Italian concept," he continues. "It was called La Festa Restaurant and Piano Bar. We were five childhood friends and all of us were the business partners. Two years later my partners decided they didn't want to continue. I stayed by myself as the owner, in the same location, and I changed the name to Carolina Seafood & Steak."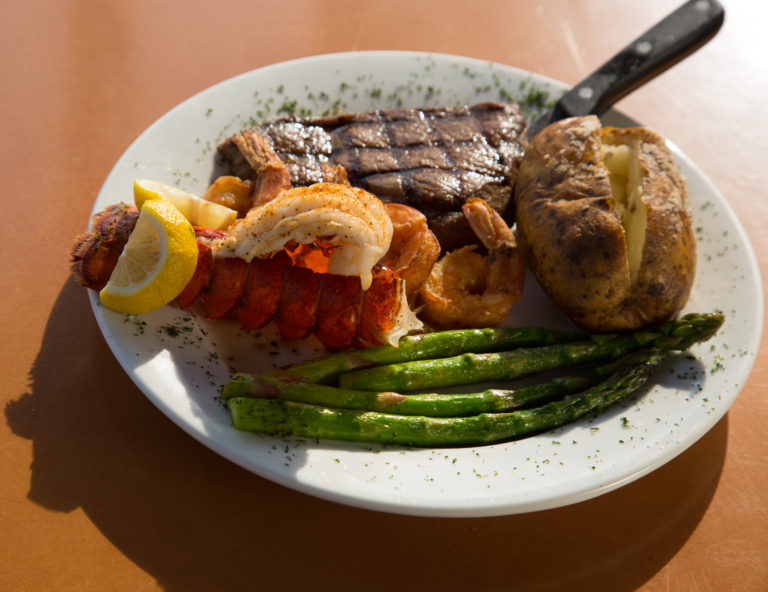 They still offer some Italian dishes, like ravioli and a couple of types of pastas, and they have a wood fired brick oven where they make their own pizzas, calzones, and stromboli, in addition to serving seafood and steak.
"One of my friends used to own a pizzeria, and he taught me how to cook," Tevos tells me. "There we did everything from scratch. And that's how I learned. When I opened the restaurant, we had a chef, and I learned more."
Now as the sole proprietor of a 14,000 square foot establishment that hosts functions as well as serving lunch and dinner daily, Tevos is a busy man.
"I create my menu, and I do everything. Whenever it's slow going, I'm helping the pizza guy, I help on the floor; I do all the administration and management," he says. "I have a team of anywhere from 15-30 people, depending on the season, helping me get everything done. Chris Snyder is my new manager and he's fantastic."
Carolina Seafood & Steak entertains guests with live piano music at the bar everyday from 5-8pm, and happy hour drinks and specials run during the week from 4-7pm. The restaurant has an additional lounge inside with a large dance floor and adjacent bar, called the Carolina Launch & Bar, and features live bands on the weekend.
Tevos' restaurant is an ideal spot for a holiday party, private function, or wedding. The restaurant has five sections, and Tevos can accommodate three separate private parties at the same time; each numbering up to 100 people. He even has a private conference room with a projector.

And if the prospect of live nightly piano music and a band still doesn't draw you further north on the Grand Strand, the menu will. Tevos is proud of his menu and the quality of his food. The passion he has for what he does is evident in every word he speaks to me.
"I have a 5:30pm early bird menu with sixteen different specialty items to choose from, all for $9.95— dishes like steak, chicken, fish, pasta, sandwiches, calzones, and stromboli," he says. "I think this is a big advantage, the quality of what I offer, for this price.
"I also have a special combination plate with four fried shrimp, a six ounce top sirloin steak, and a four ounce lobster tail, with a choice of two sides and fresh bread for $19.95. I know no one is offering surf and turf like this around here. I think it makes me successful in this business, because people are coming in for that special a lot."
Another special, Carolina Feast, dinner for two people for $39.95, is another big draw. Patrons can enjoy tasty dishes like salmon, flounder, grouper, or steak; as well as soup or salad to start, and one dessert to share. Whereas the same item on its own would regularly cost around $20 or $22.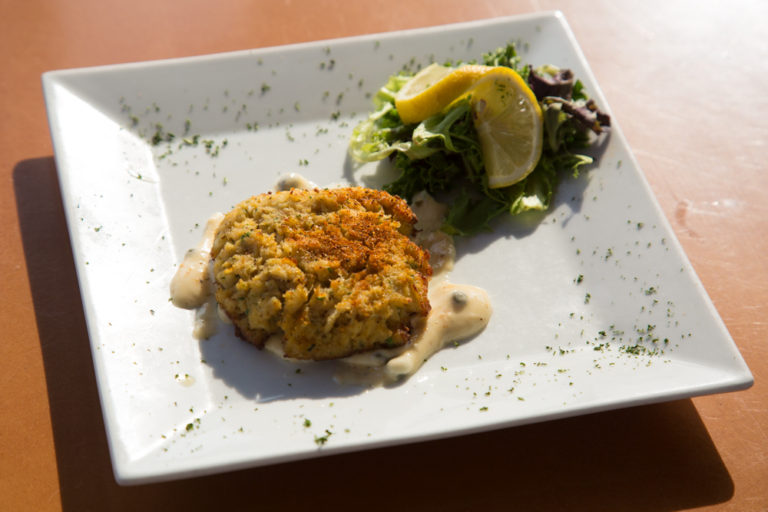 "We believe in simplicity," Tevos tells me. "With everything. It is the slogan of our restaurant. We believe in it with ingredients, menu items, how we cook it, how we offer it. We pick the simple way. Because that's what we understand that people are looking for around here. We started a fine dining restaurant and it just didn't work that well."
Tevos is grateful to now be so successful in Myrtle Beach. His story is a throwback to the American Dream, a testament to his work ethic and determination.
"After New York, here in Myrtle Beach there is more space between people," Tevos tells me. "I like the fresh air, the family style atmosphere here— I have a big family. I have a wife from Europe, Aksana, and I have three children. This is a family operated business, she is helping me a lot to make decisions, and she's my closest friend. With any hard work that had to be done, she always was next to me."
Carolina Seafood & Steak
Close to the Tanger Outlets.
Open daily 11:30am-9:30pm, serving lunch and dinner; closed slightly earlier in winter.
Call for the Carolina Launch & Bar live band schedule.