Where the Journey Is as Important as the Destination
by Melissa LaScaleia
Joe Reinhardt is originally from Syracuse, NY where he worked for many years in corporate sales. In 2001, he moved to Myrtle Beach seeking sunnier skies and a slower pace of living. He began working part time as a chauffeur, then opened his own business, Carolina Limousine & Coach, in 2007. 
"I started with one stretch limousine," he says. "I never expected it to get as big as it is now. My ambition was to have five vehicles, I thought that was the limit. Today we are up to nineteen vehicles and still growing." 
Carolina Limousine & Coach is the only full service transportation company in the Myrtle Beach and Wilmington areas. They have sedans, SUVs, limousines, motor coaches, vans, minibuses, party buses, and trolleys in their fleet of newly updated vehicles. They offer transport services for weddings; airport travelers; special events; corporate events; marketing events; schools; bachelor parties; and bachelorette parties. 
"We look at ourselves as a service organization that offers concierge level service," Joe says in speaking of his company. "Our whole premise is that we offer chauffeured transportation versus just a driver." 
For Joe, a chauffeur is a cross between Captain Stubing from Love Boat and Alfred from Batman— he is engaged, he is professional, he goes the extra mile always— versus a driver who just gets behind a steering wheel and drives. 
"We're setting a standard and competing on a national level," he says. "We're looking to always enhance our customers' experiences. That's the culture we created, and we've backed it up with the best vehicles. We probably own of the nicest fleets in the Southeast."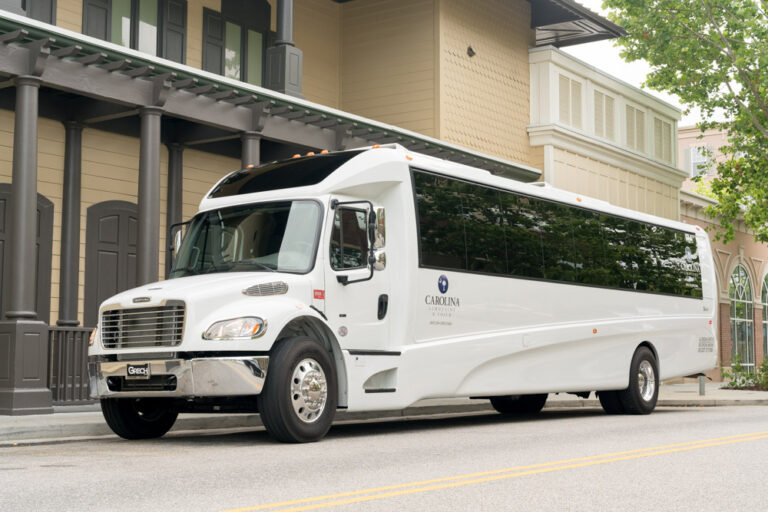 Joe's chauffeurs have a wide array of talents and personalities. The family business atmosphere that he has created at his company means they are loyal and passionate about their jobs; Joe has one chauffeur who has been with him since 2007. 
"We are like a big family," he says. "We have to be to have the service that we do. Our people are employees and have worker's comp; they are not independent contractors. We take care of our employees and they, in turn, take care of our customers. 
"There are no limits to the good service that we provide. If something goes wrong, we'll fix it asap. We're solution providers. If we are at a wedding and the bride has a headache, we're going to go to the store and get a Tylenol for her. I had one chauffeur who even gave the bride away. 
"I do a lot of traveling and every time I do, I use airport service and a transportation company, just to see what else is out there. And we are the best at what we do." 
Joe and his team can do anything— they'll even help you organize your event logistics. 
"My wife, Gillian, is one of the top wedding photographers in the area," he says. "Because of her extensive experience in this industry, I have a different perspective and better understanding of what is needed at a wedding when arranging guest transportation." 
"We ask different questions so I can discover what you really need," he explains. "Transportation is something that people don't really want to deal with and often they don't know what they need. I've been doing this for so long, I can narrow it down quickly. We have completed over over 9,000 weddings in my career. It's a big responsibility to make sure we have all the details correct."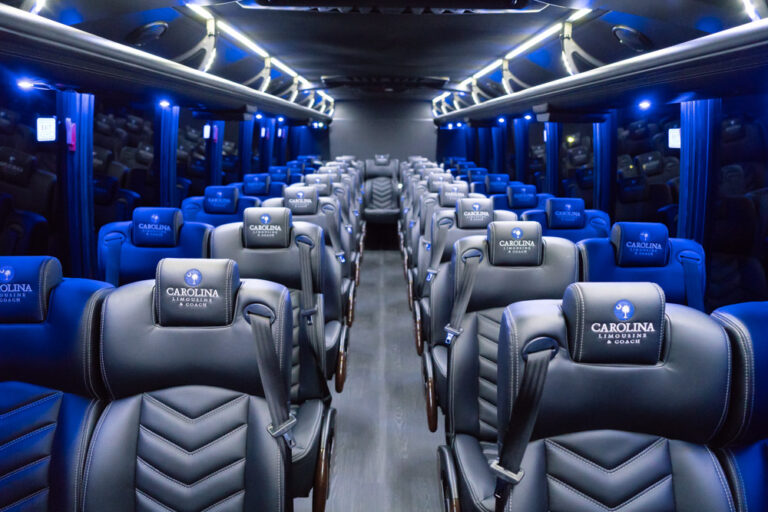 Although they arrange transportation for over 900 weddings per year, 80% of Carolina Limousine & Coach's vehicles are buses. In recent years, they gravitated into the bus/motor coach business, and orchestrate travel for many corporations, Coastal Carolina University, and the Chamber of Commerce. They work with groups as small as one person up to 500 people, and can go anywhere in the country. 
"We've been asked to provide transportation for corporations attending the Super Bowl, for presidential campaigns, celebrities, and the Myrtle Beach Marathon," Joe says. 
Joe changed the market of transportation when he introduced Party Buses to Myrtle Beach. 
"They are safer, you can stand up in them, and hold more people in them," he says. "It's more of an inclusive atmosphere for your event, as opposed to a limousine which is limited in the number of people it can hold." 
Carolina Limousine & Coach is part of the Myrtle Beach Chamber of Commerce and the Myrtle Beach Regional Economic Development Council. The National Limousine Association named him the Humanitarian of the Year in 2015. 
Joe had the first pink limousine in the country; 10% of the proceeds from its use went to a local Myrtle Beach charity, Caring in Our Lifetime. 
"As a small business owner, you have a responsibility to your community— you have to be a steward of your community," he says. "Volunteering is so important. We organized the Christmas Party for the Boys and Girls Club annually. We gather wedding industry members, photographers, DJs, and catering managers, and deliver toys to the Boys and Girl's Club, assigning certain children to vendors." 
"Gillian and I have been married for thirteen years," he says, "and my kids have grown up around the business. I have two daughters, Alexis and Sophia. Without my family I could never have built Carolina Limousine and Coach. My wife calls herself support services. She doesn't realize she is the star of the show."
Carolina Limousine & Coach
7269 Hwy. 707, Myrtle Beach, SC 29588
843-294-5466
843-293-5466
843-293-7433
Open M-Sa 8am-6pm; Su 9am-1pm.