Save Money, Be Comfortable, Live Happier
by Melissa LaScaleia
 Jeff Thompson started Carolina Energy Conservation with his friend, Fred Baker, out of his garage in Surfside Beach nine years ago. 
"I've always had a passion for energy conservation," he says, speaking of his start in the industry.
As the oldest of five children, Jeff remembered his parents receiving high power bills and witnessed the resulting stressful impact on his family. Fueled by this memory, out of college he worked for an energy conservation company in his hometown of Niagara Falls, New York. Then, seeking sunnier skies, he moved to Myrtle Beach. The relocation inspired him to start his own business. 
"I saw a need to create ways that we can save money in operating our homes, be more comfortable, and live happier," he says. 
He began by conducting educational seminars on home energy efficiency strategies that were applicable to house designs in the South. Jeff went on to get a BPI, Building Performance Institute certification, to learn what the standards were from the best resource available. He and his employees continue their training with continuing education to this day. 
BPI approaches energy efficiency as a whole-house system, and examines how all the factors affecting efficiency— like insulation, attic, lighting, doors, windows, vents, and garage spaces— are functioning together. Jeff fuses this aspect of his business with solar installation, repair, and maintenance.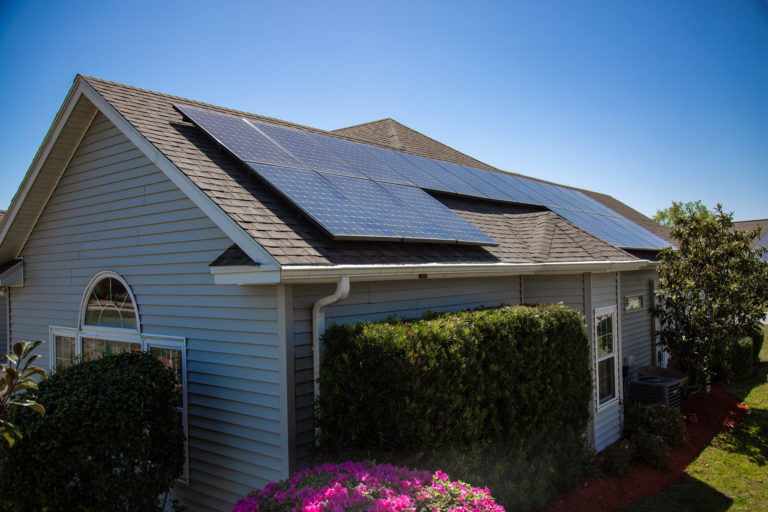 "There are a lot of different ways to help people make their home more efficient," Jeff says. "One of the things we really pride ourselves on is providing the right solutions for our clients that would best serve them." 
And the philosophy has served them well. Jeff bought a building for his expanding business on Hwy 707 in 2014, and today Carolina Energy Conservation has over 28 employees. Their technicians are all trained through a company called Dr. Energy Saver— the largest energy conservation company in the U.S. The knowledge based company shows them ways to fix things in innovative ways. 
"The relationship gives us access to a large variety of individuals who know everything about what's energy efficient," he says. "Using infrared camera and other tests, we can pinpoint exactly where and how much air is leaking in a house. That's important because when you're heating or cooling a house, the air that's leaking will be replaced by either your heating or your air conditioning system. 
"Many people have overhead lights that are extremely leaky. We go over the house and seal those areas to make it as efficient as it can be, then we conduct a solar analysis to determine the number of panels you need." 
You will need less power to run your home after the improvements, and therefore, less solar panels installed. Because of the cost of the panels, conducting energy efficiency improvements first can save homeowners considerable money. Yet, most solar companies don't offer this service. 
Carolina Energy Conservation earned the top spot on Santee Cooper's Trade Ally List (a list of contractors Santee Cooper recommends) for insulation, three years in a row when Santee Cooper was offering that list. They also won the Solar Contractor of the Year for the past three years with Santee Cooper's Trade Ally List for solar. 
"We've had our solar division going on for six years now," Jeff says. "We have a NABCEP certification, the highest certification you can have in solar; it's like a doctorate degree in solar energy. Our work is very clean. Solar is one of the main things we do." 
"A big reason people pick solar is because they're looking for the peace of mind that goes along with their purchase," Jeff says. "But if you don't install solar properly, you could have any number of issues. 
"You have to go through the company that sold it to you, and if they're not very good, they're going to be out of business in few years and there's nobody to help you."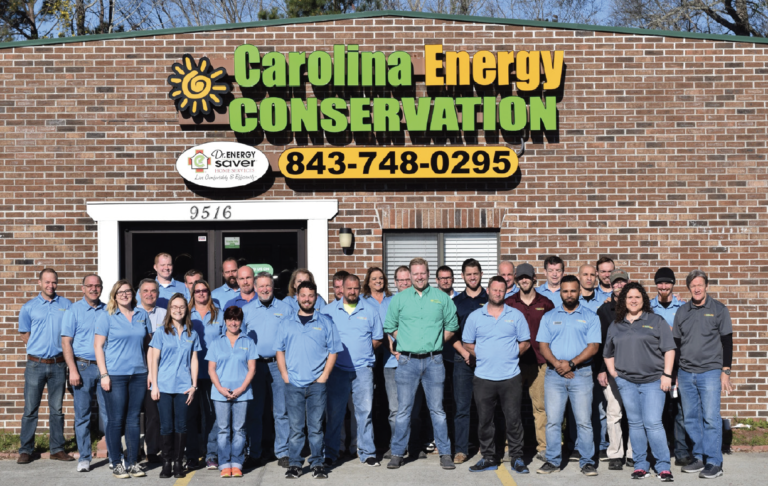 To give his clients the peace of mind they seek, Jeff uses solar panels that have a 25 year manufacturer warranty for labor, maintenance and any other issues that may arise— meaning if anything goes awry during that time, the solar company will pay to repair it. 
Jeff understands the importance first hand of having dealings with a reputable solar panel company. Many of his customers call him because they are having problems with faulty installations executed by companies in other states, or companies that have gone out of business. 
The warranty, he clarifies, doesn't mean the panels will stop working after 25 years. They have a life expectancy of forty or more years. 
To make the process seamless, Jeff manages the interconnection agreement and permitting with the utility company, and he has a third party engineer ensure that everything is structurally sound. 
There are two different ways to have solar in your home. The first is to install it as a battery backup in the event of a hurricane, with the solar acting as a replacement for a generator. The second, which most people opt for, is to install it on the grid system which will eliminate as much of your regular utility bill as possible, up to 90%. 
"A lot of people in this area are on fixed incomes," Jeff explains. "And you can't control a rising energy bill. With solar, you're locking in your power rate. It will basically always be the same. You will still be tied into the grid, but you're getting credited for the amount of electricity you produce. 
"In South Carolina, you can't be paid for producing more energy than you use in a month, but if you do, it would be carried forward as a credit on the next month's bill." 
When Jeff's clients switch over to solar grid, he congratulates them for firing the utility company.
"Because you become your own company," he says. "You become a power provider." 
Carolina Energy Conservation