A Haven for Conservation, Art and Education
by Melissa LaScaleia
In 1930, the dynamic couple Archer Huntington and Anna Hyatt Huntington purchased 9,000 acres of land in Murrells Inlet, the seat of four former Waccamaw Neck rice plantations. Anna had been diagnosed with tuberculosis, and her doctors recommended that she winter someplace warmer than their native NY and Connecticut. The Huntingtons intended to use the land as a personal retreat so Anna could recover her health.
But once they arrived and saw the beauty of the place and the gardens, they realized the property was something that they needed to share with the world. The following year, they formed Brookgreen Gardens as a non-profit organization.
This year marks Brookgreen's 90th anniversary as a majestic, tranquil, and awe-inspiring space— one that has been delighting visitors since its gates first opened.
"Initially Brookgreen's mission was to collect, preserve, and exhibit American figurative sculpture and also to collect, preserve, and exhibit the animals and plants of the Southeast," says Lauren Joseph, Brookgreen's marketing director. "Brookgreen became the first public sculpture garden in America when it opened to the public in 1932."
Archer was one of the wealthiest men in the country at that time. And Anna was one of the most successful young woman in business, even before she married Archer. She was a prominent and widely acclaimed sculptor, receiving major commissions for her art. She supported herself fully as a young woman in the '20s, something that was rare for that age. In addition to being a businessman, Archer was a poet and a scholar; he loved art and museums.
"When they realized that this property could be an outdoor museum, it captured both of their imaginations," Lauren says.
The Great Depression created challenges all over America, and the Myrtle Beach area was no exception. In the '30s, Murrells Inlet had no electricity and no health care. Highway 17 was a one-lane dirt track, and most people used the river to get from place to place.
When the Huntingtons arrived on the scene, they brought electricity; established a free health clinic for the community; opened a school; and employed the local population, many of whom were descendants of enslaved Africans. They ushered in vitality, opportunity, and hope to an economically and socially impoverished place.
"The Huntingtons really wanted to give work to the people who were here and help them live better lives," Lauren says. "From the very beginning, they wanted to build into the community, something we continue to purport to this day."
Many know of Brookgreen solely as a park. And indeed, it is an award-winning public garden.

Brookgreen is a member of the American Public Garden Association (APGA), and in the peer group of some of the most impressive gardens in the US. They even have a boxwood collection that dates to the days when the area was a plantation. 
But people may not realize the importance of the American sculpture that is housed here — or the extensive conservation efforts the organization entertains both with animals and horticulture. 
Brookgreen is a fully accredited zoo through the Association of Zoos and Aquariums, and an accredited art museum through the American Alliance of Museums.
"There's always been a zoo at Brookgreen," Lauren says. "Anna loved animals and was an animal sculptor, and the idea of conserving and educating people about the local wildlife has always been important. The zoo has river otters, foxes, species of raptors, ducks, and deer. They are all here to facilitate a better understanding of the animals for those who visit." 
Brookgreen has a domestic animal exhibit that helps to preserve animal breeds that would have been common on farms in the 1800s. 
"We work with a heritage-breed group and help to sustain these species for the future," Lauren says. "North American river otters are a threatened species. We are also part of a program through The Association of Zoos and Aquariums called, The Species Survival Plan. And we are working with the otters as part of a breeding program to keep these animals healthy and vibrant. We are also getting ready to bring red wolves here, the most threatened canid in North America." 
Brookgreen will have a red wolf habitat with two breeding pairs of wolves to help sustain the species and even reintroduce these wolves back into the wild if they do go extinct. They anticipate it will be built by this fall, or January 2022 at the latest.  
The permanent art collection at Brookgreen includes sculpture and two-dimensional works like paintings and etchings. It provides cultural opportunities for the community as well as for all of South Carolina. In American figurative sculpture, Brookgreen's collection is the largest and finest in the world. 
"People may think they need to go to New York, Chicago, or a major metropolitan area to see artwork by major artists, but we have one of the best museums in the country," Lauren says. "Sculpture was always important to the mission of the Gardens and the Huntingtons. 
"In the '30s, artists were hurting because of the Depression. Suddenly no one had money to commission sculptors. But the Huntingtons did. They continued to support the arts and add to the Brookgreen collection. Many of the pieces too, were made by Anna."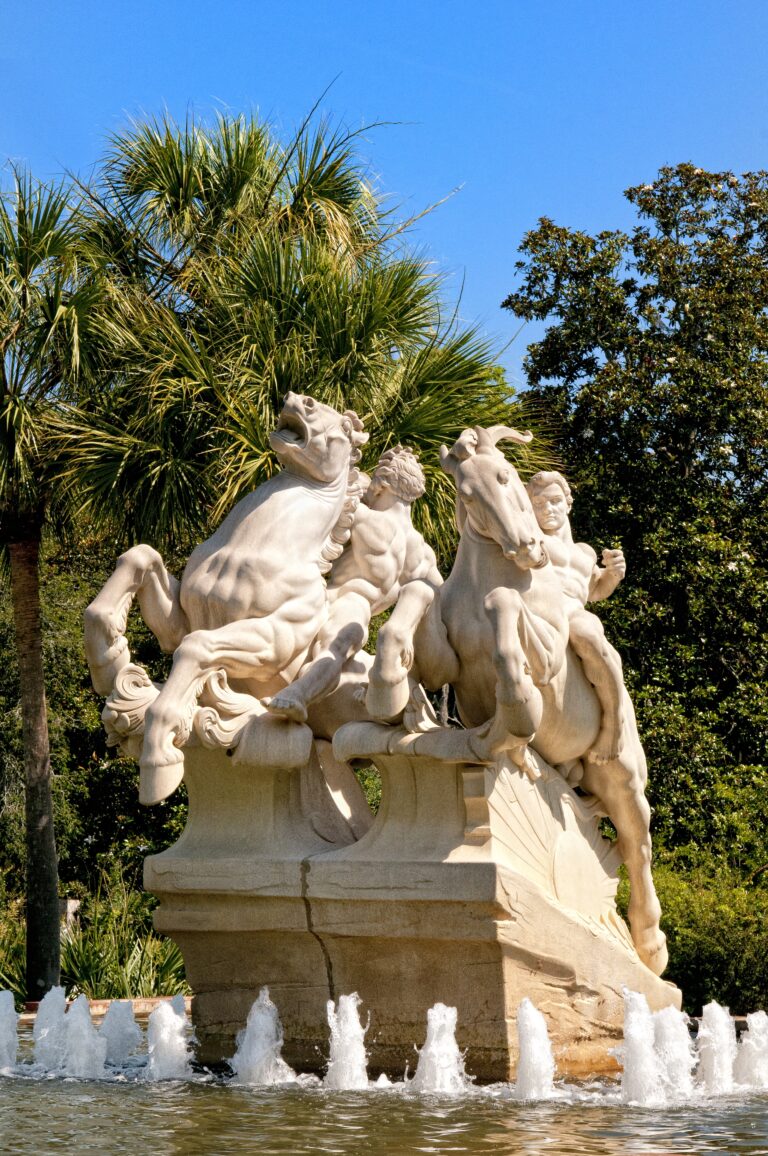 As part of their ongoing mission to perpetuate cultural opportunities, Brookgreen offers sculpture workshops taught by artists from all over the country. They also have a sculptor-in-residence who will be teaching their newly established program for children. 
"Now, our mission has expanded," Lauren says. "And a big part of it is to educate people about sculpture, horticulture, and the ecology and history of the lowcountry." 
Brookgreen has an incredibly diverse array of offerings for both children and adults. Brookgreen U, as it is called, includes classes on arts and crafts, gardening, the history of Georgetown County, and the Gullah Geechee people to list just a few. 
They have a children's camp, a homeschool program, and boy and girl-scout programs too. They just launched an online plant database so you can find the location of specific plants in the garden as well as additional information about them. They have a similar database for their sculpture; the art is catalogued so you can search according to theme, artist, or year, and find where it is in the Gardens. 
This summer, Brookgreen will host Wild Bees, a photography exhibition showcasing the works of Paula Sharp and Ross Eatman, which highlights the importance of pollinators to our ecology. In concert with this, they planted wildflowers in their arboretum to attract pollinators and help conserve wild bees. 
"Really every aspect of Brookgreen has a conservation aspect to it," Lauren says. "We have thousands of acres of longleaf pine forest here, which is the only habitat for the critically endangered Red-cockaded woodpecker. In maintaining and managing it, we're helping to maintain the habitat for them as well as other animals that may be endangered by overdevelopment in our area. All of Brookgreen is a wildlife sanctuary." 
Also new this season is the exhibit, Summer Light Art by Night, a way to explore Brookgreen— the sculpture, the galleries and the whole landscape— in the cooler evening hours. Light is used as a medium and as art itself in various installations around the garden, facilitating an immersive, experiential art experience. There will be docent tours for the galleries, and live music nightly. The restaurant will offer picnic boxes, and alcoholic as well as non-alcoholic drinks. 
"You see the Gardens differently at night than you do during the day," Lauren says. "It's a lovely event with several different components for entertainment."