Our Grass is Always Greener
by Melissa LaScaleia
Matt Freedman, the owner of Beach Landscaping, is originally from the Washington, D.C. area. He and his father, Bob Freedman, have been running their landscaping and hardscaping business together in Myrtle Beach for the past twenty years.   
The two learned their profession hands-on, on the job. Since those early days, Matt has become an expert in plants and landscaping— investing in formal education, attending classes, and logging hours in the study of plant identification, pesticide application, and weed identification and control. 
Beach Landscaping has gleaned area accolades as a result of their strong work ethic, attention to detail, and professionalism. 
"One of the reasons why we were able to get business from the onset was that we called people back and followed through with what we said we were going to do," Matt says. "It was basically our customer service, and we stick with that to this day. 
"We maintain as much communication with our clients as we can, and have a lot of different avenues and infrastructure in place so that when people call, they have access to someone on our team who is there for them, to listen and assist them quickly and easily. It's huge for people that we're here and we're accountable for what we provide." 
"We have a lot of long-term customers— we've learned what they want, and we take care of them," he adds. "Additionally, our team is pretty stable which helps make us more effective at customer service because we are familiar working with one another and can deliver consistency. My wife of thirteen years, Tracy, works with us too, and she's a big part of helping to make everything run smoothly." 
Beach Landscaping offers numerous services for both businesses and residences along the Grand Strand: regular lawn mowing and maintenance like resodding and lawn repair; bed design, planting and maintenance; full landscape design; and irrigation installation. They also cover spring and fall cleanup, overturn soil, give recommendations on what plants would thrive in specific areas of your yard, and conduct soil testing and treatment for lawns that need more perk.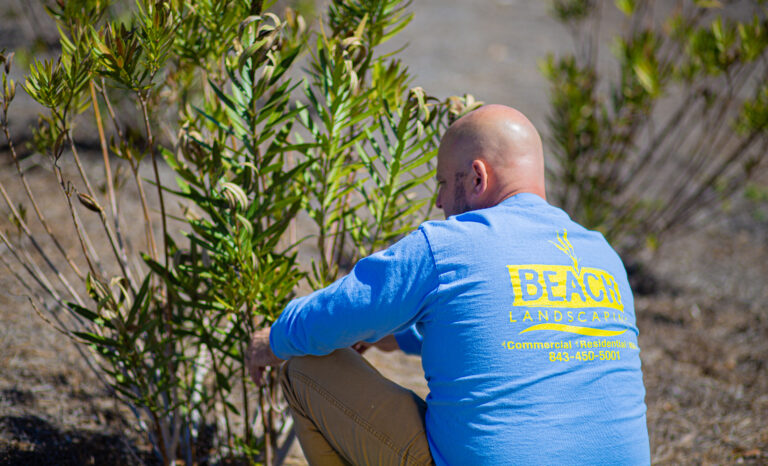 One of their newest and most exciting offerings is design and execution for hardscapes, paver patios, walkways, outdoor kitchens and retaining walls. The company again learned hands-on by working with others skilled in the craft, until they were able to master it themselves. Their ability to successfully teach themselves new skills and consistently offer excellent services with great attention to customers is both impressive and inspiring.
"Hardscaping is something that we're really pushing now because a lot of homes are built with small patios in the back," Matt says. "People want to have more of a comprehensive outdoor living space. It's more in keeping with the Myrtle Beach lifestyle— to be able to be outdoors and have a place to relax. Hardscaping entails the planning and creation of a functional space that involves patios, walkways, outdoor kitchens, driveways, pool decks, fire pits, outdoor fireplaces, and retaining walls. Then, we tie the landscaping together with the design, adding trees and shrubbery." 
Instrumental to making that process happen is Terri Stevens, who owned her own landscaping and hardscaping company in Virginia for twenty-two years. Terri is happily retired from running her own business but still passionate about what she does; she's found her new niche with Beach Landscaping. 
"Terri is a highly skilled artist," Matt says. "She executes everything having to do with hardscaping, from architectural layout and design elements, all the way through to completion."
Matt's brother, Andy Freedman, joined the team last year, helping to further develop the hardscaping side of the business. He meets with customers to explain what they offer as a company.  
"Terri and Andy work well together," Matt says, "so that she can envision options for clients and help them to identify what their needs are based on the architecture of the outdoor space and how it merges with what they want to create."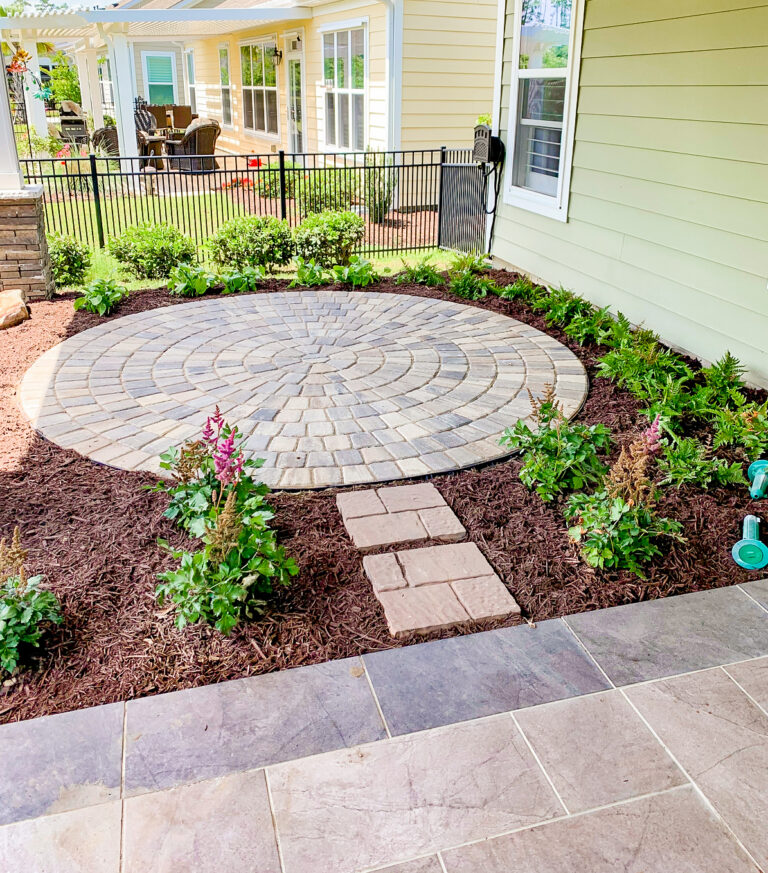 Beach Landscaping has seen a lot of growth in the past few years. They added a second commercial crew to better handle the workflow of home owner associations, and also added a fifth residential maintenance crew. On any given day, they will have 4-5 project crews working on projects that range from installing large-scale hardscape patios to laying down mulch. 
The additions to their Beach Landscaping family mean that the company is able to do everything they've always done, and now a lot more of it. The only thing they don't do is take down large trees— which requires special safety equipment and highly specialized training.  
"Just like anything, as we grow, we learn; and it's a difficult thing at times, but the desire to succeed is what drives us," Matt says. "We could always stay the same, but challenge makes us evolve, which is something we've always championed for our business. Then we become a better organization all-around. It's cool to do that with your family. And because of that, today we're seen as a company that can do everything. We're like a one-stop shop for all your landscaping and outdoor living needs." 
Matt's favorite aspect of his work is hardscaping.
"I enjoy building something for clients that is fresh and original— that I know will bring them and their family and friends greater peace in their own home environment, and joy in their surroundings," he says. 
For those who prefer to do things on their own, Beach Landscaping has put together a series of informational videos available on their website and Facebook page so people can educate themselves about how to properly maintain their yard and lawn. 
"Our first video was on recognizing lawn disease and treating it," Matt says. "We also created one on the scale insects that affect trees and shrubs—how to identify them and what to do about them. There's also one on how to prep your yard for spring by cutting back perennials and pruning Crepe Myrtles. Each video is about 2-3 minutes long, and includes things that people can do to help themselves tackle these tasks."