Giving Full Customer Satisfaction One Customer at a Time
by Melissa LaScaleia
Chris Quade grew up in Indiana, and when he was 19 years old, he decided to join the Navy and travel the world.  He met his wife in Philadelphia when he was stationed there.  After his military term expired, he used his GI Bill to attend technical college, where he studied heating, air conditioning, and refrigeration.  
"I graduated in 1997 and we moved to Myrtle Beach," Chris tells the Insider in an interview.  "I was from a small town and didn't want to live in a big city, and my wife was from a big city and didn't want to live in a small town.  Myrtle Beach felt like a good compromise, and we've been here for twenty-one years now.  It's kind of like a big city with a small town feel where everybody knows everybody.  And there's tons of opportunity here.  Probably if you can think of it and want to do it, you can do it here." 
What Chris thought of was his own company— Beach Air.
Chris started off his career in Myrtle Beach working for a heating and air conditioning company doing installation and duct work.  He worked his way up and eventually became a service manager. 
"The company was purchased after I was there for a year," he tells the Insider.  "When I started, there were twelve employees, and when I left, there were 100.  So I had a unique experience because I saw the steps the new owner took to transform this smaller company into a larger one." 
After eighteen years, Chris wanted more from his job.  But he had hit a ceiling where he was at, and couldn't grow any further.  In 2015, he decided to start his own business.  Trading in his pickup truck for a work van, he began working out of his garage alone.  In under three years, he's grown to thirteen employees. 
"We've definitely had a huge amount of growth in a short period of time.  It's been great," he says.  "My main focus and the mindset with which we conduct our work, is to give full customer satisfaction one customer at a time.  We're going to make sure that customer is completely happy; then we go to the next one." 
Beach Air conducts residential as well as commercial repairs, installation, and servicing for heating and cooling units.  One of the most important services that they provide is bi-annual maintenance work.  
Chris likes to educate people on the importance of having their heating/cooling unit serviced twice a year so that it's functioning optimally, and will be reliable in extreme temperatures.  
"Heat pumps are not really designed to be in that cold of temperatures," he explains.  "They will work when it's 15 degrees outside, but they have to be operating at their peak performance.  And similarly, when it's 95 degrees outside, it's pushed to the max and is going to struggle."  
Reader, you have been warned. 
"When I was deciding what I wanted to do for a career," Chris says, "I figured out that I like to fix and repair stuff.  With heating and cooling, it's work I wasn't ever going to worry about going away.  And I like to see new places, rather than being in the same place every day.  In the service industry, we're at a new location daily, answering calls, and so this line of work really fits me."  
"But my biggest satisfaction," he continues, "is being able to bring awesome customer service to people who really need it.  A lot of people are elderly, or have small babies and it's 50 degrees in the house.  I really get a lot out of helping people in those types of situations.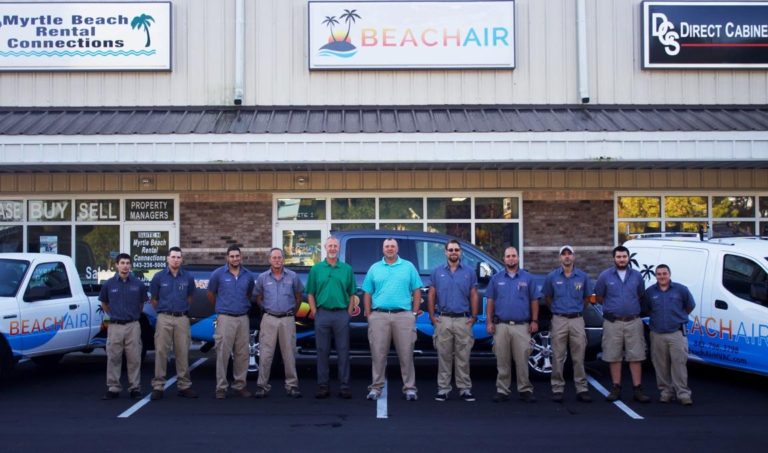 "If you look at our reviews on Google you'll see all the great comments people have written about us. Seeing that stuff drives me to do my best.  I want to see more of that.  I want to be looked at as a community-based company.  We're a part of the community too, and we want to help the community.  I don't want to be seen as a huge company just trying to take the next dollar." 
In keeping with that philosophy, Beach Air contributes yearly to Habitat For Humanity, the non-profit organization that builds houses for those in need.  Chris donates the equipment and labor to install the heating/ cooling system— a job which otherwise would cost almost $8,000.  
He also donates his time by attending career day at Forestbrook Middle School, where he speaks to the children about what it's like to work in his industry.  
"I'm always looking to the future and planning for it," he says.  "I certainly want to grow our customer base and we're going to grow our employees, but from a place of where we can still hold our same core values.  I want to be known as the preferred heating and air conditioning company on the Grand Strand, not necessarily the biggest.  
"I just want people to see our logo or van driving down the beach, and to be recognized as the company that's best in customer service.  I don't want a one-time customer, I want lifetime customers." 
"I don't think about my competition too much," he continues.  "Obviously I know they're there.  I know the market values for what we do.  But a lot of people will come to me and say, 'do you know these people are doing this?'   I just focus on what I'm doing, on the road in front of me." 
One of the things he's doing is hiring good technicians, those with a lot of talent, and sending them for additional training.  
"I want to make sure we have the right guys on the job so that we're doing the job properly, but at the same time that they adhere to our company values of customer satisfaction. 
"We're honest with people; our integrity and professionalism are important to me.  You'd be amazed how many times companies will try to sell stuff to customers, just to sell stuff.  We spend time getting to know our customers to find out what our customers' needs are.  It's that kind of honesty that keeps people with us." 
24hr emergency service,
Regular service calls M-F, 8am-5pm.