Serving the Market Common Mom-and-Pop Style
by Melissa LaScaleia
Back-Yard Sports, a small, local shop selling everything sports related, recently opened in the heart of the Market Common. It's owned and operated by Jonathan Carter, whose love of sports and commitment to strong community values, as well as his natural business savvy and practical wisdom, have provided him a solid foundation from which to launch his young company.
Jonathan spent several years managing a sports store in Myrtle Beach similar to the one he has now.
"It was privately owned," he says, "and when I think that, I think mom-and-pop. But they just wanted to make a lot of money. I saw I could never partner with him— to bring it up to standards that reflected my beliefs."
When a friend of Jonathan's wanted to open a novelty memorabilia store after a first failed attempt, Jonathan set up all of his friend's accounts, decided what he should carry in his store, and priced it for him. At the same time, he opened his own sports store in Myrtle Beach.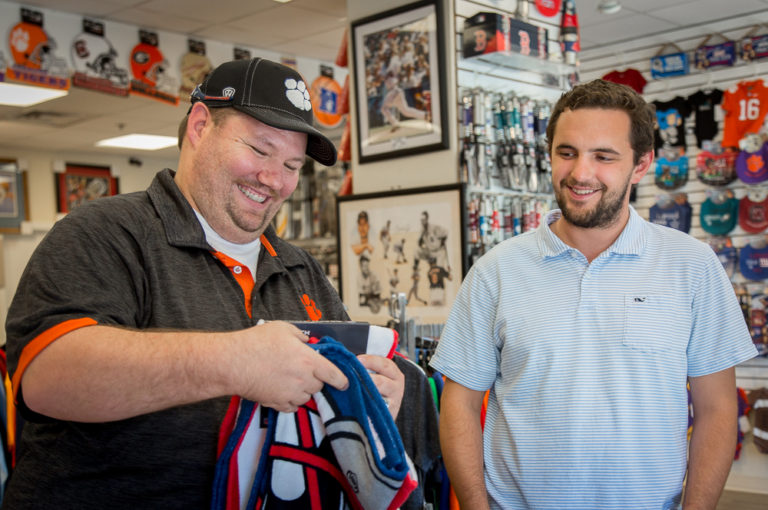 "I was helping him, but also making contacts for myself and learning how to price the market, how to listen to what the market was telling me, and how to order," he says. "It's one of the hardest things I've ever done. And it gave me the experience and the know-how, so that when I was ready to expand, I could."
Having an initial temporary location also gave Jonathan the opportunity to hire people who fit with his company values.
"Taking care of the local community, and we're there for them when they need us— that to me is what a mom-and-pop business is all about," says Jonathan.
"The sports industry has become a market for a lot of companies to just make money. I am here to make money too, but I feel strongly about my dedication to a true mom-and-pop culture— including competitive pricing. I am proud of that."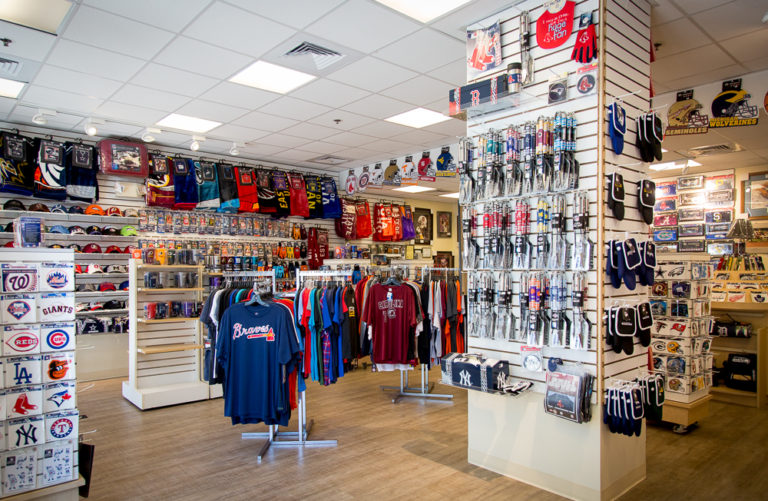 Jonathan grew up in an orphanage in South Carolina.
"I was able to build from a startup location to the Market Common, and for me, that's success in itself," he says. "Now, at 36, I have a wonderful wife, and we're excited to be in the process of adopting a baby," 
"Just like every company or individual needs a supportive mentor to be a success," he adds, "I probably would have never taken those steps, even with my passion and values, without the support of my wife.
"She was really and truly a huge part of encouraging me to do this, and standing by me during startup times which weren't always easy. I'm capable because of her support and confidence. Hopefully one day, after we adopt, we'll pass this company over to our children."
Back-Yard Sports
Open M-Sa 10am-9pm; Sun 11am-8pm
MC residents, employees, current law enforcement, nurses, teachers, seniors 62 and over, and present and past military receive 10% off everyday.