More Than Inspected, AmeriSpec Inspected
by Melissa LaScaleia
AmeriSpec conducts home inspections for residential homes, condos, and town houses, as well as commercial properties. 
Home inspections are traditionally conducted on behalf of would-be buyers interested in purchasing a new home, so that they are aware of the true condition of the home, and what, if anything, needs to be repaired before or after they move in.  
"With a home inspection, the buyers have a better understanding of what they're purchasing," says Mitchell Plyler, the local owner for the Horry, Georgetown, Marion, and Williamsburg areas. 
"But it's just as valuable for the sellers, so that they are aware of the things that need to be repaired before their home goes on the market, as well as how those defects will affect the value of their house, so they don't have any surprises either."  
In addition to enhancing a seller's peace of mind and managing expectations, a pre-listing inspection, as it's called, empowers sellers to reconsider their selling strategy by potentially investing in repairs and asking for a higher price, or lowering the price to compensate for the work that the new owners will have to do.  
A pre-listing inspection isn't something a lot of people know about, but it's something that Mitchell, as well as many realtors, try to encourage.  
"It makes everything transparent right out of the gate," Mitchell says. "Most buyers are going to get an inspection; if a seller has already done it, in enables potential buyers to feel more confident about placing a bid because they know the exact state of the house. It can keep the negotiation from getting out of hand for everyone. It also allows the seller to fix the things that they want to fix on their own time and not during the final days of the real estate transaction."   
Mitchell isn't a Myrtle Beach native, but he's been around here his entire life. He moved into the Myrtle Beach market with AmeriSpec in June of 2018. He and his wife Joellen own the business together; she's also a realtor with South Strand Realty.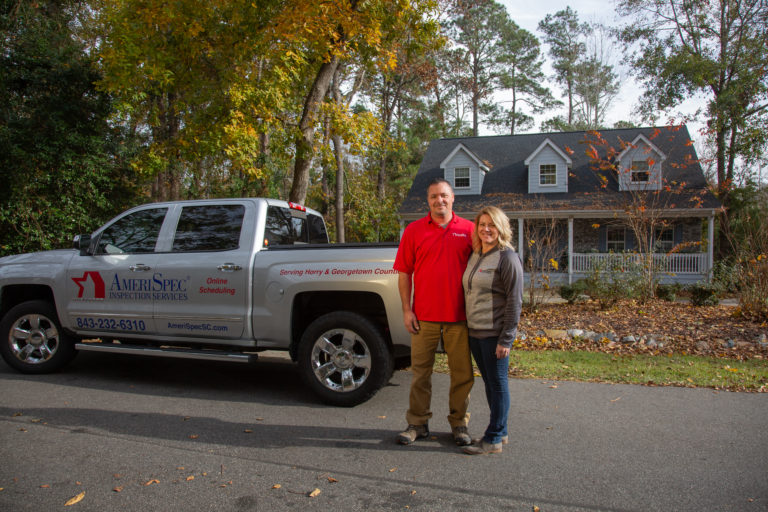 "I went to Coastal Carolina University, and my family has owned a place here for twenty years," he says. "I've worked in maintenance my entire life, as well as in project management— troubleshooting things and fixing things. 
"And that led me to look at things related to fixing things. I bought and sold a few houses on my own and had them inspected, and then realized that my background enabled me to do this. There's a lot of technical, classroom, and hands-on training that I've done— I've logged over 300 hours. Joellen handles the marketing and I handle the inspection, so we make a good team."  
"A lot of people think a home inspector is the same thing as a code compliant officer," he continues. "But the latter works for the town, county, or state. They make sure that whatever building work is conducted is done according to current code. A home inspector isn't necessarily looking at code compliance because that's something that changes constantly."  
Home inspectors look for any kind of deficiency, defect, or anything that's unsafe. Every home inspector in South Carolina operates under the same state standard or code of procedures.    
"A lot of people don't understand the importance of getting a home inspection," Mitchell says. "A home is one of the biggest investments you will make in your life. You want to know what you're getting yourself into— to know what to expect.  
"When I conduct home inspections, I try to educate the client about the home. Many people assume that when they have a house, things don't need to be repaired or replaced. I try to set realistic expectations so they can plan appropriately financially, as well as for their safety. For example, the average life span of a water heater is 10-12 years; for a roof it could be 15-25 years. A smoke detector should be replaced every ten years. Many people don't know these things, especially first-time home buyers."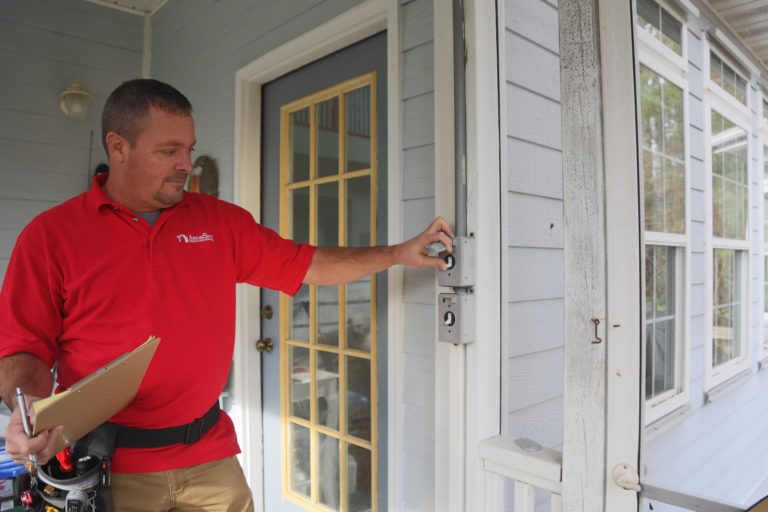 AmeriSpec also offers a free service called HomeBinder for the buyer or seller. It's like a digital three-ring binder that has several great features. There is an appliance recall check that keeps track of all the appliances and corresponding model numbers in your home, so that if there's ever a recall, the homeowner will be notified along with instructions about what to do. 
There's also a 200-page home repair manual that gives homeowner tips and information about how to fix, repair, and maintain your home. The service also provides a list of local home pros, like plumbers, electricians, painters, etc., who specialize in their industry and can conduct repairs in your home; and it comes free with any home inspection.  
"A lot of people don't know what to do or who to call when they need help," Mitchell says. "That's why these services are so important."  
AmeriSpec also conducts mobile/manufactured home inspections, pool and spa inspections; irrigation inspections; well/water quality inspections; and mold tests. Mitchell also does what is called a warranty inspection or an eleven month inspection.  
When you purchase a new home, it comes with a one year warranty against any manufacturing defects. If there's a leak in the roof, issues with the electrical or plumbing systems, or any other number of hidden problems, then the builders will come back and fix it for free.  
"We come in on month eleven and do an inspection," Mitchell says, "and write up what the problems are so that the homeowner can go to the builder while the house is still under the warranty period.  
"A lot of times, when new homes are being built, there are things that get missed. People of different trades are completing their jobs, but may not be aware of what is safe or what is a defect as they follow behind another tradesman to build their part of the house. 
"A home inspector is there to catch it. Conducting an eleven month inspection is also a good idea because it gives the house time to settle and break in, and that's when problems are usually revealed."