Serving the Horry and Georgetown Communities During Hurricane Florence and Beyond
by Melissa LaScaleia
American Red Cross is a nearly two-hundred-year-old non-profit organization that has over 300,000 volunteers nationwide and provides disaster relief on large and small scales, as well as other community support services. Before, during, and after Hurricane Florence hit the Southeastern coast this past September, the Red Cross offered vital assistance in the Myrtle Beach area.
"The Myrtle Beach community really rallied around each other as we prepared for the incoming Hurricane Florence," says Amy Brauner, the executive director for the Eastern South Carolina chapter of the American Red Cross. "Luckily, a lot of people in Surfside and Myrtle Beach were extremely generous helping in the Conway and Socastee areas."
The American Red Cross maintained sixteen shelters in Horry and Georgetown counties before, during, and after the hurri­cane, which were opened by DSS, the Department of Social Services. These shelters originated as evacuation points pro­viding a safe place for people to stay while the hurricane pro­gressed. The Red Cross provided cots, blankets, three meals a day, nurses to help with medications and health services, and mental health sup­port. They also had activities for children.
"We provided a safe haven while helping these families back on the road to recovery," Amy says, "especially in the days and weeks after the storm."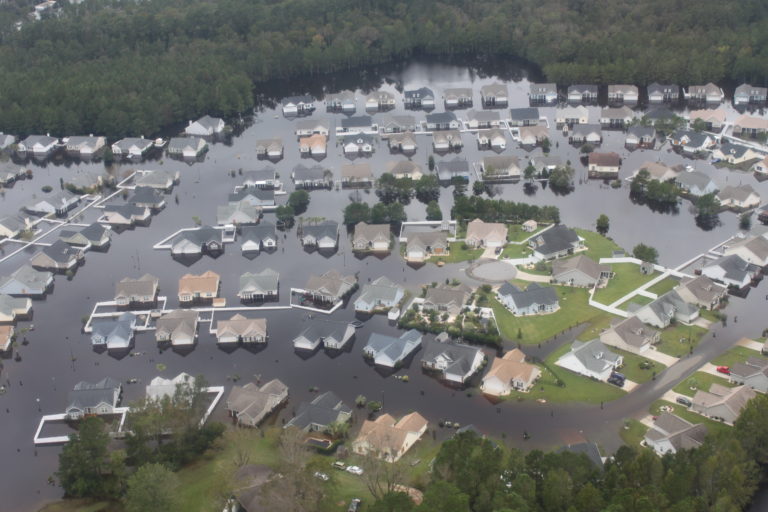 Conway High School was converted into the largest shelter in the area, offering refuge to over 460 people on peak night. Over 2,000 people spent the night in shelters in Horry County on peak night. 
"DSS was an outstanding partner to ensure there were safe facilities and everyone's needs were met," says Amy. "They were great in helping us organize where we could distribute supplies, and being able to communicate with these severely damaged communities."
The American Red Cross also worked closely with the Horry County Emergency Management Department.
"I especially want to recognize Randy Webster for his assistance," Amy says. "The entire department was essential in preparing us and making sure the roads were clear and safe for our community and especially our volunteers, to get out and serve our community. They were the unsung heroes of the event, as well as the National Guard, the Department of Transportation, and the Salvation Army— all of whom have a seat in this operation center that is run by the Man­agement Department." 
After the storm, volunteer community members with the Red Cross distributed over 5,000 clean up kits across Horry and Georgetown counties, which includes a bucket filled with gloves, mops, bleach, and Damprid, as well as 1000 shovels, rakes, and masks— materials to help peo­ple get started on the road to cleaning up their community after the storm. 
"Our caseworkers are also partnering with FEMA, the Federal Emergency Management Agency, to provide finan­cial assistance to those families that were devastated during the storm," says Amy. "Traditionally, the homeowner is the one receiving FEMA funds. But thanks to the generosity of our donors, the American Red Cross can provide additional assis­tance to those displaced families— the household that is renting— during the interim period of homelessness."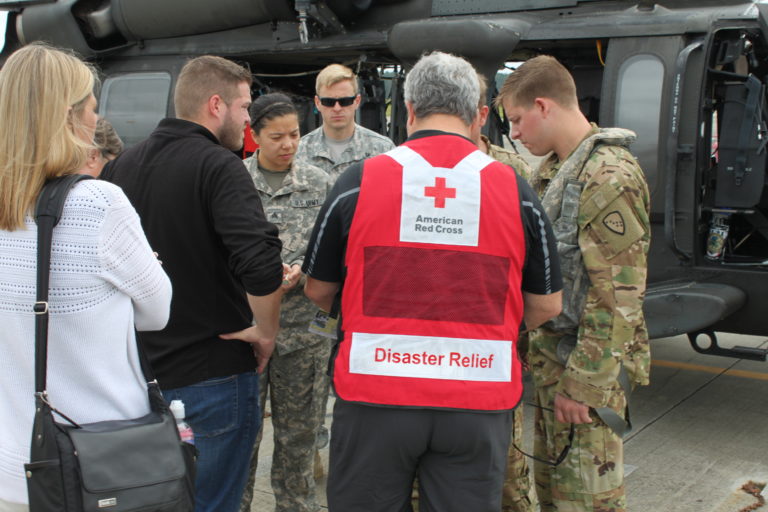 "I don't know how to thank our volunteers enough," Amy says. "Locally, we had over 300 new volunteers sign up to support our efforts to provide relief and recovery during the hurricane and the thereafter flooding. That's a huge number.
"They were part of activities including handing out clean up kits, providing hot meals, logistics, and making sure we were getting our message out to the commu­nity via social media so the public would know where to turn if they needed help. They also assisted with case manage­ment— evaluating individual homes for damage and ensuring that the family is okay. 
"They determine what services and supplies the family needs, and what ave­nues of support or governmental agencies we can connect them with for additional aid. And 91 cents of every dollar donated goes directly towards our mission."
The American Red Cross offers much to our community in times of peace as well. They provide training services in CPR, first aid, AED, and lifeguarding, and train­ing services to the families of our service members. They also offer aid in partner­ship with the International Red Cross.
The American Red Cross provides 42% of the nation's blood supply; international service to the armed forces; and reconnection services for families after large natural di­sasters. They also respond to every local home fire. 
More people die in home fires every year than any other disaster. As the fire department goes to put out the fire within a home, the Red Cross is called to be by the side of the family ensuring they have a safe place to stay and financial assistance to bridge the gap to the next day.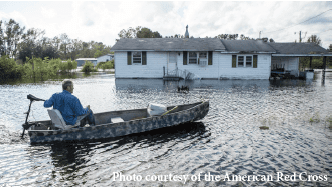 This past September, a home in Aynor, South Carolina was damaged by a fire. The Red Cross is providing financial as­sistance for food, clothing, and other es­sentials, as well as comfort kits containing personal hygiene items for the individual.
"We've partnered with the local coun­ty and city officials and they've been just great in helping to get the word out to the community about what our services are," Amy says. "I also want to say a great thank you to Jamie at Jammin Leather who has held events to support our efforts."
The American Red Cross wants to ensure families are prepared against home fires.
They provide free smoke alarms and help you build an evacuation plan for a two minute escape, the time it takes for a fire to burn down a house. They encourage people to test their alarms monthly. If they don't work, they will provide a free working one.
In all of South Carolina, they have saved 56 lives, either from the installation of the smoke alarms, or the evacuation plan built within the home. As they go door to door, they will write down the number of people who live in a home. When they respond to a fire, they cross reference this information to assist the fire department in making sure everyone is accounted for.
"Recently a disaster program specialist installed a smoke alarm in a local family's house," Amy says. "He was the same per­son who responded to this family when there was a home fire, and one of the fam­ily members remembered him. We keep track of who volunteered on what day, and over the course of years, if there's an emergency, we can let families and volun­teers know who it was that volunteered on that day that helped saved a life. It's pretty incredible to know that you can have that much impact."