The Last Resort, with the Best Result
by Melissa LaScaleia
With AIM | Acupuncture & Integrative Medicine, owner and acupuncturist, Dr. Tonya Weber, DAc, LAc brings her world-renowned skill in treating difficult to manage chronic conditions, like fibromyalgia, neuropathy, sciatica, and lyme disease to the Grand Strand.
Tonya was introduced to acupuncture as a patient. She used to suffer from cluster migraine headaches, so named for their debilitating pain that is a step above the norm. She was blessed, however, with a fabulous primary care doctor near her hometown of Pomaria, South Carolina— Dr. Carroll Pinner, who referred her to an acupuncturist in Columbia.
"This was the late '80s, early '90s and acupuncture was still fringe medicine," Tonya says.
With successive treatments, Tonya went from having 3-5 headaches a week to having them 1-2 times a year, and with a milder intensity and shorter duration. Six months later she had her life back.
This experience led her to relinquish a career in her family's business, and pursue a doctorate in acupuncture. She would go on to receive her Master of Acupuncture from the Academy for Five Element Acupuncture and DACM from Pacific College of Oriental Medicine, San Diego.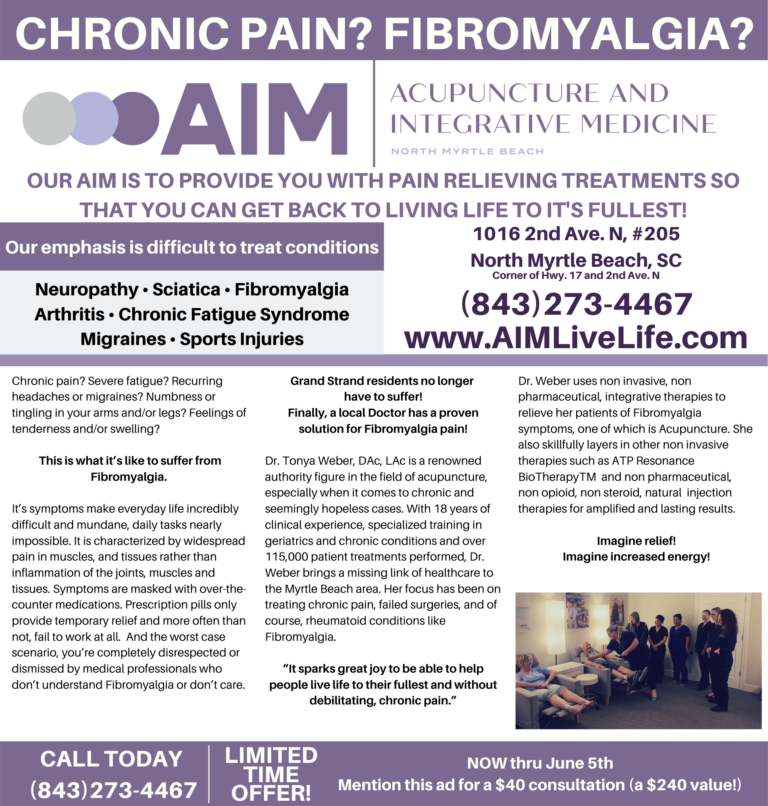 After school, she returned home and worked with Dr. Caroll, eventually opening her own clinic. After many years in successful private practice, Tonya was looking for a fresh start. A unique opportunity presented itself to work for Steiner, the largest spa company in the world, through their partnership with cruise ships. Tonya began traveling the world, lecturing and treating people from all walks of life.
"I loved being an ambassador for the acupuncture profession," she says of her time at sea. "Often I would introduce people to this technique who had never experienced it before, to amazing results. People started finding out what ship I was going to be on, and planned their vacations around that."
After ten years, Tonya retired from life at sea and relocated to North Myrtle Beach to be closer to her mother. That same year, she opened the doors of AIM | Acupuncture & Integrative Medicine, where she specializes in chronic pain with an emphasis on geriatrics.
"I value the population who really values life," she says. "With each passing decade, we realize our mortality and tend to value life a little more. I love my patients, they are the best patients in the world."
Tonya treats a variety of people with complex conditions or who require surgeries, but cannot for whatever reason, have them.
"I don't think a lot of people really understand acupuncture," Tonya says. "I get results because I've combined many alternative therapies. The scientist in me layers treatments. No two patients are identical but I start from a framework developed from many years of clinical practice and work around that framework for each person. My typical patient has been everywhere else and told there's no hope. Those are the cases that I really excel at."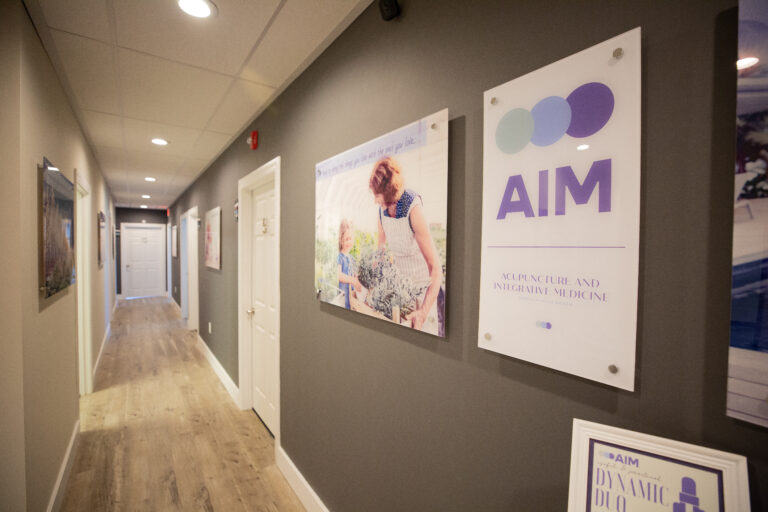 Tonya incorporates several different modalities into what she offers her clients— among them, ATP Resonance BioTherapy™. ATP is a non-invasive and painless technique for treating pain that uses a low-level electrical current.
"We've identified a few hundred micro-frequencies that stimulate different tissues," she says. "Then we stimulate that specific tissue to function optimally. Quite often in medicine, all we're doing is stimulating the body to do what it was designed to do. When we're sick and not repairing, it's because we don't have the building blocks, or we just can't get back on track."
Another therapy, O3 Regenerative Therapy™, reduces inflammation, as ozone is highly antibacterial and antiviral.
"A lot of pain occurs when inflammation gets out of hand. With ozone," she cautions, "you must be certain that your provider is fully knowledgeable, as the way it's administered and applied is important for it to be effective and safe. We also have auricular ozone, which is a gentle stream of ozone into the ears that helps clear brain fog and is also great for depression."
The clinic also offers EAM, or ElectroAcupuncture Medicine, which stimulates the body to release specific neurotransmitters it may be lacking. This, like regular acupuncture, is a pain-free treatment.
"Einstein said that the medicine of the future will be electricity," Tonya says. "And we're seeing that more and more— electricity being used in medicine with great results."
Like everything else that she does, Tonya puts her own twist on the traditional cosmetic and anti-aging acupuncture protocol treatments that she offers with a procedure called NoTox Botox.
"We bring in a red light machine, and connect an ATP Resonance machine to a hydrating mask that carries a microcurrent to the skin, neck, and décolletage," she says. "It's like a face lift without the scalpel."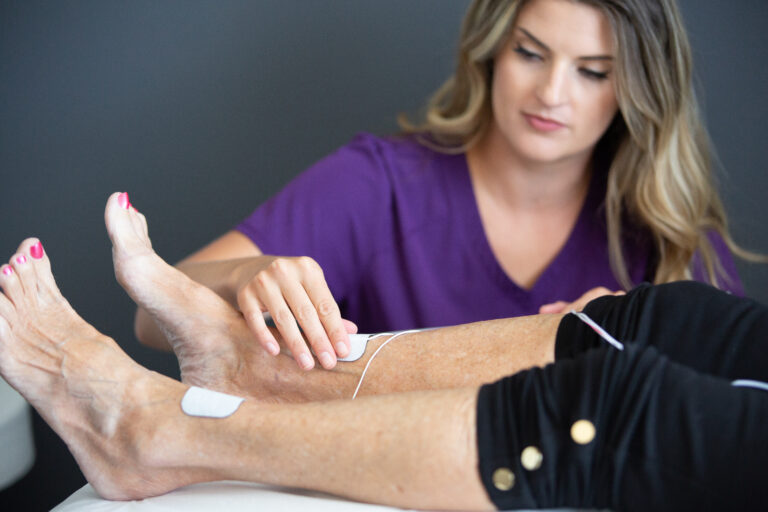 By the end of the summer, Tonya intends to have the infrastructure in place to offer Major Auto-Hemotherapy (MAH) Ozone Treatment— ozonated blood treatments.
"This helps with any kind of autoimmune issue, as well as chronic pain and inflammation," she says. "It helps healthy people to be healthier, and is proving to be a huge game changer in the world of anti-aging protocols."
Tonya conducts consultations for each patient she sees to make sure she understands their health history and needs. This allows her to craft a comprehensive treatment plan for them which will give them the best possible results. She matches 100% of the proceeds from every consultation, dollar for dollar, and donates them to several children's charities.
In 2018, Tonya founded an advanced mentoring program with her colleagues and two best friends. Renegade Acupuncturist, Inc. hosts seminars around the country specializing in advanced acupuncture training techniques and business coaching.
"My colleagues and I were seeing a lot of information on the web, and Facebook in particular, doctors telling other doctors what to do," Tonya says. "But giving really bad or inaccurate advice, and more often than not, they had little experience. We wanted to create a resource for doctors that was grounded in experience. 
"My colleagues and I have each treated well over 100,000 patients individually. So we've been able to craft and refine things over the years. What sets AIM apart is that we are a world-renowned training facility."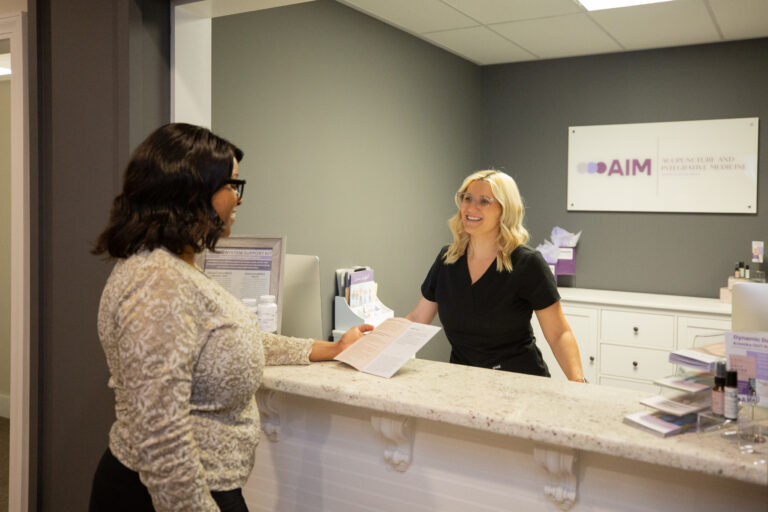 What's her biggest secret to her success? 
Her staff.
"You can train people, but you cannot train the love and caring that we have in our amazing staff," she says. "Rebecca Rinn Powell is the office manager; Desi Porrazzo is a patient care technician; and Taylor Bickley is my assistant. Each of them brings something special to the clinic, and if you ask any of my current patients, they and myself are what makes their experience here so amazing."
"I have the best job in the world," she adds. "I change people's lives. I don't know how to convey the incredible enthusiasm that I feel about that into words."