Here to Care: For Your Feathered, Furry and Scaly Friends
by Melissa LaScaleia
Mistie Velasco started her pet sitting business in Myrtle Beach, 3 Cats & a Dog Pet Sitting Services, in 2004. She is also a veterinary technician at Ark Animal Hospital, where she's been working for the past nineteen years.
"It is a symbiotic relationship," she says in speaking of her two passions. "Because I have the ability to incorporate what I know from the veterinary world into the world of pet sitting as needed. It's one of the extra things that I can offer my clients. If anything should happen to someone's animal while they're away, I can walk into the door at Ark Animal Hospital and their pet would be seen immediately."
Mistie has a team of ten helping her, many of whom are in the veterinary world.
"We're not doctors, but we can distinguish when things are not quite right with greater ease perhaps than other pet sitters," she says, "which helps to calm anxious pet owners when they're leaving their best friend in someone else's care."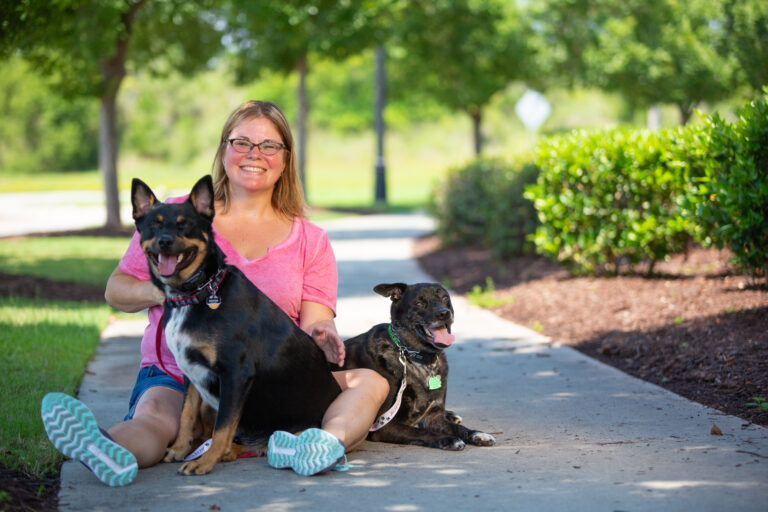 3 Cats & A Dog services a large area of the Grand Strand, from the Grand Dunes in the north, to the Coastal Carolina area in the west, to Pawleys Island in the south. 
"We do daily visits that are 20-30 minutes," she says. "We do walking, feeding, potty time, play time, and treats for people's furry, feathered, and scaly friends." 
They also do some small, light grooming, like bathing and nail trims, and can accommodate limited overnight stay requests— call to inquire.   
"Every day there is something new to see," Mistie says. "We work with every animal imaginable. There are domestics— dogs and cats. I also see birds, reptiles, tortoises, guinea pigs, hedgehogs, goats, chickens, and ducks. There isn't anything that we don't see. That is what is so much fun about this job. You never know what is going to occur when you see these pets, and I just love it." 
Mistie encourages people to hire a pet sitter when they are going out of town; that way the animals get to stay in their own home and don't have the extra anxiety of being displaced and in foreign surroundings.