A Light for People Everywhere
by Melissa Lascaleia
The 1000 Lights Water Lantern Festival is coming to Myrtle Beach for the first time this month. Attendees will gather together at Grand Park in the Market Common to enjoy music and food, and collectively send off their hopes, dreams, and prayers across the lake via lit floating water lanterns. 
The company in charge of the festival was founded and is jointly owned by Zach Wertz, Nick Menendez, and Andrew Kenney; it's based out of Salt Lake City, Utah. The three began formulating their plans last July, and held their first events in September. 
"I had worked with events in college, and always loved getting people together and having a good time," says Andrew in speaking about what motivated him to begin the 1000 Lights Festival. "We saw a group of people in Hawaii doing this, and it inspired us." 
1000 Lights holds water lantern festivals around the country. Last year they put on four events, and this year, they anticipate hosting between thirty and forty. To date, they've spread the magic and light of their festival in San Diego, CA; Newport, CA; St. Petersburg FL; Savannah, GA; Tempe, AZ; and Lindon, UT. 
This year, they're adding the Bay area of California; Philadelphia; Syracuse, NY; Cincinnati, OH; Boise, ID; and Toledo, OH to their list of annual stops.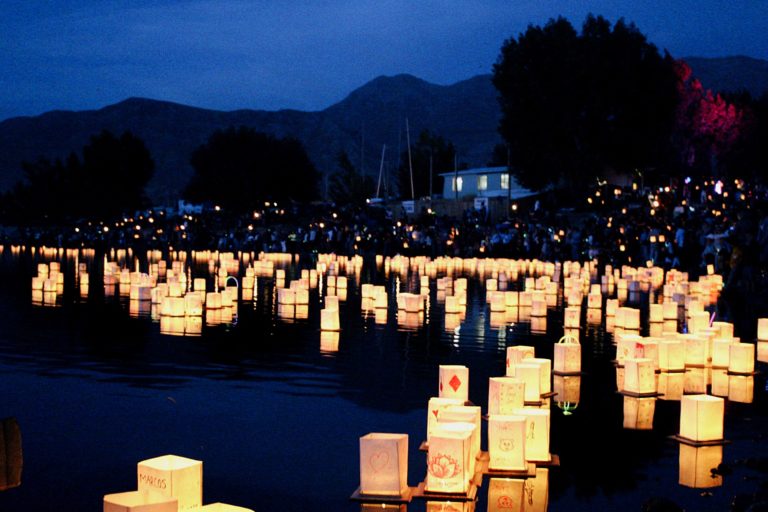 "People everywhere are looking for moving, spiritual experiences, but often they don't know where to find them," Andrew says. "Our goal is to create a strong atmosphere of beauty and depth of sanctity beyond what people experience on a day-to-day basis. We just hope to spread some light in people's lives." 
The 1000 Lights Water Lantern Festival has food, vendors, and live music, usually performed by local artists; they also have high stakes bingo with prizes like TVs and tablets. But the main part of the event is the lantern launch. 
When people arrive, they receive a lantern packet. 1000 Lights is conscious of the environment and creates their lanterns from sustainable and reusable materials. The base is made from bamboo, and the top is made from rice paper; they are completely biodegradable. 
Instead of candles, they are lit with LED lights which they reuse from one festival to the next. They create a buoy line for the lanterns to collect them all at the end, with the intention of leaving the area better than when they found it. 
"We give people markers and stencils to decorate their lanterns," Andrew says. "Some people write goals that they have for the year. Some write tributes to family or friends who have passed on. Others write their hopes and dreams on them. People decorate them throughout the night, and once the sun has gone down, we all gather at the edge of the water— reflecting. It's a powerful moment and special time that we create with people." 
"I think we have a beautiful world with amazing people in it," he continues. "But often life is hard for people.  Our goal with this festival is to create a meaningful event where people have a really great experience of whatever type they choose. 
"People attend for a variety of reasons— whether it's family coming together to remember a loved one who has passed; or those who are alone and want to feel a sense of community around sharing their personal dreams; or those who just want to come out on a weekend to get away from the typical rhythm of their day to enjoy a night out with great ambiance and great vibes— and we welcome them all."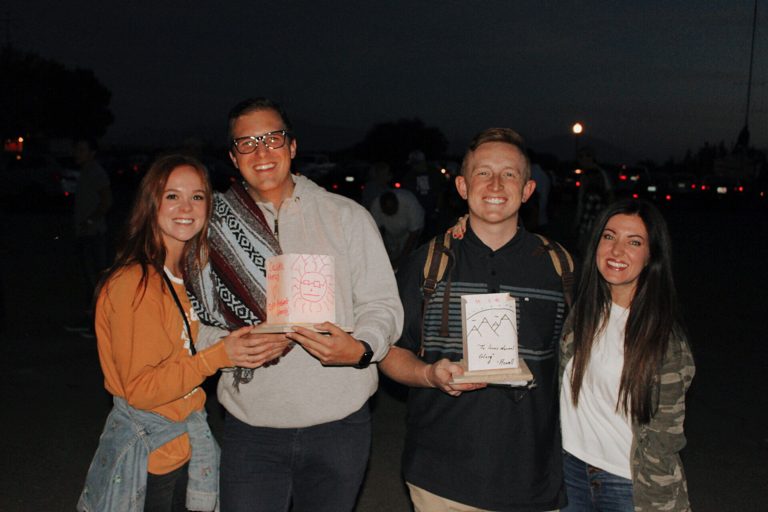 This is the first time a festival like this has arrived in Myrtle Beach. 
"We think Myrtle Beach is a really pretty area," Andrew says, in speaking about what made them choose to add our city to their list of stops. "I'm really looking forward to our time there. We're all excited to come, and will be bringing other staff members too.   
"The city of Myrtle Beach was awesome to work with— they were really receptive to the idea, and we were excited they were so easy to work with. We haven't done as many events on the East Coast, but we're working on it. We love meeting people and visiting new places." 
The 1000 Light team selects locations based on the availability of places that have the infrastructure to support the festival— like a stage for entertainment, and a body of water where the lanterns can be contained— usually a large pond or smaller lake. The festival draws crowds of 1,500 to 4,000 people. 
"People have really been enjoying the festival," Andrew says. "That's one of the most rewarding parts of this. When you see people, and they share their stories about why they're here— it's so moving. At the end, people thank us for what we're doing, and tell us how much this experience has touched them, and how much they've enjoyed it." 
"We want these festivals to be a light for people," he adds. "Each one will be an annual event; we just hope to create a positive environment and have something to look forward to each year, in each city we visit."