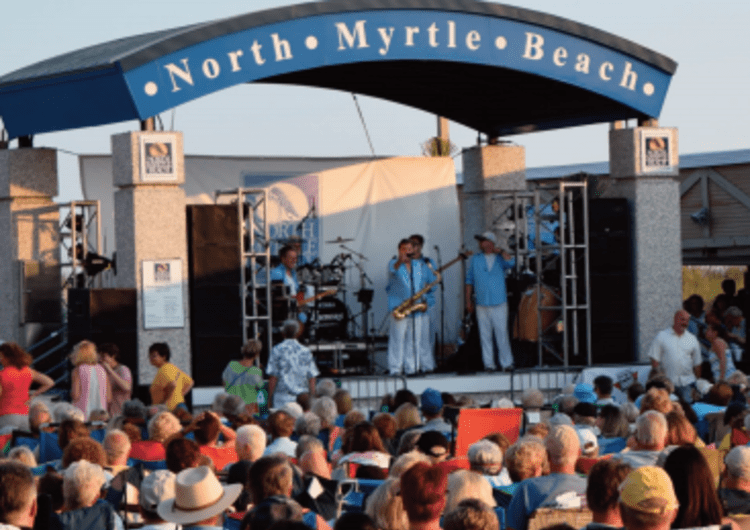 Music on Main Concert Series
Music on Main will return to Main Street on June 3rd and will run through October for the 2021 season! The full band line up and event dates are detailed below. You can also visit our full calendar of events to see everything that's happening in North Myrtle Beach!
Pull up your golf cart and pack your beach chairs and dancing shoes – it's time for Music on Main! Starting in June and jamming every Thursday through October, the City of North Myrtle Beach invites you to meander down Main Street for their Music on Main concert series. Concerts start at 7pm, weather permitting, and the live entertainment that varies weekly. Bands take center stage at the Horseshoe on Main Street, so be there early to get a front row seat.
Before the show starts, grab a bite to eat along Main Street at Duffy Street, Dirty Don's Oyster Bar, Hoskin's Restaurant or Flynn's Irish Tavern just to name a few. Looking for a sweet treat to cool down after all that dancing on a hot summer night? Main Sweets, Melt or Butter and Whisk are sure to satisfy! And if you are looking for something special to take home with you from your visit to North Myrtle Beach, stop by Brawner Art Gallery, Hope Taylor and Company or The Gallery On Main, all located just a hop, skip and shag away from the music!
As we all get back into the swing of things, check out our tip and resources for Healthy Traveling. Face coverings are recommended.
We'll see you and your boogie shoes on Main Street!