Where Shopping is Pure Epicurean Pleasure
On Howard Avenue, right in the heart of the Soho district of Market Common, is a lovely little store featuring epicurean delights from the Mediterranean and beyond— The Olive Shoppe… Tasters Welcome.
Darya Suddreth, who grew up in Surfside Beach, began the business with her husband, John, 5 years ago. "When my daughter was 2," she tells me, "she was diagnosed with juvenile diabetes. In order to get her to eat healthier, we started using a lot of olive oil and balsamic vinegar. It was amazing the types of foods she began to eat."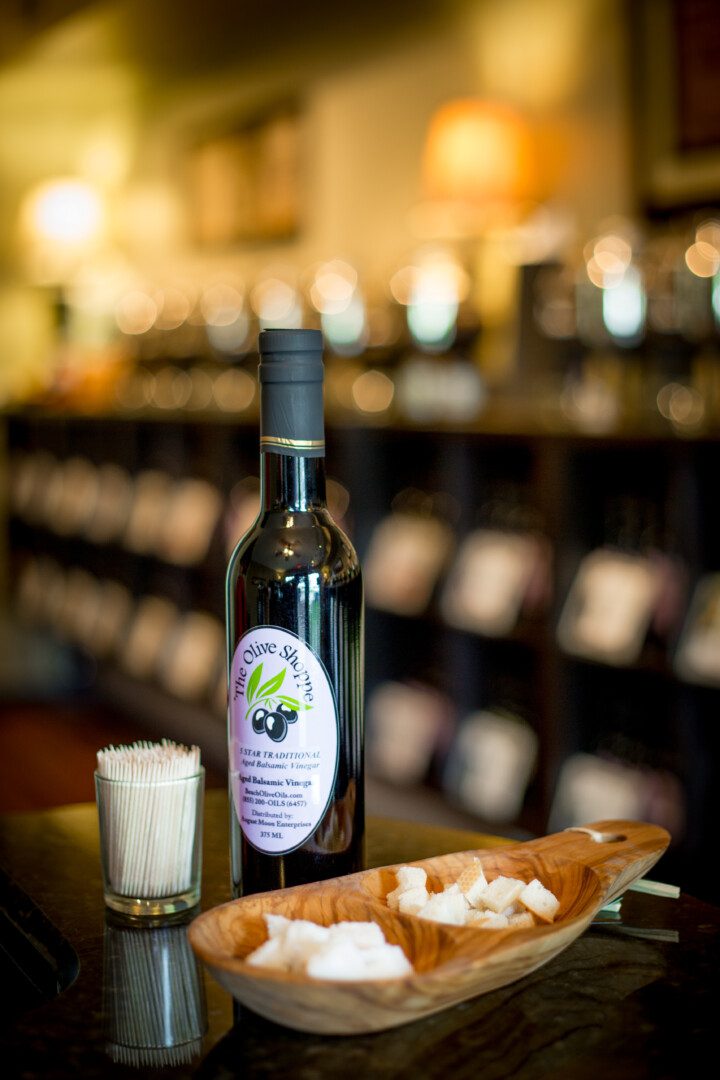 It sparked a love and fascination with olive oil and balsamic vinegar for the Suddreth family, which gradually evolved into a total life makeover.
"My husband and I wanted to be entrepreneurs— we were looking for opportunities," says Darya. "He wanted to leave Charlotte, where we were living at the time, and move back to the beach. This is where we met. He wanted to raise our children here. John had been to an olive oil shop in California, and thought, what a great thing to do in Myrtle Beach. When the opportunity arose for us to move back, we did, and it's probably the best move we ever made."
The pair opened their first store at Barefoot Landing, July 1, 2011. With the opening of a second location, at the Cotton Exchange in Wilmington, N.C. in 2012, their business grew, and in May of 2015, they were able to open a location in the Market Common.
Lucky for us who visit or live here.
Stepping into The Olive Shoppe, I'm transported into a different world, where olive oils and balsamic vinegars from around the world sit side by side, emanating their unique multicultural self-expression in the form of heavenly taste. They carry plain, traditional extra virgin olive oils from Argentina, Chile, Greece, Italy, Spain, Tunisia, and Turkey. She and John are currently looking into adding oils from Jordan and Mexico. They also carry hand-stuffed olives, olive spreads, and olives and brine to make special martinis.
"At The Olive Shoppe," says Darya, "we want our customers to have a tasting experience that will wow the senses." I try the jalapeño infused olive oil with peach white balsamic vinegar she offers me, and assure her she's doing just swell with that.
"We have a full service tasting bar, where our customers have the opportunity to sit down, and we are like bartenders with olive oil and balsamic vinegars. I always say," she tells me with a laugh, "that it's the healthiest bar you'll ever belly up to!"
"Before we started this business," she continues, "my husband and I looked at a lot of olive oil growers and companies. We are constantly looking for new growers and suppliers, and we hand pick every one we work with, not just for their taste, but also for their company principles and growing practices. Every one that we select is very high quality."
For their flavor-infused olive oils, they selected oils exclusively from Spain, with strongly infused flavors, Darya's preference. "I found that the majority of flavored olive oils I tried were not very prominent with that flavor, or hard to discern from the strong flavor of the oil," Darya explains. "I like that Spanish olive oil is lighter in taste, and therefore the flavors don't compete with one another."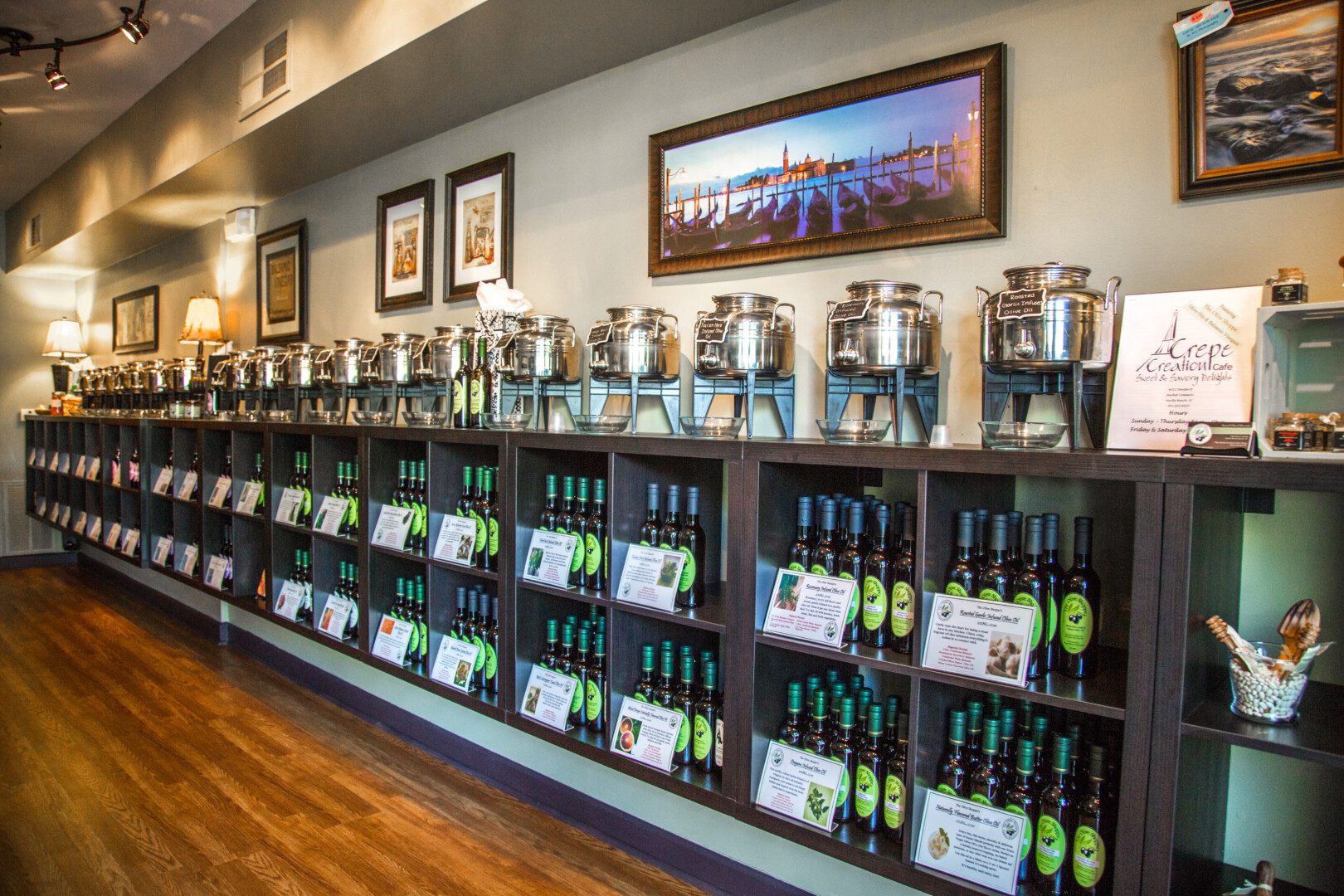 All of their balsamic 
vinegars are imported from Modena, Italy. It's rich and thick, like a glaze, the way Italians have been making it for centuries. The flavors of these balsamics can't begin to compare to what I find in the grocery store. Having lived in Italy some years ago, I'm delighted to be reacquainted with balsamic vinegar as I know it.
As I bite into a garlic and herb cheese-stuffed olive hand made by a small California farmer she's offered, Darya continues to tell me about the many uses of flavored olive oils and balsamics beyond salad dressing. It's several moments before I can be fully present to all the flavor pairings and food combinations she's listing… strawberry balsamic over vanilla ice cream, cracked black pepper olive oil to marinate and tenderize meat, meyer lemon olive oil can be added to brownie mixes, the pineapple white balsamic also goes divinely with the jalapeño oil over fish…. the options and ideas seem endless, and with approximately 50-60 varieties of flavored oils and balsamics, and a little creative genius thrown in the mix, they just might be.
Dawn Yarborough, a longtime friend and customer who now works at the Market Common shop says, "Once you start cooking with olive oils and balsamics, you have no idea how creative you are. You just amaze yourself. You lose all fear in the kitchen. And," she adds with a sly smile, "your friends think you're a chef. So come on in and taste with us!"
The Olive Shoppe
The Olive Shoppe, 2954 D Howard Ave, Myrtle Beach, 855-200-OILS; is open for sales and free tastings Mon-Sat 10am-6pm. Find out more by visiting them online at beacholiveoils.com
To learn more about local businesses in and around the Market Common, check out our latest local business features!