Our recipe this month is brought to you by {bib.on meals creator, AC Bethea. AC is a Conway native and a Market Common regular who dishes up vegan and gluten-free baked goods and wholesome, delectable meals with love. We feature her in the article, "September Vendors at The Market Common Farmers Market."
Roasted Tomato & Goat Cheese Sandwich
Serves 2
2 oz. goat cheese
2 radishes
1⁄2 yellow squash
8 ripe cherry tomatoes
olive oil
sea salt
cracked black pepper
1/8 cup white wine vinegar
1/8 cup water
1 tsp local honey
1⁄4 tsp chili flakes
1 small baguette
6 basil leaves
1⁄4 lb thin sliced roasted organic turkey
Preheat the oven to 400 ̊F.
Take the goat cheese out of the refrigerator to soften.
Using a knife or mandolin, slice the radishes and squash. Place in separate bowls, and set aside.
Slice the cherry tomatoes in half. Place in a baking dish and drizzle with olive oil, sea salt, and cracked black pepper to taste. Roast for 10 minutes or until soft.
In a separate bowl, whisk together the white wine vinegar, water, honey, chili flakes and a pinch of sea salt.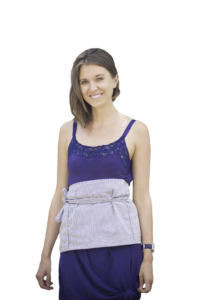 Pour over the radishes and toss to mix.
Slice the baguette in half. Spread the softened goat cheese on both sides, and add the tomatoes, sliced squash, basil leaves, turkey, and radishes.
AC Bethea
{bib.on meals creator